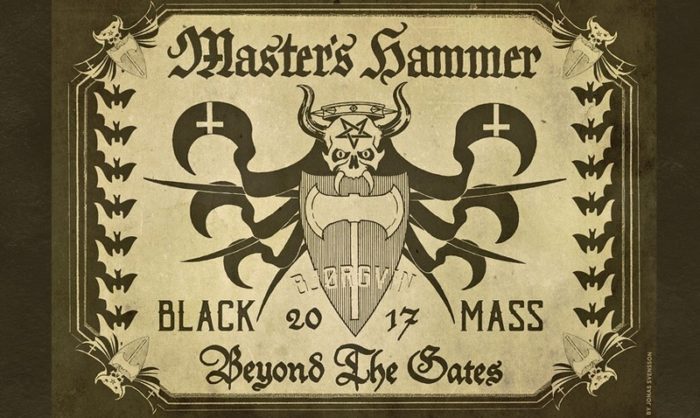 Legendary Czech black metal originators Master's Hammer are playing this years Bjorgvin Black Mass in Bjorgvin, Norway. This is Master's Hammer's first indoor live set in over a quarter century. The band is exclusively playing their early, metal material such as Ritual. Enslaved is also playing an exclusive Vikingligr Veldi anniversary show. Scandinavian black metal fans should check this out.
From the Nuclear War Now! forum announcement thread:
The impossible has become reality! Almost three decades after their last show, the legendary and ever so inspirational MASTER'S HAMMER is lined up for two very exclusive festival shows this summer. After playing Brutal Assault the Czech band will head to Norway for the first time ever and play their first indoor show in over 25 years. The band will do a set based on the early 90's songs for the old fans and those who weren't even born when the seminal classics such as "Ritual" and "The Jilemnice Occultist" were released. Their highly theatrical sound provided a bench mark for a lot of black metal bands who emerged through out the 90s. We couldn't be more thrilled to be able present this totally unique band for all our visitors! This will without a doubt be one for the books!

Previously announced:

MAYHEM – Dmds Special Set
ENSLAVED – Vikingligr Veldi Exclusive anniversary show
DENNER/SHERMAN – Guitar duo from Mercyful Fate
DARK SONORITY – Last ever show
EXCITER – First show in Norway
REVENGE – First show in Norway
SUMERLANDS – First European show
CULT OF FIRE
MGŁA
VEMOD
BLACK MAGIC
THE RUINS OF BEVERAST
NEGATIVE PLANE

+ more to come!
More information is available on the Bjorgvin Black Mass 2017 Facebook event page.
Tags: bjorgvin black mass, Black Metal, Czech black metal, Enslaved, festivals, Master's Hammer, norway, Vikingligr Veldi