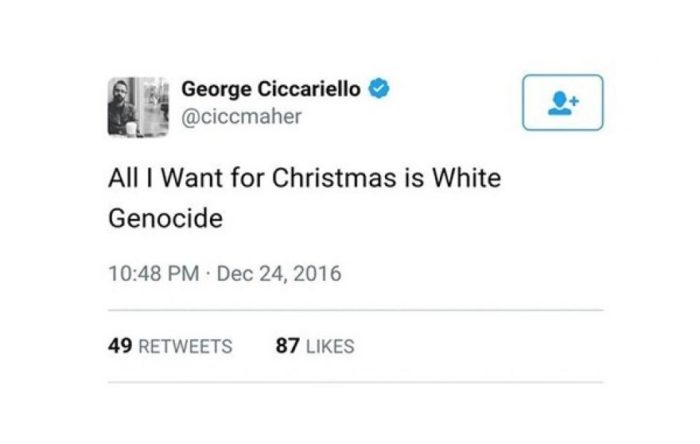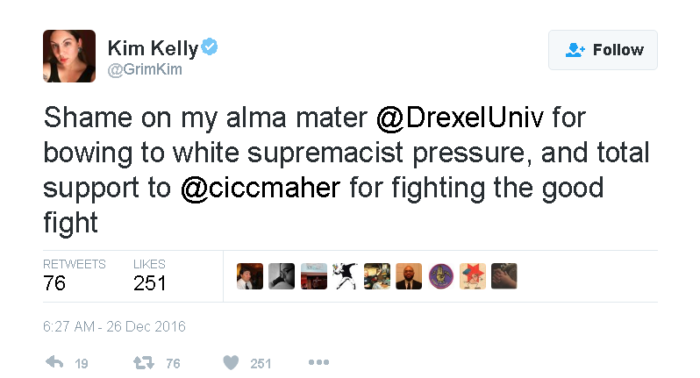 Crustfund social justice warrior, hypocrite, alleged groupie, liar, and Vice columnist Kim Kelly openly supported white genocide on Twitter late last month. She gave her "total support" to Drexel university associate professor George Ciccariello-Maher who publicly wished for a white genocide as a gift last Christmas on Twitter and slammed his critics as "white supremacists". He followed up his initial lust for ethnic cleansing of his own race with another tweet stating:
To clarify: when the whites were massacre during the Haitian revolution, that was a good thing indeed
Drexel University stated his calls for ethnic cleansing were "utterly reprehensible, deeply disturbing, and do not in any way reflect the values of the University."
George Ciccariello-Maher publicly supports policies that have proven to keep immigrants isolated, impoverished, and dependent on handouts for the necessities of life. The Haitian Revolution ended with the re-institution of slavery on the French third of Hispaniola. The policies of the revolution's leaders Louverture and Dessalines and their spiritual successors such the Duvaliers have kept Haitians the poorest nation in the Western hemisphere for centuries.
Ciccariello-Maher adovcates current policies in Western states that encourage the development of ethnic ghettos dependent on government aid as he is merely an associate professor who handwaves every reasonable explanation to brainwash gullible white twenty year old undergraduates into believing that they are racially tainted simply as other societies and cultures were not as successful and failed at basic governmental tasks like feeding their people or not en masse committing crimes serious enough to end up with a large portion of their adult male population dead or jailed. Ciccariello-Maher probably needs that free lunch himself.
Ciccariello-Maher later attempted to backtrack stating that he was being satirical of white commentators stating the actual population trends of unchecked immigration:
On Christmas Eve, I sent a satirical tweet about an imaginary concept, 'white genocide'. For those who haven't bothered to do their research, 'white genocide' is an idea invented by white supremacists and used to denounce everything from interracial relationships to multicultural policies (and most recently, against a tweet by State Farm Insurance). It is a figment of the racist imagination, it should be mocked, and I'm glad to have mocked it.
The hordes are invading despite what smug neoliberal assholes like George Ciccariello-Maher say, excusing away their insolence, refusal to function in civilized cultures, and criminality. If the current trends of immigration and growing wealth inequality continue, one day in the next century descendants of formerly middle class workers in North America and Europe will wake up living in a hellhole like Brazil filled with ghettos inhabited by the unskilled and uneducated dependent on government handouts. Such places are "no-go" zones for women, other ethnicities, or police. Wait! It's already happening and will continue unless the trends are somehow reversed.
Kim Kelly openly supports this. She has scapegoated all aspects of traditional, white, and masculine culture as discriminatory, evil, and imperialistic. Metal is of course included in this given its predominantly male and usually white audience. She openly slanders popular bands such as Slayer, Cannibal Corpse, Malevolent Creation, and Dismember as sexists and racists while trying to make non-metal bands into "metal" to make the genre a safe-space for the inferior. Metal has always been elitist, never equal opportunity for those not good enough. Kim Kelly and her like are attempting to dilute the genre like punk to make it safe for grown-up, do nothing 27 year olds who as 13 year girls loved Avril Lavigne and Nightwish. She wishes to flood metal with inferior rehashes, pop music, and utter crap like Conqueror.
Hessians need to resist Kim Kelly and other communists' attempts to purge metal with full force for the genre to continue to thrive. Once underground labels seem to rapidly turn over into releasing commercial, genericized pap. A new underground is growing as the "funderground" becomes mainstream hipster bullshit needing a strong kick in the nads and to be widely exposed for what it is is: indie whine rock for pussyfooted, genocidal losers like George Ciccariello-Maher.
Tags: academia, censorship, communists, groupie, Kim Kelly, metalgate, racism, scenester