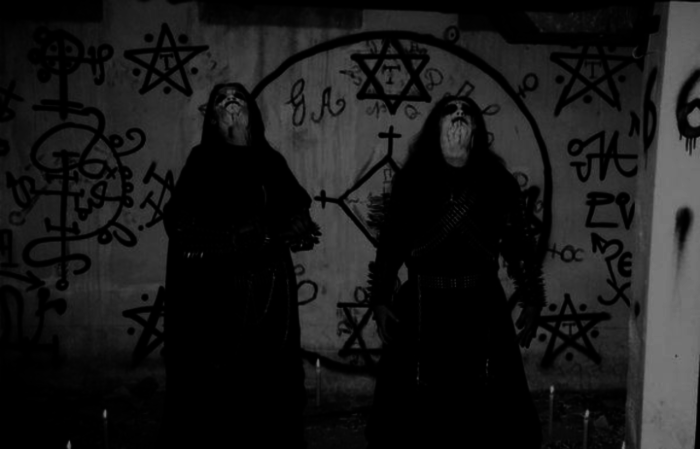 Washington, DC area crust punk and metalcore scenesters decided that anti-religious Texan black metal band Nyogthaeblisz were racist and got their show at Gaithersburg, Maryland tattoo parlor Raw Ink canceled according to the Washington City Paper and moved to a Philadelphia bar hours away.
Raw Ink owner Bobby Weschler explained the logic behind the crustfunds' conclusion that the Mexican-American band is racist:
"There's a fine line that I'm dancing on here, Being against religion as a whole is one thing, but when you get into … anti-Semitism, that's kind of a race—that's why we can't have that here."
While religious tolerance has never been a strong suit of metal bands, Washington DC social justice warriors (and service workers) have decided that Nyogthaeblisz's sometimes anti-Semitic lyrics (Nyogthaeblisz is vehemently opposed to all Abrahamic religions) were just a little too "racist" for a sub-genre whose founders torched medieval churches and claimed to play "Norsk Arisk Black Metal". For supposed atheists, these poseur communists sure do hold Judaism and Islam as holier cows than Christianity. Are Christians and Muslims races in their minds too as their practitioners can be born into them or are they simply too popular of religions? What about smaller groups like the Sikhs and the Alawites? Do they get their own races according to Washington, DC area punk rock scenesters?
One of these scenesters, "Metal Chris" of DCHeavyMetal.com,was quoted by Washingtonian:
"It pissed me off. I do a lot for promoting metal and DIY scenes, and to have racist bands take advantage of that is offensive to me."
To Chris, racism is the most grave sin of all due to recent events in the news. Not murder, not theft, just racism. Metal Chris doesn't care that Bobby Weschler could easily be Jewish and simply might not have wanted to host Nyogthaeblisz in his own place of business upon being told of their antisemitic lyrics. Those might go against his own personal religious beliefs, perhaps present a fear of losing business, or maybe just a chance he didn't want to take the chance of antifa showing up with some baseball bats to wreck his shop.
Chris and his social justice warrior friends of course do not like black metal or actually care about Weschler's religious beliefs and livelihood. They probably do not care about Jews unless they are Jewish themselves; like typical socialists, they probably detest Zionism, probably call Israel a racist state built upon ethnic cleansing, and probably wish all Jews would abandon their ancestral beliefs to become poseur Bolshevik communal squatters. Metal Chris and his buddies probably think Judaism will be next after they smash Christian sexual superstition and the patriarchy through their typically disgusting protest actions such as going on shower strikes to magically make it rain more to alleviate droughts that are racist as they are only happening in a certain part of the world. Even more extreme obscenities such as publicly sodomizing blowup dolls of the founding fathers of the United States would not be out of the question for such attention whores not so far removed from the New York University Mattress Girl.
Metal Chris and his special snowflake posse really just wanted to shutdown a Hispanic black metal show to virtue signal to their idiotic friends. These self-proclaimed social justice warriors are trying to suppress art created by ethnic minorities in an attempt to publicly prove that they are "not racist" for social capital. Socialists striving for both social capital and equality by oppressing minorities. When idiots like this want to seize political power are they going to falsify a new Doctor's Plot to try to send everyone they dislike on a permanent holiday in Cambodia?
DCHeavyMetal.com also noticeably attempts damnatio memoriae on two of the few notable underground bands from the Washington, DC area who just happen to share a member who I presume is Argentine: Arghoslent and Grand Belial's Key. Metal Chris left only Deceased on DCHeavyMetal.com's sidebar with a bunch of stoner rock and metalcore bands. Chris putting his hands over his eyes and tucking his head in between his cargo-shorted thighs will not put Arghoslent and Grand Belial's Key on helicopter flights out to sea.
Tags: Arghoslent, attention whore, censorship, communists, crustfundies, dcheavymetal.com, Grand Belial's Key, hypocrisy, idiots, maryland, metal chris, metalgate, news, nyogthaeblisz, political correctness, racism, raw ink, scenesters, sjws, social justice warrior, social justice warriors, special snowflake, washington dc