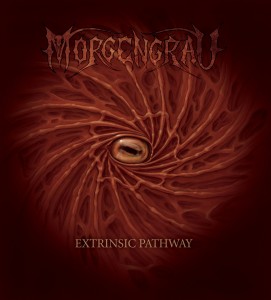 Austin, TX old school death metal band Morgengrau prepare to unleash their debut album, Extrinsic Pathway, onto an unsuspecting world.
We are fortunate to be able to stream the title track for future listeners of this band that stays true to the old school of 1988-1992 death metal but also has its own style, sometimes informed by other metal genres.
Comprised of musicians who are both old hands and relative newcomers of strong heart, Morgengrau tore apart Austin and Houston with recent shows, leaving audiences worried about the possibility of a sonic apocalypse. Now, they intend to bring the same sound to your cars, workplaces and living rooms with a CD out on Blind God Records on April 2, 2013.
If you like many others prefer your metal to be old school, with no weebly guitars, pig squeals, breakdowns or mechanical-sounding sweeps, check out "Extrinsic Pathway" below:
Tags: death metal, morgengrau, stream