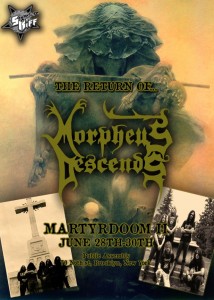 One of the original death metal bands, Morpheus Descends made heavy old school death metal during the hazy transition between 1980s and 1990s styles, preferring a slower and resonantly crushing approach to their percussive music just as most bands were opting for faster and more technical work.
With 1992's Ritual of Infinity, the band showed the culmination of their early demos and live appearances in an album that came to define not only old school death metal, but become the example of the New York Death Metal sound: industrial textures, crushing rhythm changes, primitive riffs in complex combinations.
Many of us who uncovered Suffocation's Effigy of the Forgotten remember seeing Terrance Hobbes wearing a Morpheus t-shirt. As it turns out, there was another Morpheus who wanted the name; history doesn't mention them much. Morpheus Descends kept going and influenced all of American and European death metal.
After Ritual of Infinity, Morpheus Descends went on to release two more EPs of a technical nature before disbanding. Now at the Martyrdoom II Festival, where Morpheus Descends will perform at a club called Paper Box on 17 Meadow Street in Brooklyn on June 29th, we will see what this band has been up to in the intervening years.
Tags: death metal, morpheus, morpheus descends, nydm