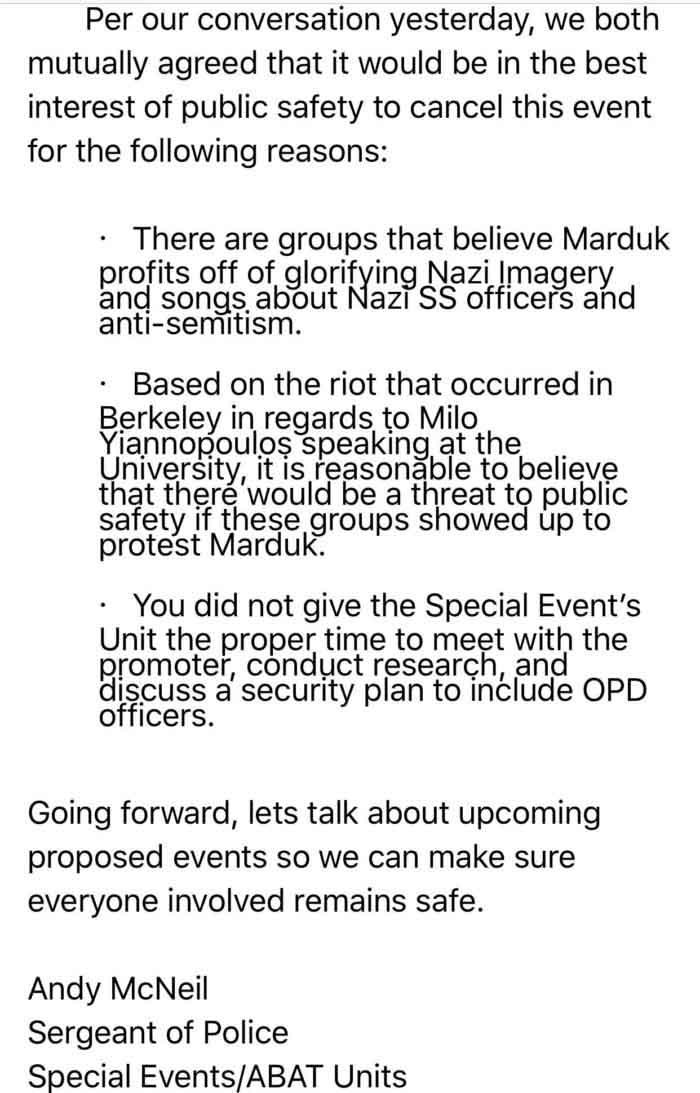 The Oakland Police Department allied with antifascist and communist terrorists to get the Oakland Metro Operahouse to cancel Marduk's booked show with Incantation there today on February 18th according to a post on the venue's Facebook page. Antifascists and communists had previously vowed to attack Marduk's planned gigs in Oakland and Austin.
In the last week we have read interview after interview with Marduk spanning over the last 20 years and found no statements indicating the band are white supremacists, nationalists, or anti-immigrant. That being said, we don't want to subject our security staff, venue staff or the public to violence. Our staff is almost exclusively POC and/or LBGTQ and they have all expressed the desire to work, but as we are getting threats, we just can't risk it. So, in the interest of safety, and because the Oakland Police Department would have insisted anyway, we have canceled the Marduk performance on Feb 18.

The Oakland Police Department has decided in the interest of public safety that the Marduk show on Saturday, February 18 at the Oakland Metro Operahouse be cancelled. Refunds at point of purchase. We apologize for the inconvenience.
According to the comments section, the Oakland Police Department told the venue that they "would not give the venue a permit to let the band play." even if the Oakland Metro Operahouse tried to go through with the show. Apparently the Oakland Police Department are okay with allowing continuous violent protests against police from groups like Black Lives Matter but refuse to allow a caveman, beercore "black metal" band to play in the city due to their use of World War II imagery.
Are Slayer and Manowar banned from Oakland now even though Manowar wear fur underwear and Slayer sport Raiders jerseys? Will Iron Maiden be banned from Oakland for "imperialist propaganda" contrary to the Bolshevik creed? Will Sodom be banned for making chemically burning Vietnamese peasants into oh so moshable speed metal on Agent Orange?
Angela Dancev, the same communist terrorist responsible for threatening Deathfest to get Disma kicked off the bill, was responsible for this incident. Why hasn't she been arrested for threatening acts of terrorism against two music venues and actually firebombing UC Berkeley? If Muslims had made these same threats instead of leftists, the FBI and Homeland Security Department would have thrown them in a hole in the ground. Here's Dancev's LinkedIn page where apparently she is indoctrinating Bay Area youth into leftism using the public school systems.
Leftists like Dancev do not wish for freedom of speech, freedom of association, and freedom of the press. They want every single person and publication to chant the praises of comrades Marx, Lenin, Stalin, and Mao or face gulags and guillotines. They wish to purge every aspect of occidental civilization they find objectionable, the same as Islamic fundamentalists. They will not stop until the killing fields are filled with the skulls of freethinkers.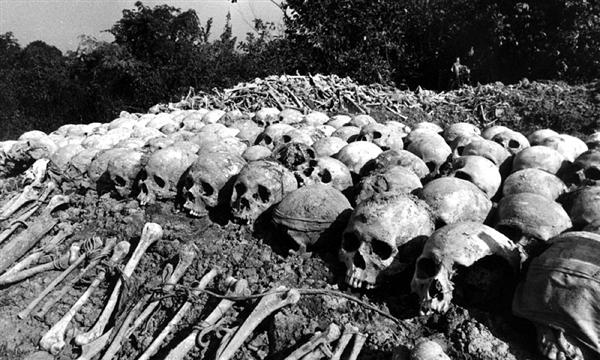 Tags: angela dancev, antifa, antifascists, California, censorship, communism, communists, marduk, metalgate, milo yiannopoulos, oakland, political correctness, terrorists