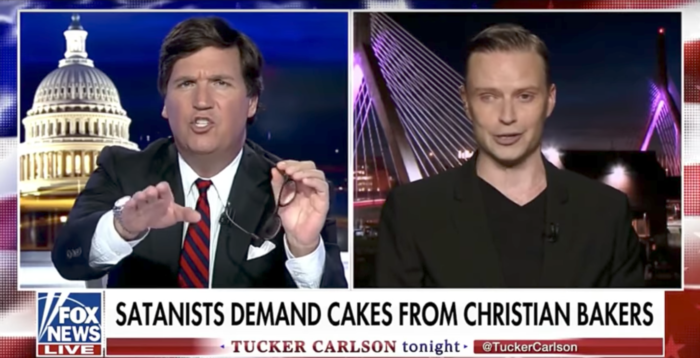 At the end of last year, we predicted that overt satanic lyrics and themes in metal would see their last days. There is no band that will accelerate this quicker than goofball circus act Watain, who market themselves as the evilest band in the world by LARPing as an American biker gang and staying in character through all media interactions. By doing so, they can act like they're more "trve" than Dimmu Borgir and Dark Funeral despite being even more campy than both in their music and aesthetics.
But in the most cowardly of moves, the band kicked out the only credible member- former Dissection guitarist Set Teitan- because a picture of him doing a Nazi salute surfaced on the internet.  Though the band hides behind the lame excuse that "he left so we wouldn't have to talk about politics," it's clear that the move was desperation on the part of Watain as they struggle to preserve their cash grab machine.  But regardless of whether lefties decide to shutdown Watain's freak show carnival tour, the band will never survive this incident as the few supporters they had will likely realize that Watain are as timid as they come.
Make no mistake, I'm not at all defending what Set Teitan did, as all Hitler/Nazi LARPing is a corny stunt pulled by fat redneck rejects so they can feel extreme from their mom's shed.  Instead, I'm celebrating as the Watain scam will finally lose all traction and the band will soon be homeless and broken in the streets.  Though they thought themselves to be instruments of the devil, they ultimately did a better job serving God by destroying the satanic metal scene from within.
The Watain lie began when three losers clung to the ridiculous rumors surrounding Quorthon and Bathory in the 80's- that he was a witch, that he murdered children and performed evil magic rituals.  When Quorthon admitted that he was just a simple guy making music in his record executive dad's garage and that his faith was actually pagan, Watain just couldn't let go of their nerdy little devilworshipper child fantasies.  This was probably due to Watain being beat up at school and rejected by metalheads that were more rational about reality.  In any case, Watain's members were determined to try and live out the character that a fake metal media created about a pretty down to Earth Swede.
In 2000, years after the satanism of the Norwegian black metal circle" was proven to be a fake publicity stunt, Watain formed as an attempt  to "be more serious" as a band than their peers.  By more serious, they meant more campy in their goofy stage performances and ridiculous interviews.  In any case, the band was received as another medicore band in an age where creativity and metal was on life support.
But in 2006, a decisive change of events occurred.  Dissection singer/guitarist Jon Nodveidt  committed suicide in what he alleged to be a "ritual death because he accomplished everything he wanted" but in reality was probably due to his Reinkaos album being rejected by the entirety of the metal scene at the time.  Watain saw two things- a man more masculine, occult, and sinister that they can ever be- and a business opportunity to capitalize off of the Dissection sound and MARKET THEMSELVES as being as evil and badass as Nodtveidt/Dissection.  The band actually fooled a number of metalheads into this by recruiting Dissection's last surviving guitarist (Teitan) and changing their style to be a poor ripoff of the Reinkaos sound.  They also stole all of the Dissection aesthetics- the Neptune tridents, the Reinkaos artwork style, and the biker vests.  By doing so, they were able to monetarily capitalize off of a metal scene grieving the death of one of the greatest guitar players and vocalists that death metal would ever come to know.
For years, this Dissection-lite marketing scheme worked as many were fooled into buying Watain albums.  But as the years went by, it was clear Watain were just tame gay beta males posing as Nodveidt/Quorthon-teir metal.  The evilest band in the world weren't too evil to accept a Grammy award, or do goofy high quality photo shoots in jungle makeup, or let their record executives troll them by suggesting they sing a country rock song on their 2013 album The Wild Hunt.  
By 2018, Watain were a laughingstock.  They were such an embarrassment that the forum of Nuclear War Now Productions, the stomping ground for occultist virgin neckbeards,  announced they would ban anyone who posted about Watain.  In a desperate attempt to win back their support, they changed their entire sound from Dissection ripoff to Revenge ripoff and released a terrible Revenge-lite album.  But it was too late- everyone knew Watain was a joke, a parody of 80s Bathory and the Norway black metal circle, and ultimately evil in image only.
Watain immediately caving over the Set Tetian photo (within 24 hours of it going online) to appease their record label is a contradiction to every lyric the band has ever written.  The act was absolute submission, but instead of submitting to their supernatural creator they have submitted to greedy record executives who will milk them for every penny and leave them for dead.  Of course Set ran with the type of characters that Jon Nodveidt hung out with in prison: such behavior shouldn't be surprising to the Watain members that had toured with him for so many years.  They knew, but it clearly didn't bother them as long as the money was coming in.
At the end of the day, Watain's entire career wasn't about satanism or darkness or being evil.  It was about money, the likes of which bands like Watain see very little of.  Think about it… music groups that make money (pop artists) have done way more to subvert society and corrupt individuals with amorality than any black metal band ever did.  Therefore Lil Wayne and Miley Cyrus have created more evil than any Watain member in their marketing of teenage pregnancy,  STDs, dirtbag drugs, and progressive liberal values.  Bands like Inquisition and Watain are about as evil as a deck of magic the gathering cards and only serve to keep the losers who still play such laughable games stuck in permanent virginity.  Despite all their worship and ritual, Satan has done nothing to protect Watain and Inquisition from poverty and the oncoming plague of social justice warriors.  They were fooled into a few years of micro celebrity status and urinated into a sewer drain soon after.
By merely existing, Watain make a great case for Christianity.
Tags: Black Metal, career suicide, carnival music, cash grab, dissection, jon nodtveidt, LARPing, laughincstock, Nazism, news, Occultism, Satanism, Set Teitan, sjws, terrible music, watain