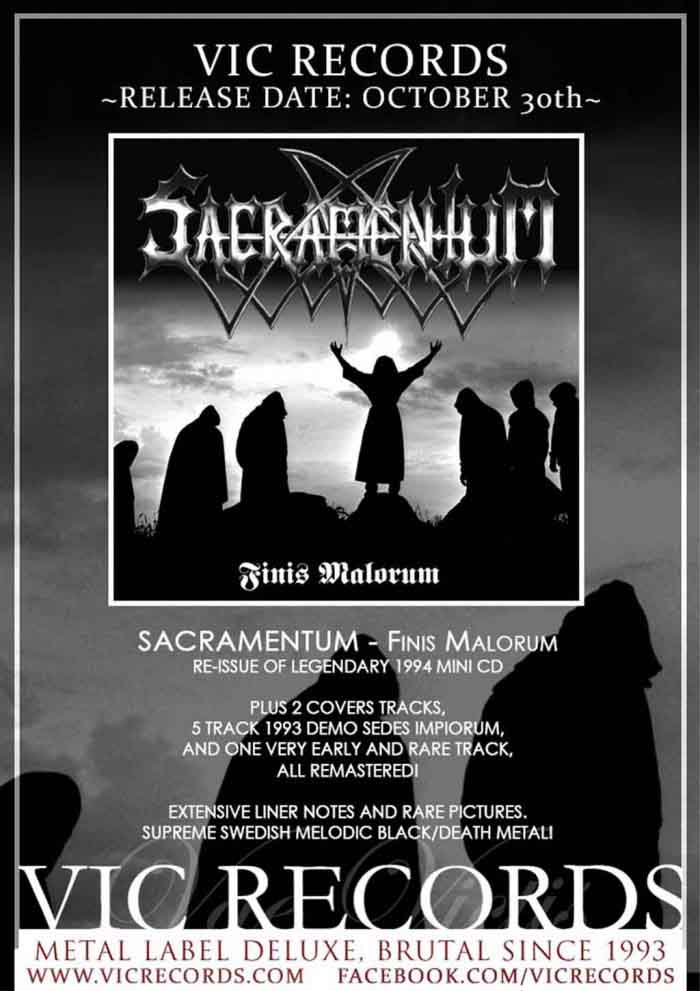 Following up on an earlier announcement, Vic Records released the complete details:
Re-issue of legendary 1994 mini cd plus two covers tracks (Sepultura's 'The Cure/ Antichrist' and Mercyful Fate's 'Black Masses'), their 5 track 1993 demo 'Sedes Impiorum', and one very early and rare track. All tracks are carefully digitalized, restored and remastered by Achilleas Kalantzis at Suncord Audiolab (Varathron, Benediction,Gomorrah). The booklet contains extensive liner notes by French journalist Olivier 'Zoltar'Badin (Cathedral, Dark Funeral, Treblinka) and many rare pictures. Finis Malorum was recorded in Unisound Studios, Sweden with Dan Swano (Katatonia, Opeth, Dissection) and the cover tracks were recorded with Kings Diamond's Andy Laroque at his Los Angered Recordings studio. Supreme Swedish melodic Black/Death Metal! Sacramentum recently reformed and will release their new album on Century Media.
Should be out on October 30, appropriately.
Tags: Black Metal, sacramentum