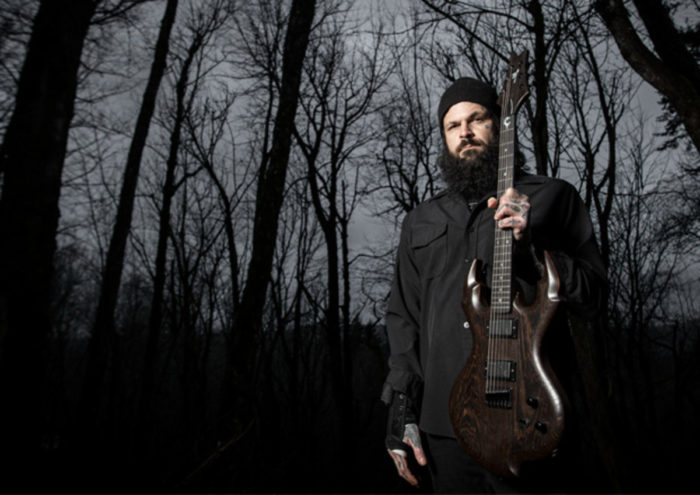 Leviathan mainman and convicted domestic abuser Jeff Whitehead (a.k.a. Wrest) is being evicted from the Portland Oregon warehouse he maintained as a storefront for his Devout Rcrds label/record store and the "anarchist print shop" Eberhardt Printsop. Whitehead is the victim of allegedly evil capitalist landlords who want to commit the horrible act of leasing their hard earned property at market price, which happens to be double that of what Wrest can afford. Therefore, Wrest has tapped his neo-communist friend Neil Jameson (who is publicly living out a similar midlife crisis) to help beg for moneytarget="_blank" rel="nofollow external" from "the miserable collective workforce" a.k.a. you, the consumers.  Yes, you have read correctly- Wrest is so desperate to save a commercial "Anarchist clothing line" from having its free-market commerce shut down by other free market commerce that he has stooped to digital panhandling.target="_blank" rel="nofollow external"

Wrest is experiencing what has been happening in every hipster trust fund kid neighborhood across the nation ranging from Williamsburg Brooklyn to Philadelphia's Fishtown to the entire city of San Francisco:  Hipsterism has become mainstreamed, landlords know they can rip off rich parents by doubling the rent paid on behalf of their hipster offspring and corporate America has steamrolled over "charming counter-cultural neighborhoods" with retailers and commercialization.  This is what causes the mournful lamentations of broke hipsters like Neil and Jeff who want to live out their angsty adolescence forever and do whatever they can to avoid assimilation into communities of people that don't suffer from mental health issues.
What's even more horrifying to midlife crisis metalheads is the uncomfortable truth that the old "counter culture" is now popular culture.  This is why you see metal musicians and bands constantly adopting the same political stances as mainstream media outlets and pop artists and why vinyl is being sold at Urban Outfitters to people who don't have record players.  Conversely the new counter culture is right wing politics, nationalism, traditionalism, family, church, community, and happiness, the latter of which absolutely terrifies musicians like Neil and Jeff who have spent entire careers singing about suicide and depression.  It's why sheepish metalheads are fantasizing about communism and anarchy despite the former leaving no option to preserve your business should the government reassign it and the latter leaving you defenseless against someone bigger and richer than you who might just want to move into your office space.
Metal culture, too will move in the direction of the new counter culture and leave musicians from the forsaken hipster era behind, as the genre itself is rooted in romantiscism and traditionalism and founded by Christian working class capitalists (Black Sabbath etc).  Enjoy the works of Krieg and Leviathan if you may as both bands have produced decent music but pay no attention to the anti-capitalist whining of their founders as they're still charging you money for their albums and merchandise.  Any true communist would give all of their music and T shirts to their fans for free and any anarchist wouldn't be selling music and merch on Bandcamp.com or Moribund Records.  Finally, don't give your money away to domestic abusers like Wrest so they can live out their hipster counter-world fantasies but instead pad your savings accounts so you can make a better life for you and your (future?) families.
Neil, Jeff, grow the fuck up and make something of yourselves.  Enough trying to relieve the past, focus on the now, the tomorrow, find work that you enjoy and take pride in being a part of the society that's allowed you to live out your rockstar fantasies for so many years.  Stop dumping this kind of bullshit onto your fans and stop begging them for gofundme money to pay for your failures.
Tags: aging hipsters, anarchy, Black Metal, black sabbath, cash grab, commercialism, communism, depressive black metal, gofundme, Heavy Metal, hipsterism, hipsters, krieg, Leviathan, midlife crisis, pahandling, Realism, sad, suicidal black metal, traditionalism, trust funds