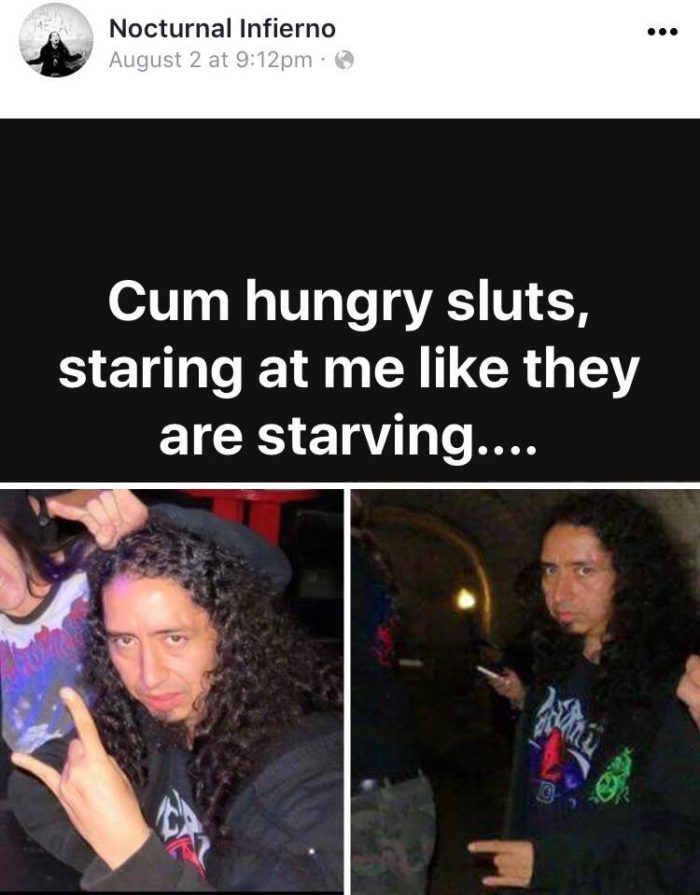 Some punk scenester social justice twat named Alyssa Lorenzon lashed out at Mike Browning after comments the keyboardist of his Nocturnus AD revival of Nocturnus made on Facebook documenting his poor sexual success with sexually abused and bipolar women.
Nocturnal Infierno posted his thoughts on abused women refusing to perform fellatio, the "#metoo" hashtag surround film producer Harvey Weinstein's long history of sexual harassment, assault, and probably rape, and how only ugly chicks up in arms over nude self-taken pictures: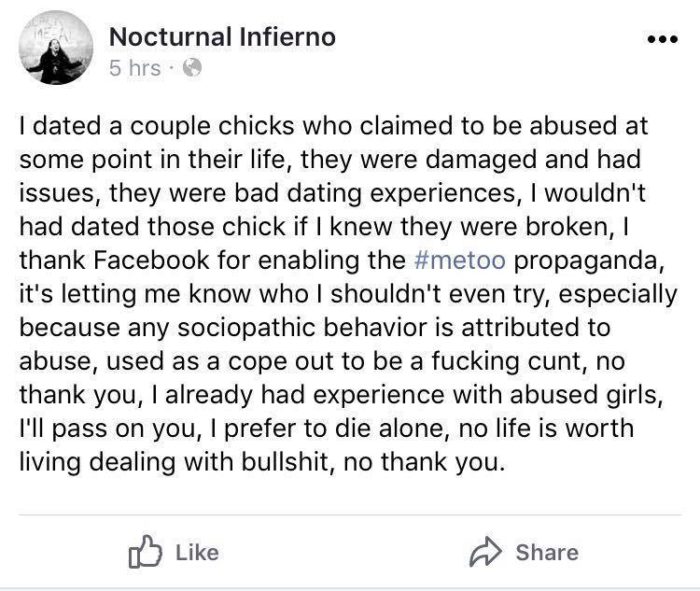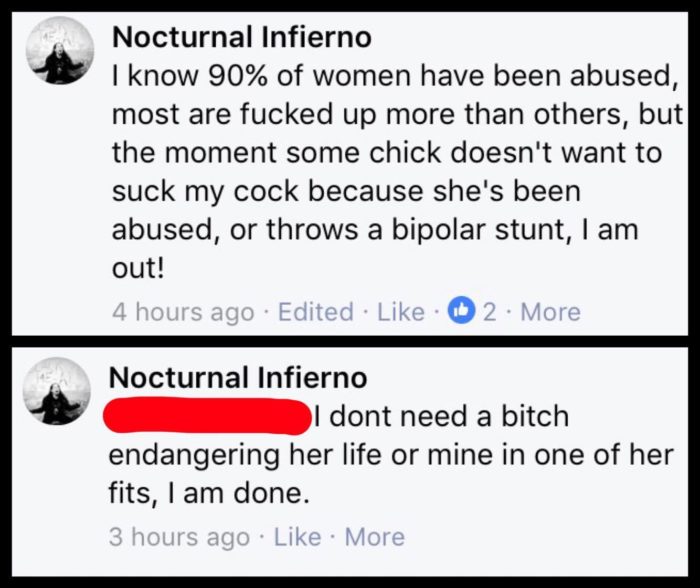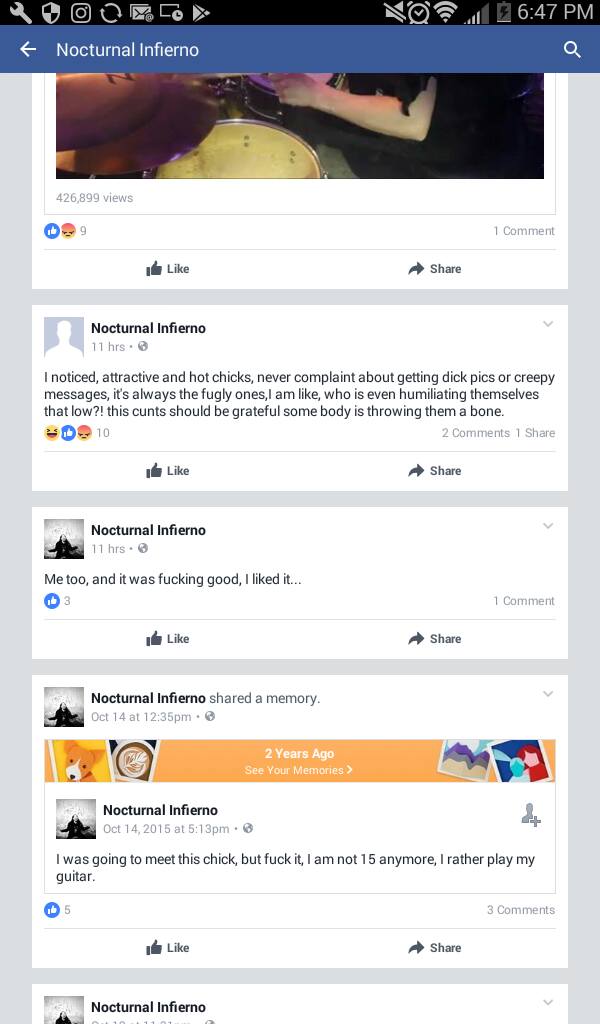 Nocturnal Infierno later apologized to quell the rage boiling inside the hairy, Pabst Blue Ribbon filled pot bellies of scenester crust poseur:
About my post on #metoo that got around, I posted that because two people I dated out of the six in my entire life, (thats not counting the countless one night stands I had with people I don't know their names, it seems like I have to be very specific with everything I say here, and to be honest, I don't recall the total of females I had sex with, I am not in high school anymore, thats irrelevant ) where bi-polar due to abuse, one of em would out of the blue start crying in the middle of sex, then slap me and punch me for no reason, I was emotionally attached to her, I didn't know what was happening, she would get pissed for any little thing and kick me out of her apartment, then when I was back home, she'd call me to be back at her place, in her periods she'd get really violent, she pulled a knife on me many times,

I called her once and she picked up while having sex with whom she used to call "just a friend" breathing hard,I was so stupid and I thought I loved her, then she'd call me to chill as friends like nothing happened and then seduce me and start all over again, I was thinking with my dick at the moment because she would fuck me silly, but then treat me like shit, I was confused and wondering what was wrong with me, why everything I did was upsetting her, or making her cry, treat me like crap and punching me or pulling knives on me, she'd used me to drive her around while fucking other dudes, besides me, she was promiscuous and I found out about it after months of mind fuck.

She made me feel guilty for her issues, and always said that she was raped, in order to make me feel sorry for her, I didn't want to leave her because I thought her as victim, but at the same time my life was a nightmare trying to fix or help her, after taking a psychology class and doing a research on bipolar disorder for a term paper, I learn more about her issues, only then I was able to move on, it was hard, it took me several years, I unfortunately can't stop loving some one a day after, I did love her and it hurt letting go and moving on, but in the long run is the best I did.

The second girl didn't last that long, since I already knew the signs, we used to have regular nasty sex as booty call before we went steady, as soon as we were a couple she stopped doing things we used to do before we got steady, and told me she didn't like to do those things because she was abused as a child, but she did all kinds of stuff before she became my gf.

One night she went drinking and then told me she slept with some dude in her bed, as if it was normal, I was pissed, she claimed nothing happened, but we all know that you just don't go drinking w some dude and just lay in bed and do nothing, anyways, I let that go, after two months of being w her, she dumped without a reason, no reason whatsoever, on a Wednesday, she called me next day to come over and chill, asked me to eat her out, then afterwards she kicked me out of her place, two weeks later she called me and told me she was pregnant, ( I am not even sure if it was mine ) she decide to abort because she was still married, but separated with one child, and if she had a kid she would lose custody and benefit, she had the abortion and after that, she would stalk me to the club I used to be a regular, and throw fits in front of everybody, blaming me for her abortion and her problems, once she was on the parking lot and lost her mind and started to vandalize the cars park there, some friends and I had to stop her and tried to calm her down, it lasted a couple months of stalking and drama fits on public, until the friend that drove her stopped giving her rides because of her attitude.

What about those other four girls I dated? well, they had different personalities, none of them claimed to be abused, and if they were, they weren't anything alike the aforementioned cases, they never used the excuse of being abused to justify their actions, if you were abused and didn't tell anyone or used it as a cope out, most likely the post will not make you angry, as it didn't to many other females in my page, they even liked it, otherwise, it will really pissed you off.

I am an individual and I have the right to chose who to date, no one can force me to date somebody that will endanger my mental or physical health, just to please other people. passive aggressive sociopaths shaming me publicly, you are the kind of people I talk about in my post, you engage in sociopath behavior under the excuse that you were abused, yes, this public shaming is exactly that, destructive sociopath behavior, just like my two ex's did, you are a living proof and example of my post, and you want every one else to feel sorry for you and give them a guilt trip if they don't do as you ask, or else, you are the problem, not me.
I have been an insensitive jerk toward the #metoo movement, my poor choice of words to express a personal issue, left so many blanks for misinterpretation, hurting the feelings of many victims of rape and abuse.

I didn't meant to include everyone who suffered a traumatic experience in a thoughtless rant, I've let my personal feelings towards a personal experience, which I consider is a form of abuse and manipulation, not in any way as traumatic as rape, but marked my life for ever as rape does to others, to take the best of me.

I was triggered just as much as many got triggered by my post, and used my freedom of speech in an indiscriminately manner, which is not fair in any level.

I should not let the bad experience with a couple of victims of abuse be the reflexion on every one who went through this, as my actions should not be the reflection of everyone involved in my life, my family and close friends or band mates.

I am sorry and I sincerely want to apologize to all of you, the #metoo movement and any female who I have disrespected with my thoughtless, poor choice of words and insensitive judgement.

thank you.
However despite bending over to the idiot mob, Nocturnal Infierno insists he is still a bad ass: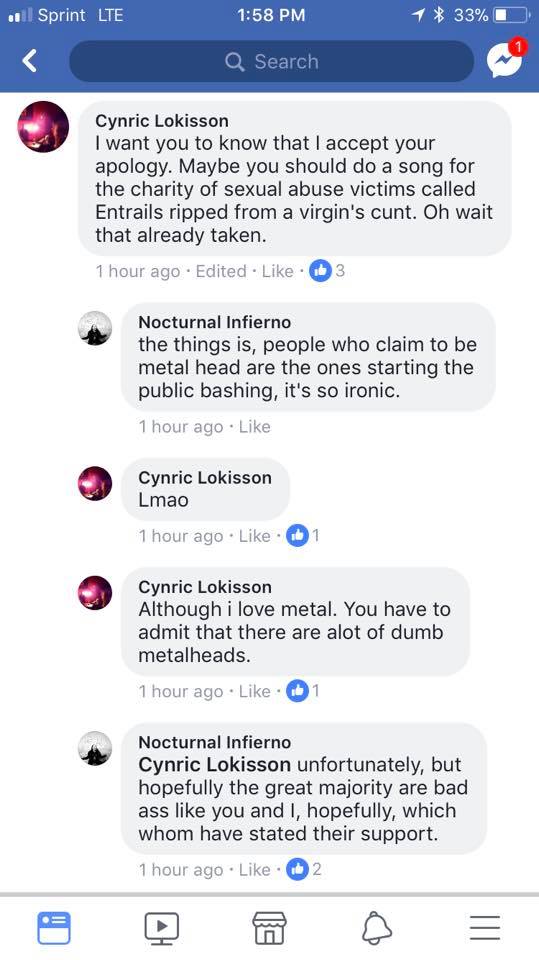 How can someone who seems to wish he was in Cradle of Filth and is in metal for the fat chicks (Nocturnal Infierno definitely has experience sending them dick pictures) be such a bad ass? He does not even thrash where he's at; he must sit in top hat like wimpy homoerotic Gary Oldman Dracula who cried like little girl in Bram Stoker's Dracula (1992). Nocturnal Infierni looks twice as wimpy here. At least he proves himself heterosexual and not war metal transvestite fetishist.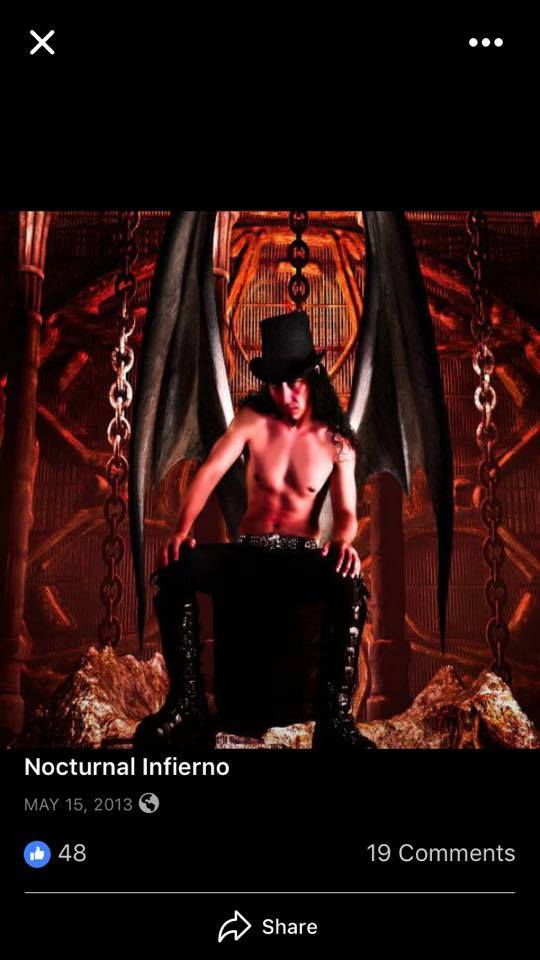 Mike Browning and Nocturnus AD does not condone Nocturnal Infieri's behavior and threatened to fire him from Nocturnus AD if anything like this ever happens again:
I just want to say that I saw our keyboard player Nocturnal Infiernos post late last night and made a comment and then this morning it had been shared and a lot of people are pissed off and rightly so.
First I want to say that NO ONE else in the band agrees with or has these types of opinions or posts on their personal pages and it is not any opinion of the band itself. I have kept Nocturnus AD out of politics and things of a sexual nature and there are a lot of bands that actually write about this stuff, but I have kept Nocturnus AD to a sci-fi occult horror theme which has nothing to do with the issues of today.
Second, I have had these problems with our keyboard player before and already told him not to post things like this because it will make the band look bad. We as a band are talking over the situation as it just only happened, I will state this as a fact, that it will NOT happen again or he will be fired, as of right now we need to wait till we can have a proper band meeting with everyone and get to the real problem. I have heard that he has apologized, but I don't frequent his page because I don't read his posts usually and haven't had much of a chance because I also have a personal life as well. But let me repeat again, as a band and personally we do not condone what he did and this will not keep happening.
The social justice warrior scenester lynch mob was not happy though. Another scenester twat named Patrick Bradley tried to call a mob to spam Nocturnus's Facebook page with threats.
Why don't you all go on over to Nocturnus AD tell them how you feel about their Keyboardist?
Nocturnus AD- "I have told him over and over again not to post stupid shit, but I am not his babysitter either, he needs to be told from other people because I am really tired of telling him the same thing again and again! Believe me this upsets me too!"
how about you kick him out?
Browning refused as he doesn't bend to the petty demands of special snowflakes and wimps.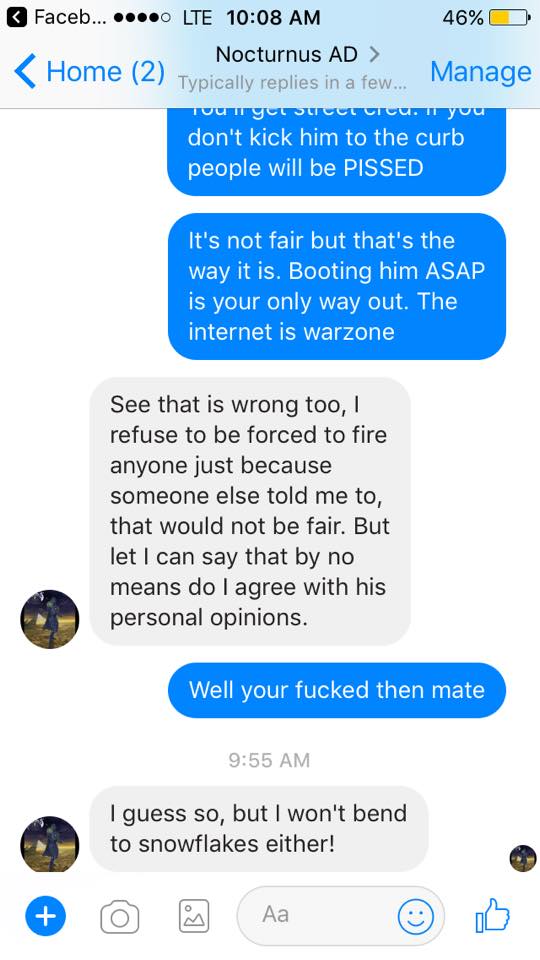 Alyssa Lorenzon, Cynric Lokinsson, and Patrick Bradley should slit their wrists in a Target bathroom. Nocturnal Infierno needs to shave his goatee off and flavor savor off for better luck in bed with sane women. Whatever happened to Louis Panzer though? He has to be thrashin' out somewhere you know. Mike Browning should dig him up you know. That would be sweat.
Tags: cultural marxism, facebook, idiocy, internet drama, keyboards, mental retardation, mike browning, news, nocturnus, poseurs, scenesters, sjws, social justice warriors, special snowflake