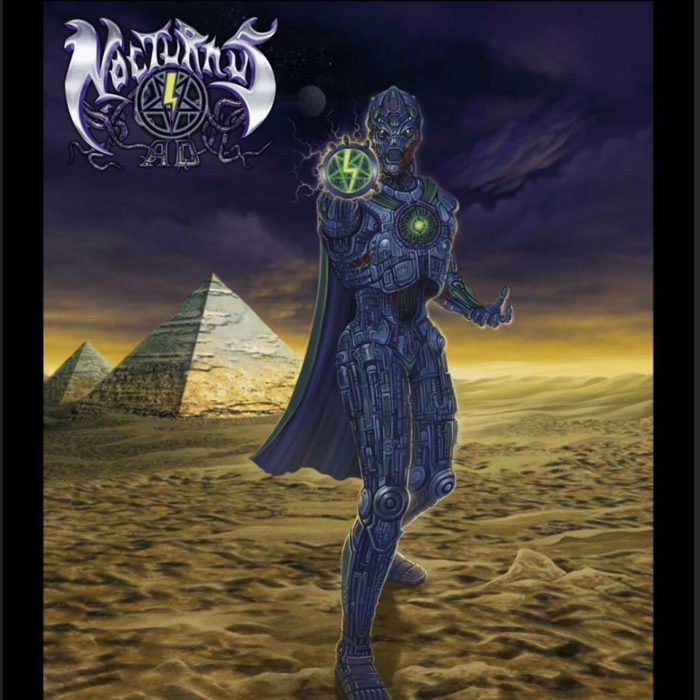 Nocturnus AD fired their keyboardist after Mike Browning's daughter received death threats online from SJWs mad about band's keyboardist's public Facebook posts about his constant failings at bedding sane women and mocking women showing solidarity online with with sexual harassment victims.
There is no easy way to go about this but because of so many different situations that have happened and especially what has happened over the last couple days, and let me say that in this type of situation that there are NO winners.
Yesterday my 10 year old daughter got a Death Threat on my Youtube channel from an obvious fake account that was just opened, saying that her head would look good on a stick. Let me say right now that there is no thing in this world that is more important to me than she is and I will not put her in this position because she is innocent as I believe the band should also not be blamed because one member posted something that even what I consider to be a terrible post. Nothing should ever escalate into someone saying they are going to kill a child because someone else posted something on Facebook. I cannot believe the hate that I have seen towards me and now my family coming from both sides, as now I have people threatening me if we fire him too, so I and my daughter have been put in this situation simply because I didn't want to get involved in what someone else posts on their page. I never would have believed that someone elses post on Facebook would result in a death threat to my daughter on Youtube and to make it worse, this person tried to make it look like they are a female, but I think it could be either because the account is definitely fake.
I also want to say that Nocturnal has been in the band for years and this is not the first incident of this nature. Back in May we played a show with Vader and we loaded on stage did a soundcheck in front of over 250 people and could not find our keyboard player and had to call him over the PA in front of the whole crowd just staring at us, well where was he, out in the car with a girl in the parking lot while we were on stage waiting to play! After that last incident I told him if he ever pulled anything again that he would be fired, well all I can say is that he had way more chances than I should have given him, but I am a person that tries to help people instead of just right away kicking them to the curb because my daughter's mom was an alcoholic and used to get drunk and very violent, so I try giving people chances and try to talk with them and hopefully help them with their problems instead of just dumping them. But that has also been my downfall in all of this. I would have much rather tried to help fix Nocturnals obvious problem with women, but he obviously does not want to change and me having a 10 year old daughter, I don't want to have someone like that in my life or my band. That being said we are a band and have shows and contractual agreements that were already happening that we had to figure out as a band what our next step would be to make things still work, so that is why I just asked for a little time to figure everything out, but now in just 2 days it resulted in a death threat to my daughter because people want answers without knowing anything of any of the surrounding circumstances. I hope everyone on both sides is happy that it has resulted in someone giving my child a death threat.
We will be continuing as a band, but without Nocturnal because I have already told him back in May that he was already on his last straw with this band and so he made this decision first by doing exactly what I asked him not to do and he had previously said he would not do, but he did anyway. So there were many reasons why he is being let go and not just because of this one incident that has gotten way out of hand.
We have 2 shows coming up which we will still be doing, but without keyboards because there is simply not enough time to get someone in by then. I have been talking to another keyboard player the last 2 days who is a friend of ours that has said that they would be glad to help us out, but this person is not in Tampa and I want to make sure that he can help us and wants his name out there before I say who it is.
So like I said in this type of a situation there are no winners, but a lot of haters. But I refuse to let this set me back more than just time and hopefully the outcome will be an even better Nocturnus AD!
Hopefully Nocturnus finds a studly keyboardist to not creep out the ladies and the Cultural Marxists who threatened his daughter with death receive instant karma in the form of broken noses, cheekbones, and rectums in prison. Offenders against children are seen as the lowest of the low in the open yard.
Tags: communists, cultural marxism, death metal, internet drama, mike browning, news, nocturnus, sjws