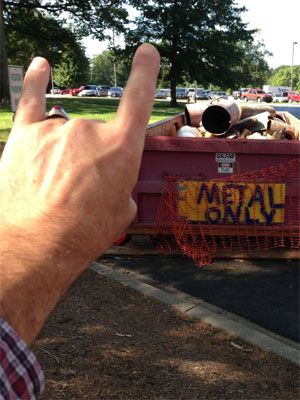 The origins of human fascination with music remain unknown. A number of hypotheses have arisen throughout the years in an attempt to explain the utility of music to human civilization.
These vary from viewing it as arising as an individual occurrence with unique philosophical implications, to seeing it as a side-effect of language-based communication; a pleasant phenomenon but without any meaning beyond that. Regardless of its cause, the functions music provides are generally easier to identify.
Via the Journal of Personality and Social Psychology, newly released academic research into the social implications of music has claimed that music functions as a way of bringing people together within a group. Specifically, the authors claim that music is a vehicle for projecting "information about the group's shared mental state to a number of individuals at once."
In this view, music is a type of broadcast that attracts people based on a topic and brings them together in unity of experience. This enables the group to consolidate its knowledge and then distribute it to all of its members, not unlike the social functions of good political science books, novels, speeches, movies or other memetic/viral communications.
As evidence for this new research, multiple studies are presented in which the authors posed questions to a test group designed to determine their emotional need to belong, and then compare it to how strongly they react to music. The findings were that there was a direct connection between this desire and its fulfillment through music. As a corollary, after researchers attempted to break down a group's sense of belonging, the effect music had on it increased further.
While some metal fans may not wish to admit this, the genre does serve this role for many of its enthusiasts. That's not to say it's the primary reason for listening, over the sound itself; but metal as a social component does exist. Regardless of a person's position within society, those who appreciate metal (therefore excluding those who listen ironically, i.e. hipsters) share something in common.
Alienation of modernity is present within all art forms of metal — whether politically, spiritually, or just plain exasperation at our disposable TV dinner culture — but unlike the solutionless protest music of yore, metal provides a constructive way of overcoming this. It allows a group of people who in some cases may not be able to describe themselves directly, to communicate through an art form.
What makes metal interesting is that it operates on many levels. At the lowest, it is simply exciting music. Higher up, it is complex music that attunes the individual to a certain naturalistic outlook. At the highest, perhaps, it helps metalheads reach others who feel similarly but perhaps never consciously examined their beliefs, and from that build a community around understanding.
Tags: academia, Heavy Metal