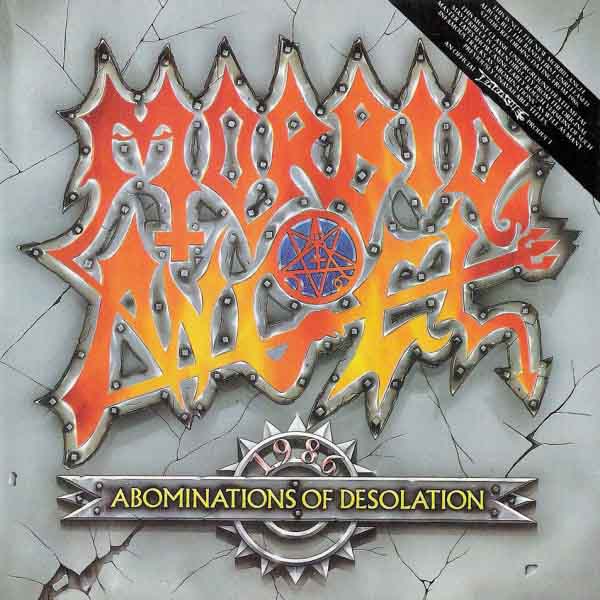 Back in 1986, one lineup of Morbid Angel recorded what that lineup considers the first Morbid Angel album, Abominations of Desolation, which was later re-released on Earache Records in 1991. But three years later, the band re-recorded most of the songs in a streamlined form and released it as Altars of Madness, which the lineup of the band as was at the time through the present considers to be the first Morbid Angel album.
Avoiding a peek into the controversy and the clash of personalities behind it, metal archaeologists today can look at the musical differences between these two albums. Altars of Madness focuses on a tighter and more streamlined style that too often slips into the type of verse-chorus with bridge that was used extensively on speed metal/death metal hybrids like Seven Churches and Rigor Mortis. This may show the influence of Texas band Necrovore, who established a more aggressive aesthetic but kept song structures closer to the NWOBHM model that speed metal used.
At the same time, other bands were taking a hint from Hellhammer/Celtic Frost and writing songs which had some repeated passages which could be used as verse and chorus, but behind those varied the riffs to give the song a unique structure. This opened up new possibilities that all bands entrenched in the rock 'n roll "verse, chorus, bridge, solo, repeat" pop song format could not reach. In that new frontier, bands saw new musical and artistic possibilities, and the form of modern death metal began.
The first Morbid Angel album contained many of these aspects, particular in some of the odd structures used on the first track. For the most part however it stuck to good old fashioned pop song format with a few modifications, using the Slayer technique of introductory riffs and some hints from Possessed. This showed a dramatically different side of the band than the extended compositions of Abominations of Desolation which, while many used verse/chorus at their center, were more likely to vary riff form and use solos as a kind of second layer to the rhythm guitars.
Controversy continues to this day regarding which is the "true" Morbid Angel. As strange as it seems, the first recording may be the one that opened up more historical space, although its lesser production and expanded song structures made it less hard-hitting at any instance and thus less "heavy" or "brutal" to the audience, which is why the band wants it to be the first album: it is a better product. For many of us however Abominations of Desolation has long surpassed the first two Morbid Angel albums as the one most frequently listened to because of the depths of its complexity and musical imagination.
Tags: Abominations of Desolation, Altars of Madness, death metal, History, metal history, morbid angel