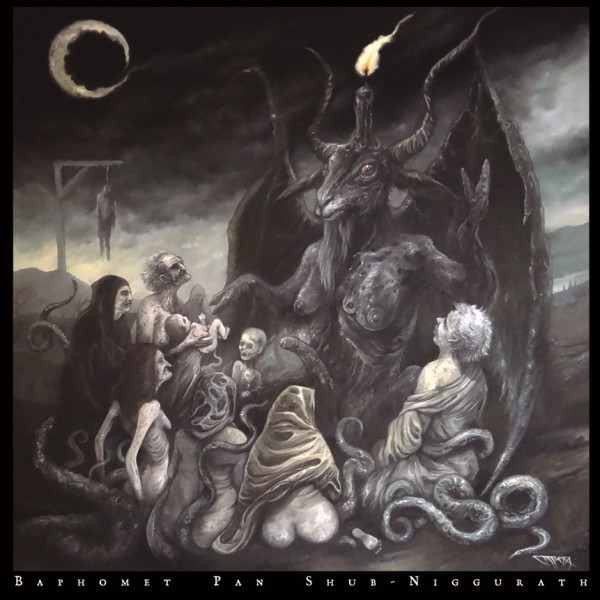 Named after a fictional work of occult literature in the Cthulhu mythos by H.P. Lovecraft, the "nameless cults" give their name also to this band who create modern death metal that remains true to the death metal style. Like Immolation circa 2000, carefully tuned guitars and use of odd diminished melodies create a suspension of reality that a rhythmic approach like that of the Deathspell Omega era "progressive" black metal complements and expands.
Baphomet Pan Shub-Niggurath cites from fully four generations of metal, mixing speed metal riffs with modern black metal and the aforementioned dissonant and complex death metal, but sometimes slides in old school death metal riffs and transitions reminiscent of the hybrid era of underground metal in the early 1980s. The tendency to offset rhythms to insert additional riffs comes from the newer style of black metal, which permits groove so long as it is disturbingly detached from consistent expectations, but the core of this album comes from the streamlining of death metal in the early years of this century that brought different chord shapes and dramatic conclusions to the genre.
Other influences work their way in here including a use of plodding cadences that would have fit onto a God Macabre or Afflicted album. Songs work riffs into a circular pattern that always returns to familiar themes for choruses but splits verses across multiple riffs using a Slayer-inspired pattern of working in a precursor riff, then changing riff, and then altering its texture and tempo with layers of drums, bass and vocals. Then the song culminates much like later black metal in a kind of revelation which melts down into the soup of primordial riff ideas that earlier served to introduce or complement themes.
For contemporary metal, Baphomet Pan Shub-Niggurath keeps its focus more firmly in the continuance of past traditions into the future than bands like Immolation managed. It does carry the tendency to be too emotive on its surface like Deathspell Omega, which leads to technique replacing content, but keeps this in line. This work impresses with the first couple listens and while it will undoubtedly socket itself into the secondary tier of death metal bands, crushes most of its contemporaries handily and displays a blueprint for death metal to get out of the metalcore funk and back to a newer version of its roots.
http://www.youtube.com/watch?v=Z15bfUxUEn0
Tags: Black Metal, dark descent, death metal, demigod, h.p. lovecraft, immolation, iron bonehead, unaussprechlichen kulten, underground metal