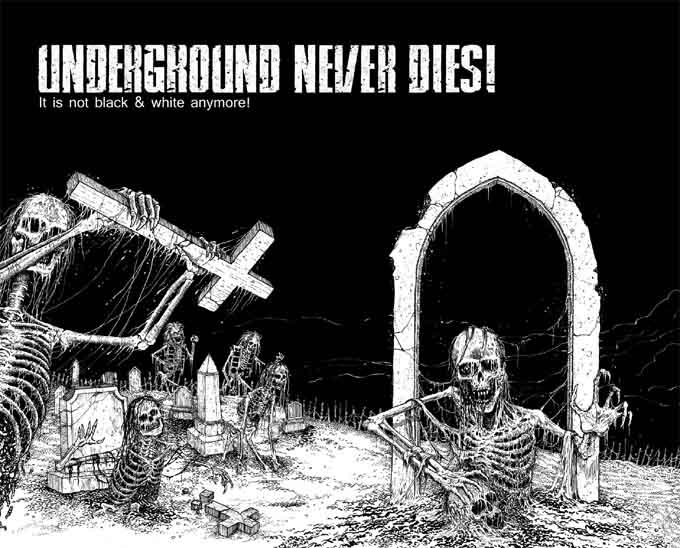 Our ongoing coverage of Underground Never Dies! by Andrés Padilla continues with this review of the accompanying LP. As you may recall, this LP of early death metal classics comes with 500 copies of the book and boxsets, but will also be able to be ordered separately on CD/LP.
Underground Never Dies! is a look at the nascent death metal movement through the eyes of zine editors, musicians and writers from the mid 1980s-mid 1990s era when the genre was birthed. For more information about its genesis and content, you might want to check out our interview with Andrés Padilla and read the other half of this review, which includes a 3-page sampler of the book itself.
What makes Underground Never Dies! exceptional is that it does not attempt to be anything but a subjective and in-depth exploration of what the author and those he knew found to be meaningful in the death metal underground. It explores what the term "underground" itself means, and what motivated these musicians and other creative people to set up an underground and nurture the music in it.
The book itself is a crown jewel, with glossy pages reproducing the original flyers, zines, band photos, demo covers and other artifacts of the age, plus extensive commentary by people who were active in that time, with big names appearing alongside obscure but insightful contributors. Visually, it is overwhelming to the point where it must be digested over many days with appreciation for all of the details, much like one used to peruse Mad Magazine for the Antonio Prohias cartoons in the margins.
The accompanying LP is also a masterwork of old school underground extreme metal joy. Side B begins with the most famous track by Necrovore, the band who in 1986-87 took the raw ideas of early death metal and gave them an aesthetic of apocalyptic rage that was later influential to Morbid Angel. Invocator and Armoros follow with tracks that show us the speed metal roots of many of the most popular riff themes in death metal. Sadism contributes an older school track that shows the mentality shifting from speed metal's logicality to death metal's feral rage and structural obsession. Finally, Poison and Mental Decay reveal some of the more hardcore punk-influenced work in the underground, showing us both the weirdness and commonality of purpose between the two genres in their original form.
In addition to the tracks streamed here and on Side A, the CD/MC version of the accompanying music contains a bonus side with more tracks from famous, infamous and obscure bands.
Streaming MP3s of Underground Never Dies! LP/CD – Side B
1. Necrovore – "Mutilated Death" (4:25)
2. Sadism – "Psychomental Storm" (2:57)
3. Invocator – "The Persistence from Memorial Chasm" (4:14)
4. Armoros – "Euphoria" (3:23)
5. Poison – "Black Death" (3:14)
6. Mental Decay – "The Final Scar" (3:27)
Tags: andres padilla, book, extreme metal, grinder magazine, underground metal, underground never dies