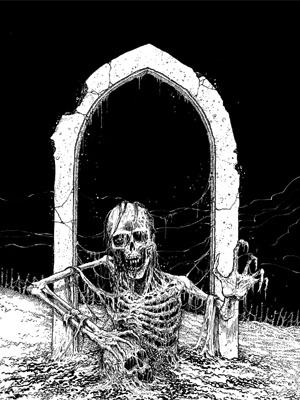 The forthcoming release of Underground Never Dies! on Doomentia Records will be accompanied in its first pressing by a unique LP which features classic tracks from back in the early days of the death metal underground.
Thanks to author Andrés Padilla, editor of Grinder Magazine (CL), the world can now see what's on the LP. But first, information about the LP itself. There will be several batches, as follows:
Box set

Limited to 150 copies
Massive box with custom padding for:
Underground Never Dies! book
LP on colored vinyl
MC
CD
A1 poster

500 x vinyl

150 on black/white HALF/HALF effect
350 on black

500 x CD
200 x MC
500 x Underground Never Dies! book
This means that 500 LPs will go out with the book, and another 500 LPs, 500 CDs and 200 MCs will be available for underground maniacs. There's going to be a run on these at your local distros, especially the padded box set which is "massive" in form and content if early reports are right.
Next, what's on it? Here's a complete tracklist:
SIDE A
INCUBUS
Engulfed in Unspeakable Horrors
5:19
SLAUGHTER LORD
Taste Of Blood
3:13
MUTILATED
Hysterical Corpse Dislocation
3:05
DR. SHRINKER
Cerebral Seizure
3:06
AFTERMATH
When You Will Die
3:52
EXMORTIS
Beyond The Realm Of Madness
3:24
Total Running Time Aprox. 21:30
SIDE B
NECROVORE
Mutilated Death
4:25
INVOCATOR
The Persistence from Memorial Chasm
4:14
SADISM
Psychomental Storm
2:57
ARMOROS
Euphoria
3:23
POISON
Black Death
3:14
MENTAL DECAY
The Final Scar
3:27
Total Running Time Aprox. 21:98
Bonus Tracks for CD/MC:
PHANTASM (US)
A Souls Nightmare
8:12
FATAL (US)
Malevolence
2:44
FUNERAL NATION (US)
Sign Of Baphomet
4:03
VIBRION (ARG)
Massive Frustration
2:56
INSANITY (US)
Fire Death Fate
2:51
DEATH YELL (CHI)
Untited Track – Unreleased
3:17
CORPSE GRINDER (CHI)
Concentrator Camps
3:53
NECRO BUTCHER (BRA)
Christ Psychic Butchery
1:53
INNER SANCTUM (URG)
Deathless Prophet
3:37
MACERATION (DK)
The Forgotten
2:40
BLOODSOAKED (MX)
Emptiness
3:01
Tags: andres padilla, book, death metal, extreme metal, grinder magazine, underground metal, underground never dies, zine