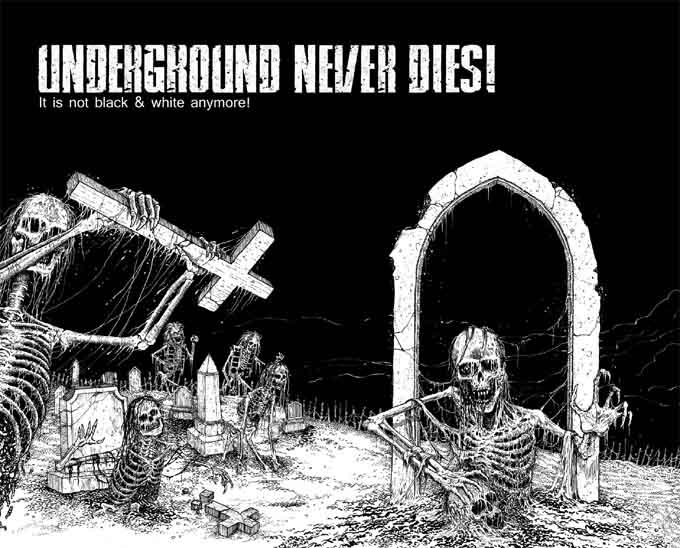 Underground Never Dies! fills a void in the literature about metal so far, which is the "why" behind the underground. We know the facts from other sources, but facts are deceiving because they take on a life of their own. Underground Never Dies! knits the facts together with a narrative of the reasons people expressed for joining the underground.
Angling toward its topic matter from a zine-based perspective, Underground Never Dies! describes the informal network of fans, bands, labels and writers who stayed connected through postal mail and xeroxed 50-page fanzines. This substituted for the huge media network and financial power of the major labels, who soon found themselves wishing they had an underground also.
The reason for this is that, as any advertiser can tell you, the most effective force in marketing is word of mouth. It takes ten TV ads about how awesome Altars of Madness is to be equal — possibly — to one friend telling you about "the most intense album ever." Zines were a personal connection by people who threw out the false objectivity of mainstream media, and instead focused on presenting what they found meaningful.
Underground Never Dies! unites several threads while explaining this phenomenon. On one hand, this book is an incredible treasure trove of images and words from the past, reproduced exactly as they appeared in the original zines, flyers and letters. Looking more deeply, it's an exploration of what it means to have the underground mentality through the words of those who participated and distinguished themselves, including luminaries like Fenriz of Darkthrone and musicians from At the Gates.
What makes this book exceptional is that it takes the same approach a zine would, which makes sense seeing how the author Andrés Padilla is editor of Chilean zine Grinder Magazine. Using his practiced approach, he goes for a metal version of Hunter S. Thompson's "gonzo journalism" and discards the pretense of objectivity, instead looking at the scene as a personal experience with shared objective components between a select group who actually did notable things back in the day.
Parts of this book will take your breath away as you realize you are looking at historical objects reproduced as if in a museum, and that these objects represent the time and place where movements that are with us to this day were launched. From demo covers of bands that were later genre-defining to classic interviews where bands explained their motivation, even extending to lost promotional photos of bands 30 years ago, Underground Never Dies! is like an inverted periscope into the deep and murky world of underground extreme metal.
What makes this book more than a souvenir is its intense exploration of the why, however. Personal statements from notable scene personalities, including Alan Moses of Glorious Times fame, as well as clear articulations from zines in the day about what motivated the participants, line these pages and show us how the underground wasn't just a musical movement, but a social movement, if not a separate society entirely.
The first 500 copies of the book come with a LP recording of unreleased classic metal tracks from back in the day. You can peruse the tracklist here, or listen to the live soundstream that follows this article. The CD/LP will be sold separately in addition to the book, but it's hard to imagine wanting one without the other since both are essentially archives of rare information.
Interested fans may wish to seek our initial report on Underground Never Dies!, or our announcement of the book's impending release. Of interest also is our interview with Underground Never Dies! and Grinder Magazine author Andrés Padilla (which you can also read in Spanish). For background, you might also enjoy reading The Heavy Metal FAQ and our public domain metal zines archive.
3-page PDF sampler of Underground Never Dies!
Streaming MP3s of Underground Never Dies! LP/CD – Side A
1. Incubus – "Engulfed in Unspeakable Horrors" (5:19)
2. Slaughter Lord – "Taste Of Blood" (3:13)
3. Mutilated – "Hysterical Corpse Dislocation" (3:05)
4. Dr. Shrinker – "Cerebral Seizure" (3:06)
5. Aftermath – "When You Will Die" (3:52)
6. Exmortis – "Beyond The Realm Of Madness" (3:24)
Side B will follow with the second part of this review.
Tags: andres padilla, book, extreme metal, grinder magazine, underground metal, underground never dies