When one traipses through the country outside of the lock-step conformist big cities, it behooves the pipe smoker to look for those varieties of tobacco favored in the less "civilized" areas of the world. This might bring one to Brenham, Texas, where the Brookshire Brothers grocery store offers up a unique and wonderful American tradition: the drive-thru Tobacco Barn.
Brenham is about an hour and a half away from both Houston and San Antonio, and has seen better days. Its major industries are oil, Blue Bell ice cream, and selling weekend homes to Houston suits who will ten in turn sell them after a few years of realizing that even driving only an hour and a half every Friday afternoon is a pain in the neck.
It is unclear whether Brenham should be called a town or small city. At 16,300 people it seems to be a large town, but at two hours removal from three major cities and as part of a major tourist route — the San Antonio/Navasota/Brenham/Chappel Hill/Spring sweep — it is uncertain that this town does not behave as a small city. The major factor is that its growth and fortunes are regulated by the cities. As a result, the town mentally resembles Canada: dependent on the big cities and tourists, it resents them, but without a thriving homeostasis of its own, it is also resigned. Most of the people we saw were moving around with Soviet-era aimlessness, and the problems of the big city had manifested themselves there as well. It might be worth mentioning that as a result of the lack of retained local industry, Brenham lags behind the median household income in Texas by the price of a quality used car.
The tourist trade has divided Brenham in two. Like many mid-size Texas towns, Brenham has a tourist-thriving downtown, which local leaders were quick to promote, but if you do not like gift shops and overly contrived restaurants, this is not for you. The tourist aspect to Brenham also adds a hostility to outsiders, since most of them are here to see the Disney-Potemkin downtown and will never witness the town itself, which ranges from lovely middle-class homes and turn of the century restorations to miles of trailers and neglected houses falling apart where the workers at the town's food service and landscaping — a big business because of all those Houston-bought homes — industries live. Most of the business trucks seen in town are local landscapers, and it has an abundance of restaurants to serve the "roaring arterial" of the freeway.
Our journey came with a singular hope, which was to find rare and delectable pipe tobaccos for the long trip to the next city on our itinerary. We found the Tobacco Barn without problem because Brenham is constructed in a straightforward manner. US 290 runs south of the Old Town and just north of the new suburbs and commercial area which has sprung up by the highway in order to service the flood of people who drive past and, apparently, just veer off the road whenever they are tired or hungry or need gasoline. The old downtown is sensibly boxed within two one-way streets, but south of it, one can ride market street until it dead ends into Austin Street. Heading south, this street moves on a curving course around the river, creating a broad front on which many of the everyday needs of the town are met.

Brookshire Brothers is near impossible to miss since it is one of two large grocery stores in town, the other being the HEB (ugh) near the freeway. The Tobacco Barn sits in its parking lot, but first it makes sense to go into the grocery store. One can learn a lot about a town from its grocery stores, and in fact more than any other regular establishment because these reveal everyday life. Brookshire Brothers is where the average person in Brenham shops; the products are what you would expect a normal household to buy.
There was almost no imported beer, for example, nor any of the gluten-free/free-trade/low-fat food that city people favor. In fact, Brookshire Brothers would be a wonderful store for children and stoners because it had an abundance of steak and junk food. The little snack cakes that seem to be some kind of national food are everywhere, along with their clones and equivalents from Mexico. What a paradise!
The produce section was sort of small, especially considering that it is very near to farm country, but the meat section was worth writing home about. Red, marbled beef and sturdy pork stocked the shelves, as well as a half-dozen types of local sausage. It made up for the carnage in the beer aisle, which was basically big American (soft drinks with alcohol added) and Mexican beer brands at high prices. Everyone was polite and the store seemed straight out of the 1970s, with wide aisles and even "Dancing Queen" on the store radio. On the whole, a positive experience without the hype and pretense of HEB, which is apparently where the affluent and tourists shop together. While this shows the typical low self-esteem of a small American town or city, it also probably provides the tourists with a pleasant and positive view of Brenham from those who are "making it" here. Everyone at Brookshire Brothers was very pleasant and moving with orderly purpose, which was a nice change from the chaotic brained attention whoring of city shoppers.
Onward to… the Tobacco Barn!
For an adult who appreciates the fine pleasures of life, the Tobacco Barn is like Christmas morning. From the official description:
We call it a barn, but it's really a storehouse of specialty tobacco products, accessories and beverages. Tobacco Barn carries a robust selection of cigarettes, moist snuff, roll-your-own tobacco, domestic cigars, filtered cigars, electronic cigarettes, vaping products, clove filter cigars, chewing tobacco, hookah style tobacco and snus. For those seeking specialty products, we also carry filters, pouches, Zippo lighters, cigar cutters and more. And every Tobacco Barn features a top-of-the-line humidor for the cigar aficionado. A great selection of beer is also available in most locations.
Brookshire Brothers has been driven out of the major cities by the bigger grocery chains which are able to outprice it and offer more of the products that affluent, less-purposeful city people want. It is hard to compete with the unholy Texas trinity of Randalls, HEB and Krogers for basic groceries, but now Whole Foods (and its clone-competitors, Randalls Flagship and HEB Central Market) alongside Sprouts and Trader Joe's are raging in the market. Their typical modus operandi is to constantly introduce new brands, first at inexpensive prices and then, once the hook is in the fish, at higher prices. This means that they are not directly engineering markets to drive out other grocery stores, but that this happens as a result of their regular low-to-high price cycle. Most of these also have really high prices but enact a de facto 25% discount for repeat customers through coupons and store card programs. They are fierce competitors who have found their maximum expenditure/performance point and move forward like a grinding war machine, perhaps one of those 110-ton tanks they used to pulp trees in Vietnam.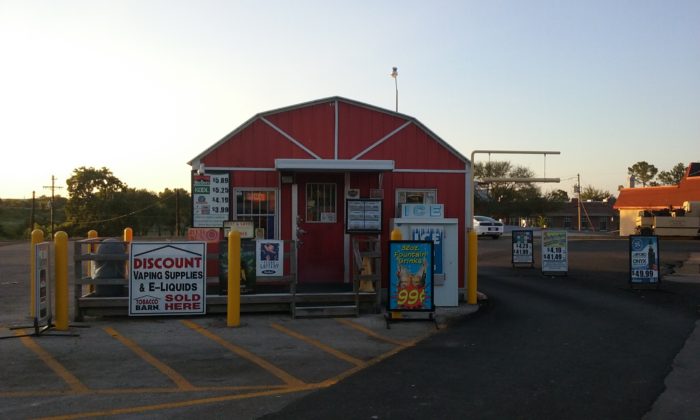 This means that Brookshire Brothers, like many other brands, is a symbol both of rural Texas and of a better time before so much money came in, and that brought lots of people who think of nothing but money, and that in turn brought all the problems of the big cities that we had previously only read about in news accounts of Los Angeles, Chicago, New York, Detroit and other urban wastelands. When money shows up, the modern carpetbaggers show up looking for good jobs, and what follows them is a demand for lots of unskilled labor because these pretentious salarymen like to spend their cash on frivolous things and convenience. In comes an army of maids, salon workers, landscapers, food service, day laborers and the like, and with them come the problems of the places they are from. Much of South Texas now resembles a cross between Chicago and Mexico City with crime, corruption, vandalism and laziness prevailing. Like the 1970s grocery stores after which it is modeled, Brookshire Brothers does not have the pretense necessary to wage war against tobacco products or ordinary beer, and so it has kept the Tobacco Barn.
Walk into the Barn, and you will find everything you need to prepare for a weekend. A large refrigerated unit holds big brand beer, which if you have had nothing better will be acceptable, and is preferable to the ironic hipstery IPAs that cost four times as much and are just as sugary. One wall is nothing but every conceivable variety of cigarette available domestically. Yes, it would be great to see 555 Specials or Galoises on the shelf, but for now, they are limited to the domestic brands. Display racks full of smoking accessories serve as a counter in front of the cigarette wall, across from which is a giant cabinet-style humidor with many imported cigars of every level of price. Apparently, the affluent do shop at Brookshire Brothers after all… they just come to the cigar barn after dark. But at the far end are shelves of miscellaneous tobacco products, and there one finds the pipe tobacco on one-half of the shelf just above the bottom one in what looked like an Ikea (icky-ahhh) shelf.
For some reason, the gods of nature or nature showed favor to this lonely smoker, because on that shelf sat the holy grail of Nicotine maniacs worldwide, and possibly the last widely-available vestige of the days of cowboy tobacco, the Cotton Boll Twist. For those who have not experienced this wonder of tobacco, it is a "rope" or "twist" made by taking relatively unrefined tobacco leaves and wrapping them into ropes, then looping them on themselves for easy hanging so that they may cure slowly. This is straight Burley flavor with no added top flavoring, and so it has a buttery, nutty and leafy taste as opposed to the more grassy Virginias, smoky Latakias, sweet-n-sour (think General Joe's Chicken) Orientals, and piquant Perique. Meant to be chewed or smoked, these twists are durable and meant to survive under tough conditions. They also did not bother to lessen the Nicotine, so for those who want a full-intensity blend or a strong Burley to perk up a flavorful Virginia (for example, Rattray's Hal O' The Wynd) the Cotton Boll Twist is a rare treat.
Other tobaccos were available also. Many Texas Walmarts and grocery stores stock Prince Albert (which seems better by the pouch than the tub) and Carter Hall, and many Walgreen's pharmacies/convenience stores will stock Captain Black, but Tobacco Barn had these and more. Borkum Riff and what appeared to be Velvet were also on the shelves, alongside Bugler and several other brands unrecognized by this author. These are a topic for future Tobacco Barn exploration, because the place was hopping at the time we were there, about 11:30 AM on a Wednesday. The drive-thru had several vehicles and customers were three-deep at the register with more coming in the door, which had a real 1970s-style dangling bell to let staff know. As a result, this was not the time to query overworked people about a hobby pursuit, and this meant that we were able to vanish quickly with five of the prized Cotton Boll Twists and almost zero drama.
While many recognize deservedly esteemed American tobaccos such as Cornell & Diehl and G.L. Pease, the old-school classics do not get enough of the love because they are hard to write about. One can write the standard tobacco review:
The Virginias are a bouquet of hay and honey flavors. Then comes the spicy, exotic flavor of Latakia with a tea-like overtone. There are notes of cocoa, molasses, pecans, cinnamon and persimmon. After that, the nutty and insouciant Burley makes its appearance. The latter half of the bowl presents a whisky, leather and dried human flesh like flavor. This blend requires zero drying time, made big clouds of smoke, and burned down to a fine white ash with little dottle. For those who like variations of the time-honored formulas, this quirky and unusual take on those otherwise functional — said sneeringly — blends is a breath of fresh air. I smoked this one in my 1968 GBD pitbull billiard with a bent ivory stem and military mount.
But there is no room in that for "These are hard-hitting Burley leaves, wrapped up to endure days on the road, full of dry leaf flavor for those who love tobacco more than contrivance, and they will lay your mind to rest when you are far from home and down on your luck." This is war-tobacco, because life is war, and when you get outside the bubble of jobs, credit cards, shopping malls and 500-channel cable that afflicts most cities and now even most large towns, the brilliance of the simple Cotton Boll Twist becomes clear in your mind. If not, try smoking one… the Nicotine power wave might help you in this realization.
Tags: brookshire brothers, burley, cotton bowl twist, pipe smoking, pipe tobacco, pipe tobacco blends, texas, tobacco, tobacco barn