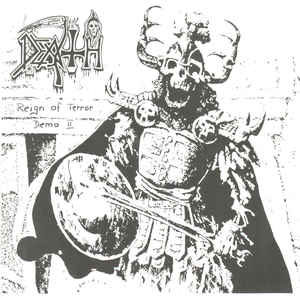 "Dude, their demos were so much better" is one of the most obnoxious cliches of underground metal.  Usually a sign of virtue signaling used to mask one's insecurities about their knowledge or taste, many lost souls of a nostalgia-obsessed age will use this one as a pale attempt to one up their brethren.  However in many cases within metal's sonic sphere, bands that were truly fantastic on their early demos left much to be desired and ultimately left listeners unfulfilled.  Whether it be a record company's influence, a change in heart or band members, or a touch of genius quickly fumbled away, may bands throughout the history of metal have never quite been able to match the quality of their demo recordings.
With death metal built on an entire sub culture of tape trading, demos were more than a proverbial foot-in-the-door to a potential record deal.  For musicians of the genre's early days, the demo was the equivalent to having your record in the store- it was being shipped all around the world to fans desperate for something they couldn't find in shops and to musicians hungry for new ideas.  Furthermore, a band's demo was untainted by the direction and input of record labels who, in those days, quite often suppressed what was deemed "too weird" or "too extreme" as death metal was often determined by the suits of those days.  Tape trading death metal demos was an underground of its own, and your band's demo tape wasn't just a pathway to commercialization or musical success- but a often the start of new friendships in a rapidly globalizing world.  Given all of these unique factors, it's no surprise death metal was full of bands who could never quite capture the magic of their demos.
To offer a complete list would be a dishonor and disservice to the legions of quality works that fall under this umbrella.  Therefore in today's editorial, I will briefly offer a handful of my personal favorite death metal demos from bands that could never quite capture the magic.  Though I pay little mind to what happens in our comment sections, this will mark a special occurrence where I'd be delighted to know what DMU's readers would have on this list.
Therion:  Time Shall Tell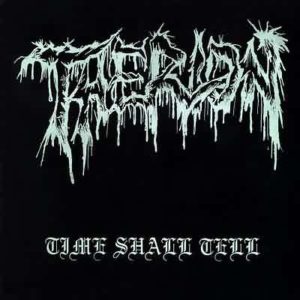 I was absolutely shocked when I found out Therion used to be a death metal band having originally heard the awkward operetic albums Therion is known for.  Then I was even more shocked- but also incredibly impressed- when I discovered just how high quality and full of creativity this phase of the band's life was.  The songs on the Time Shall Tell demo articulate the epitome of Swedish death metal- frantic yet wisely constructed madness with well paced drums and perfectly varied guitars.  All of the instrumentation is creative and invigorating through each passing moment with each composition taking exactly the right turn into exactly the right place at the exactly the right time.  Because their aural armory is so large and all encompassing with an endless array of guitar and drum techniques to chose from, Therion are able to remain unpredictable at any given moment yet incredibly nuanced throughout.  The production is absolutely perfect, with the tone of each instrument being right on point and the levels of the mix being set in just the right places.  One of my favorite death metal releases.
(Further Reading:  Brett's take on Time Shall Tell in the Dark Legions Archieves)
Vader:  Morbid Reich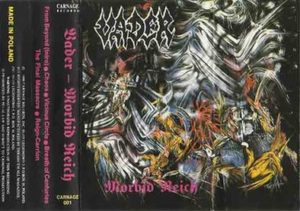 Throughout their career, Vader was a band that had great moments buried in droves of mediocrity.  Every now and then they would lash out with a striking riff or commanding song, but ultimately these moments were fleeting throughout their 13 album career.  Yet with 1990's Morbid Reich, Vader injects the perfect dose of classic death metal as it's meant to be prepared: heavily laced with thrash metal riff mazes, thoughtful countermelodies, a great use of the space, and a vile mess of vocal disgust.  The album is plentiful of solos and takes some classic heavy metal turns that are surprisingly effective.  Vader crams a full length's worth of ideas into this 20 minute cassette that ultimately leaves the listener feeling fulfilled, and-  for the only time in the band's 30 year career- each moment of this release has purpose and meaning.
At the Gates:  Through Gardens of Grief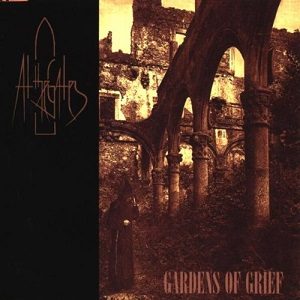 One of the most overrated bands in death metal (and essentially all of metal), At the Gates started off on the right foot with a top tier venture into in their first and only demo Through Gardens of Grief.  Championing an invigorating use of dynamics and well balanced duality of melody and dissonance, Through Gardens of Grief is exceptionally strong in composition and instrumentation.  Equipped with an impressive technique wit and vociferous grit, the release never gets too pretty and demonstrates that ugly, uncomfortably throughout.  Nevertheless, there is outstanding understanding of musical complexities displayed in offsetting tempos and time signatures, countermelodies that provide wonderful clashes between the two guitars, and a great use of ambient passages, At the Gates deliver innovative death metal while careful to not wade into the snobbery of progressive metal.  Singer Tomas Lindberg's vocals demonstrate his vast collection of death metal demo tapes as he manages to belch out the most appropriate vocal pattern throughout an album full of intricate rhythms.  None of At the Gate's full lengths albums manage to capture a formulaic approach as thoughtful and brilliant as Through Gardens of Grief– perhaps this frustration lead them to becoming the one-trick-pony they found themselves being on Slaughter of the Soul.  All and all, this demo is absolutely worth a listen even if you hate the rest of the band's discography and these are the best songs At the Gates would ever write.
Hellhammer:  Apocalyptic Raids
Uglier, dirtier, and all around meaner than anything we would hear from Celtic Frost, Tom Warrior and co's first venture was far superior to its successor in nearly every way.  Laying a strong foundation for the death metal genre by recreating hardcore punk riffs in metal fashion, letting compositions tonally descend into unknown depths, and vomiting out the most sickening vocals heard at the time, Hellhammer pioneered an incredible journey of death and destruction that would be echoed for decades to come.  Compared to Celtic Frost's discography- which started with it's best release in Morbid Tales and got progressively worse with each passing album- Apocalyptic Raids had more sinister riffing, heavier breakdowns, infinitely more exciting vocals, and better executed ambient passages.  Track by track and as an overall work, Apocalyptic Raids is the crown jewel of it's creators.
(Further reading:  Brett's classic take on Apocalyptic Raids)
Cradle of Filth:  Orgiastic Pleasures Foul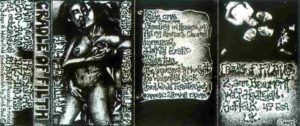 It is most unfortunate that such a hated mess of a band also created some truly great death metal demos.  By merely looking at the 3 words in the band's name, readers around the world are chimping out right now- shaking their fists in a triggered rage that I would make such an inclusion on this list or this site.  However, one would be foolish to let their limitless hatred for this band blind them to what is an organically repulsing death metal masterpiece.  Orgiastic Pleasures Foul is a curious and well rounded cocktail of early gore grind and Swedish death metal coupled with a measured dose of My Dying Bride and Paradise Lost's earliest doom-death works.  All of this lay under a sewer of grimy production, tainted with nauseating Necrophagia-esque vocals and downright bizarre keyboards that could easily be mistaken for the soundtrack of a Lucio Fulci movie.  This is part Nespithe, part Reek of Putrification, part Stream from the Heavens, and part Left Hand Path with well ventured experiments in atmosphere and grime.  I wish it wasn't so good, I wish I could have just discarded the thought of including it on this list the moment it arose and not open myself up to the ridicule of praising some of Cradle of Filth's music as essential death metal- but this demo really is so exceptional that it would be a disservice if I pussied out and didn't include it here.
HONORABLE MENTIONS:
My Dying Bride: Towards the Sinister- Doom-death, therefore not quite death metal
Nihilist: Nihilist (1987-1989)- The collective of demos is better than "Left Hand Path," but not any individual one.
Demilich: The Echo- Can't quite figure out if this better than Nespithe
Death:  Reign of Terror- I love Death's full length albums, however I acknowledge the legions who believe Death were never as good as the Kam Lee incarceration found on their demos.
Tags: At the Gates, celtic frost, death, death metal, Death Metal Demos, Demilich, demo, Editorial, entombed, Heavy Metal, hellhammer, my dying bride, necrophagia, Nihilist, Proto-Death Metal, Swedish Death Metal, Therion, vader