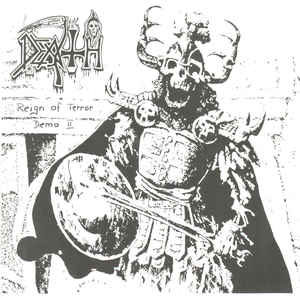 "Dude, their demos were so much better" is one of the most obnoxious cliches of underground metal.  Usually a sign of virtue signaling used to mask one's insecurities about their knowledge or taste, many lost souls of a nostalgia-obsessed age will use this one as a pale attempt to one up their brethren.  However in many cases within metal's sonic sphere, bands that were truly fantastic on their early demos left much to be desired and ultimately left listeners unfulfilled.  Whether it be a record company's influence, a change in heart or band members, or a touch of genius quickly fumbled away, may bands throughout the history of metal have never quite been able to match the quality of their demo recordings.
With death metal built on an entire sub culture of tape trading, demos were more than a proverbial foot-in-the-door to a potential record deal.  For musicians of the genre's early days, the demo was the equivalent to having your record in the store- it was being shipped all around the world to fans desperate for something they couldn't find in shops and to musicians hungry for new ideas.  Furthermore, a band's demo was untainted by the direction and input of record labels who, in those days, quite often suppressed what was deemed "too weird" or "too extreme" as death metal was often determined by the suits of those days.  Tape trading death metal demos was an underground of its own, and your band's demo tape wasn't just a pathway to commercialization or musical success- but a often the start of new friendships in a rapidly globalizing world.  Given all of these unique factors, it's no surprise death metal was full of bands who could never quite capture the magic of their demos.
To offer a complete list would be a dishonor and disservice to the legions of quality works that fall under this umbrella.  Therefore in today's editorial, I will briefly offer a handful of my personal favorite death metal demos from bands that could never quite capture the magic.  Though I pay little mind to what happens in our comment sections, this will mark a special occurrence where I'd be delighted to know what DMU's readers would have on this list.
50 Comments
Tags: At the Gates, celtic frost, death, death metal, Death Metal Demos, Demilich, demo, Editorial, entombed, Heavy Metal, hellhammer, my dying bride, necrophagia, Nihilist, Proto-Death Metal, Swedish Death Metal, Therion, vader