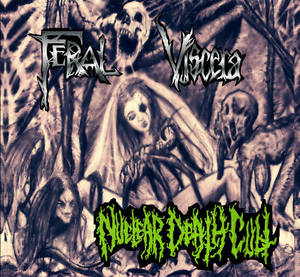 Phil from Nuclear Death returns with his new project Feral Viscera which continues on the path originally set out by the band but without the influence of the other members. The Nuclear Death Cult consists of eleven rerecorded Nuclear Death songs and two brand new songs. Songs remain the same in regards to composition but are produced in a much more modern manner. Gone are the demented screams of Lori Bravo, now replaced with a cold heavily distorted growl. The guitars are much louder and though are just unpolished are easier to make out due to the overly compressed nature of the music.
"Rhyme of the Ancient Urinal". Apart from the name of the song this is no tribute to Iron Maiden. Opting for a toned down and more organized approach where a small set of ideas is fully developed until introducing those ideas are slowly deconstructed to a satisfying conclusion. Nothing out of the ordinary for those used to Nuclear Death but nevertheless a good song that shows what Phil brought to the band and how the madness has been given a clearer direction with time.
"Son of Insectborn" explores a set of repeating arpeggios over a simple syncopated riff while cutting it with lightning fast tremolo picked riffs that flow logically. A solo consisting of bent sixteenth notes creates a powerful burst of noise before the song reaches its bizarre climax that leads to a final blasting passage. Another good listen for those who enjoyed Nuclear Death at their most adventurous. While Phil still shows he is capable of writing good music the less energetic approach betrays the inherent insanity of the music. Though the spark of youth may be gone, this allows for a greater exploration of new ideas and sounds.
Tags: death metal, feral viscera, Grindcore, nuclear death, nuclear death cult