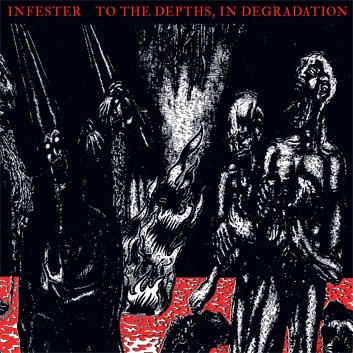 Martyrdoom Productions, run by Dead Congregation frontman A.V., reissued Infester's long out of print classic To the Depths, In Degradation on CD and vinyl LP earlier this year. I purchased a copy of the CD version myself to review for our readers benefit. The record was never originally released on vinyl and being over fifty minutes long, the LP reissue will have compromised sound quality due to narrower groove spacing and all the limitations of the vinyl format such as the compression of the cutting lathe, high and low pass filtering, and mono bass.
The first thing to notice is that the art is cropped. The individual "Tilmann" who did the artwork and layout, zoomed in on the art, cropped it, got rid of the block-type Infester logo, and replaced it with a generic font. The back cover insert is also different and just like the original, has misspelled track names but with different typos from the original Moribund Records CD. The liner notes by drummer Dario Derna also insist that Infester were totally never racists or national socialists and that Infester never took their imagery and lyrics too seriously in order to signal the over-protected, coddled, safe-spaced millennials that Infester do not want to send them to concentration camps but just want a tenner from their pockets. The famous photo of the band with the pentagram backdrop with the swastika in the middle from the original CD booklet has been oversaturated on the reissue to remove the swastika in a clear case of censorship pandering to political correctness.
The sound is thankfully intact. Infester's profound Beherit and Morpheus Descends influenced material is still there in all its atmospheric glory. The majestic ambiance remains. The only change Dan Lowndes made from from the original Moribund CD is that the volume levels between the tracks have been evenly leveled similar to the recent Beatles CD boxsets so listeners do not have to adjust the volume between tracks, which were almost unmastered and totally uncompressed. All of the dynamics are still there, including the almost noise burst sound effects. Dario's drumming is still organic and fluid with good snap and great transients. This remaster doesn't improve the original sound like Demilich's 20th Adversary of Emptiness or Earache's "Full Dynamic Range" series but doesn't really ruin anything like Relapse's horrible hyper-compressed plasticization of everything they own the rights to. Overall, this CD reissue isn't worth buying for anyone who owns the original but is an excellent purchase for new fans to hear To the Depths, In Degradation in high fidelity glory rather than flat, rolled-off, and butchered MP3s.
Purchase the reissue from Martyrdoom Productions here.
Tags: Black Metal, censorship, compact disc, dan lowndes, death metal, Infester, Martyrdoom Productions, political correctness, reissue, remaster, review, to the depths in degradation