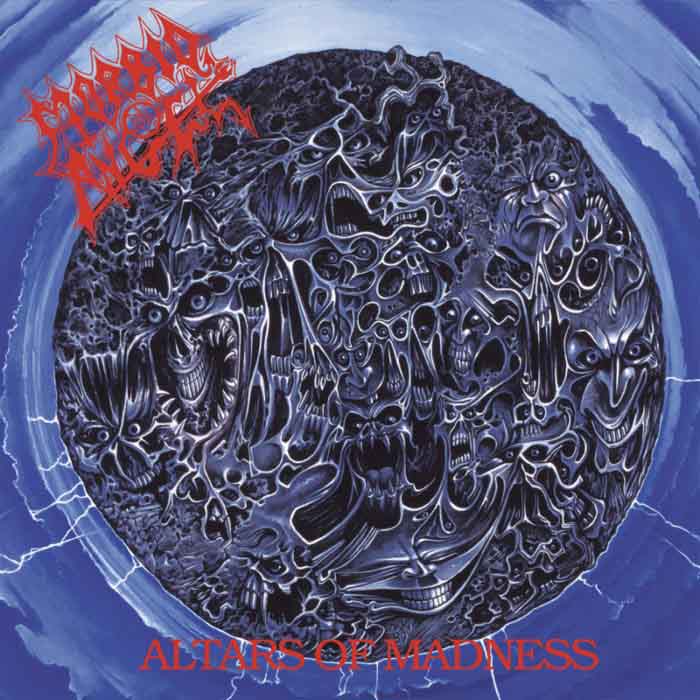 Morbid Angel recorded what was supposed to be their debut album in 1986. Compositionally excellent and novel, Abominations of Desolation was a Manhattan project of death metal as a truly musically distinct sub-genre. However, band leader Trey Azagthoth and then producer Dave Vincent were unhappy with the recording. Azagthoth quickly fired drummer/vocalist Browning and bassist John Ortega, and shelved the album, which Ortega later released as a bootleg. Vincent and Azagthoth had a point though: Browning's drumming was shaky and he sounded like a wimp. His drumming lacked power, never making use of blast beats while his vocals could have come out of a whiny fourteen-year-old.
Altars of Madness fixed that and sped up the tempo to become the metal atom bomb Azagthoth wanted. Pete Sandoval of Terrorizer was a drummer capable of the polyrhythms, blasting lock-step with the riffs, and Lombardian double-kick rolls the band desired while Vincent provided a more consistent vocal delivery. The Morrisound production was heavy, all-analog, and crystal clear. None of the production trickery the studio would become infamous for was used; The triggers, quantization, sample-replacement, and Marshall Valvestate solid-state amps would come later as record labels sent bands of incompetent musicians there wanting to record material far beyond their instrumental proficiency to actually play.1
Unfortunately, the original CD version of Altars of Madness lacked low-end weight resulting in typewriter kicks while the LP had all the usual flaws of vinyl such as compression of treble transients, monaural bass, pops, and surface noise. The later CD remasters were all overly compressed and awful. Fortunately for fans, Earache has pressed the album to wax from the tapes as part of their Full Dynamic Range series and put the 24-bit digitization of the mix tape up for sale on Bandcamp. No compression was used in the mastering of the digital version to make the guitars and vocals twice as loud as everything else and reduce instrumental space for losers with iPhones. The lossless, digital FLACs retain the grunt of the original 1989 LP with the increased clarity that modern analog to digital converters bring, making the long out of print original CD sound a bit grainy in comparison. The Full Dynamic Range versions are both much better than the tossable coasters with the bonus live DVD that came out about a decade ago.
The digital version may be purchased from the Bandcamp link above and the LP from Earache's webstore.
1The interviews with the Morris brothers in Jason Netherton's Extremity Retained go into great technical detail about how Morrisound and Scott Burns accomplished all of this prior to digital audio workstations becoming common.
Tags: Altars of Madness, death metal, earache records, full dynamic range, loudness war, morbid angel, reissue, trey azagthoth