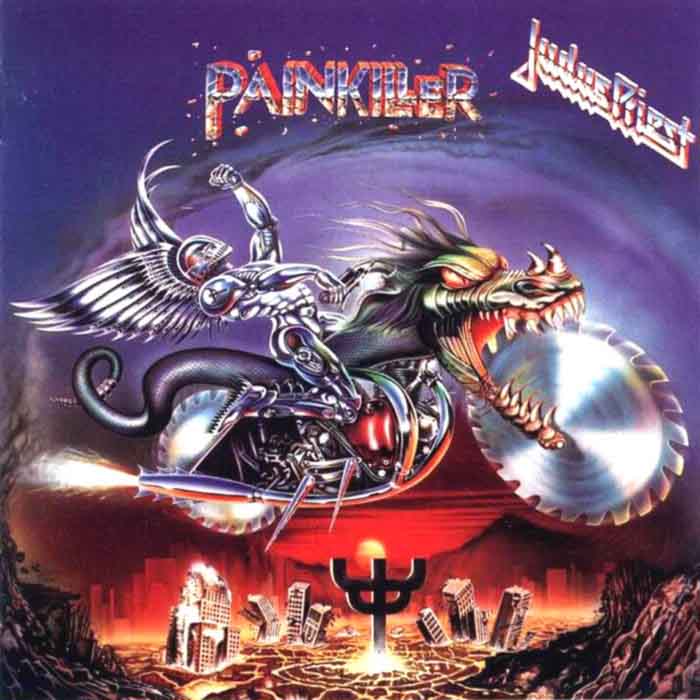 Article contributed to Death Metal Underground by George Psalmanazar, continuing his series of Judas Priest reviews.
Painkiller is Judas Priest's most consistent studio album coming out right after the band spent the entire decade of the 80s pandering to mainstream arena and glam rock fans. Slayer were a tremendous influence this time around; Judas Priest toured toured with them in the late 80s and subsequently listened to most of Slayer's studio catalog. Painkiller there is a heavy metal album heavily influenced by the heaviest speed metal bordering on early death metal. Early power metal took a similar approach but in much more limp-wristed way.
Painkiller's riffing generally follows the speed metal model of triplets interspersed with chord progressions or single notes in a melody. The dueling twin New Wave of British Heavy Metal guitars harmonize these in a much more melodic version of Slayer's counterpointing. Leads are not polyrhythmic noise bursts like Slayer, Deicide, and Trey Azagthoth's in Morbid Angel but rather hyperspeed, sweep-picked shred versions of the traditional NWOBHM harmonized soloing that originated in Thin Lizzy.
A few songs are extensions of riffing ideas found in earlier Priest material: "Painkiller" from "Exciter" and "Night Crawler" from "The Ripper". "Between the Hammer and the Anvil" is similarly inspired by Metallica's "Orion" off Master of Puppets. That being said, the material is excellent despite its overall heavy metal structure based around pairs of speed metal riffs; Painkiller re-contextualizes the NWOBHM and speed metal to forge a new cohesive whole, echoing how the best death and black metal were rapidly striding beyond riff salads to arrange their riffs as melodic narratives around the same period. The only letdown on the album is the out of place "Touch of Evil", which sounds like a leftover from Priest's glam 80s dark period.
Unfortunately, Judas Priest could not sustain their brief, Slayer-inspired revitalization and collapsed artistically after Rob Halford left to form the Pantera-inspired Fight. Underground metal bands would start following mainstream heavy and speed metal in sticking their heads in the toilet in only a few more years. The idea behind Painkiller, exceptional heavy metal played with aggressive speed metal technique and sensibilities, has not really been done so successfully since; most "melodic" "death" and "black" metal bands (exempli gratia Dissection) failed absolutely miserably at being even as aggressive as Iron Maiden, being actually sing-along bar rock bands who cargo cult copied their heavy metal heroes in hope of a shot of undeserved artistic glory that never came.  Painkiller, along with Rust in Peace, stands atop the ladder with works such as Arghoslent's Galloping Through the Battle Ruins rungs beneath it.
Tags: 1990, Heavy Metal, judas priest, NWOBHM, painkiller, review, Speed Metal