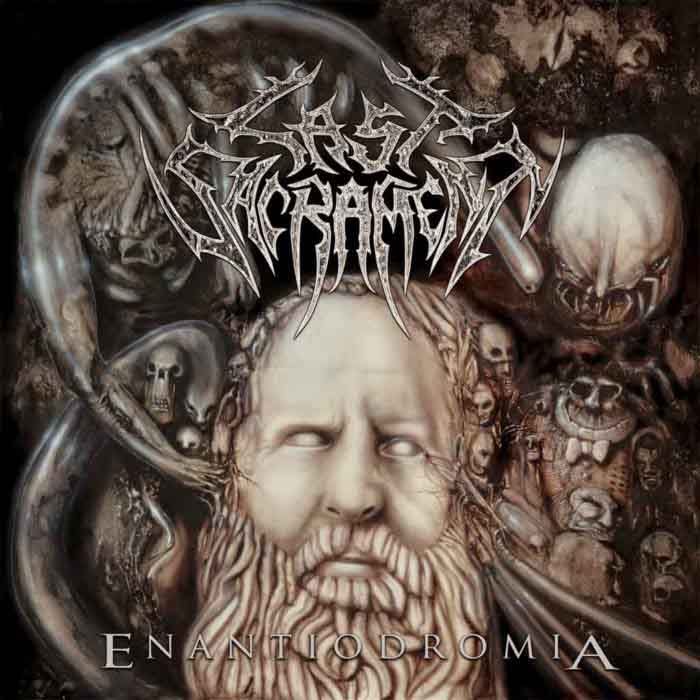 Florida's Last Sacrament are one of the rare contemporary bands that successfully captures the essence of old school death metal while developing a voice of their own in the process. While initial full length Enantiodromia has a few juvenile kinks to work out — the members are shockingly young — the record as a whole is a striking, confident foray through classic metal.
Coming off as a hybrid between Bolt Thrower and Demilich, the band shows remarkable restraint despite obvious musical virtuosity which fully achieves their melodic ideas yet still allows for a modern and personal flair to color their presentation as purely their own. A foreboding atmosphere introduces the dramatic title track, which despite its length is probably the least musically adventurous song on the record, allowing for a subtle manipulation of the listener as the album only gets weirder from there.
The band never shows its hand fully until the record has concluded, which enables an overarching development that few modern bands attempt. Last Sacrament understands build, catch and release, never choosing to bewilder the audience with every trick in the book in the initial tracks, providing instead a purpose for each step of the album's duration. One of the first unique qualities you will encounter is the band's use of microtonal scales.
Most music we encounter has twelve tones to work with, but Last Sacrament chooses instruments with a sixteen note palette. This is an actually useful gimmick in metal, and a far cry from death metal with a flute or any of the other diversions modern bands use to disguise songwriting limitations. The sixteen tones that comprise the material here directly give the compositions a melodic development that can't be achieved otherwise.
Songs like "A Perverse Proselytism" prey on the experienced ear because these "in-between" tones are actually quite nauseating to hear. As listeners, we are conditioned to the twelve tone scale, and anything outside of that is a foreign, exotic and challenging element. Due to this, the aforementioned atmosphere of the record approaches an alienness much like Demilich's Nespithe, or to make a non-metal comparison, the intimate yet shielded seasick warblings of My Bloody Valentine.
Last Sacrament's devotion to Demilich never approaches the outright plagiarism of Chthe'ilist, although standout track "Material Identity" comes close, but despite the obvious influence, the tonal progression on this particular song is easily the band's most advanced and occurs so late in the record that it doesn't color the entire record as one of tribute. A full artistic development is realized at Enantiodromia's conclusion, and it is decidedly that of the band itself. Although there is confidence in the overall presentation, there are issues that prevent this record from being a modern classic: some phrasal transitions are haphazardly pieced together and at times, certain riffs seem designed so simply that they exist merely to be soloed over. These solos provide a welcome texture over the downtuned miasma, but a few riffs are so rhythmically knuckleheaded (but not in a metalcore sense) that it hinders their more progressive elements rather than compliments them. Despite these moments, the riffs thematically develop and relate to each other, and no left-field tonal aberrations occur to betray their aesthetic.
As promising a debut as you could hope for in modern times, Last Sacrament has developed simultaneously a welcome homage to the great death metal giants of the early 90s as well as a strikingly unique portrait of a band hungry to continue along the path forged by their progenitors into new and exciting terrain that maintains the spirit of death metal that few bands so young could understand. They are working on two new releases for this coming year, and should they refine their approach in a way where their techniques and tonal leanings don't obscure their overall message, we could be on the verge of witnessing a modern death metal band flourish where few have been able to succeed.
Tags: Bolt Thrower, death metal, Demilich, last sacrament, my bloody valentine, sixteen tone scale