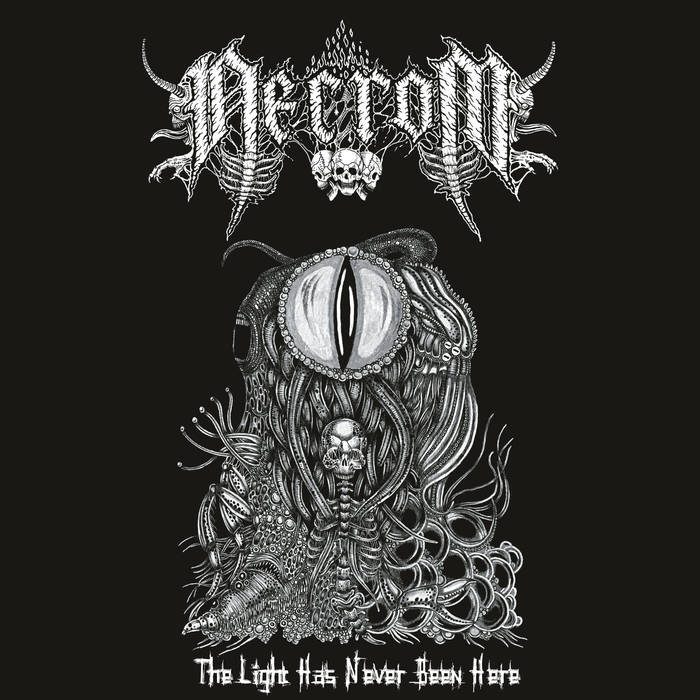 From the mid-90's throughout the 21st century, the Ukrainian Black Metal scene has received the attention of listeners across the world. The Metal music coming from this nation (and particularly the Kharkiv region) has been defined by many noteworthy bands which expanded upon the keyboard-heavy "Symphonic Black Metal" stylings of bands like Emperor to include elements of 70's prog rock, thrashing hardcore riffing, and the traditional Slavic folk music of their ancestors to create an iconic "epic" sound which combines the appeal of classic melodic Heavy Metal music with the folkish mystic fury of "second-wave" Black Metal.
Formed in 2018, Necrom is a "super-group" comprised of leading figures from the most prominent bands of the Ukrainian scene – namely Nokturnal Mortum, Drudkh, Hate Forest, Dub Buk, Khors, and Mutanter. However, instead of the typical Epic Pagan Melodicism most of these bands are known for, this particular project is intended to presence a sonic current of a more ghastly nature, specifically one that is "entirely dedicated to pure old school death metal."
The connection between Epic Keyboard/Folk Metal and grinding OSDM may not be as tenuous as it would seem at first appearance, for lead guitarist Arthur Meburnutov's main project Mutanter is actually well-known in their homeland as one of the main Ukrainian Death Metal bands since the early 90's, despite not releasing a full-length album until last year. However despite this Death Metal connection, the material on Necrom's debut EP The Light Has Never Been Here is just as stylistically distinct from the recent work of Mutanter as it is from the other Melodic Black Metal alumni which comprise the group.
Whereas Mutanter's 2018 debut The Limit represents a very "modern" sounding Death Metal that is highly technical and rather polished in nature, Necrom bursts forward with a more blistering, direct sound characteristic of the beloved pioneers of late 80's/early 90's Death Metal.
With a guitar tone reminiscent of the Swedish "buzzsaw" style of bands like Dismember, yet with doomier sections that hint to a sinisterly cavernous setting of primordial darkness and horror, Necrom display an intuitive understanding that the best of Death Metal should have a focused sound which blends thrashing desecrational riffage with a genuine dark atmosphere to create a cohesive composition of a sublimely sinister, yet visceral, potency.
While indeed guitarist Varggoth, the mastermind behind Nokturnal Mortum, and the other members of the super-group are most well-known for creating Metal stylistically different from the music on display here, the quality musicianship and songwriting they have exhibited throughout their careers is put to full effect here. The pieces here are tightly composed unlike the straying tendency of a lot of modern Metal, the riffs are grippingly "melodic" without being saccharine as classic Death Metal tends to sound, and the production is adequately clear at capturing the material on hand.
It should go without saying that material on hand is ultimately nothing exceptional in nature to challenge the throne of the perennial Death Metal classics. However, The Light Has Never Been Here lives up to its singular task of channeling worship to the classic Death Metal sound of old, and is hence a promising start to both Necrom and 2019 at large.
Tags: 2019, Arthur Merbuntov, Black Metal, death metal, drudkh, dub buk, hate forest, Izverg, Khaoth, Kharkiv, Khors, Mutanter, Necrom, nokturnal mortum, OSDM, Roman Saenko, Ukraine, Varggoth