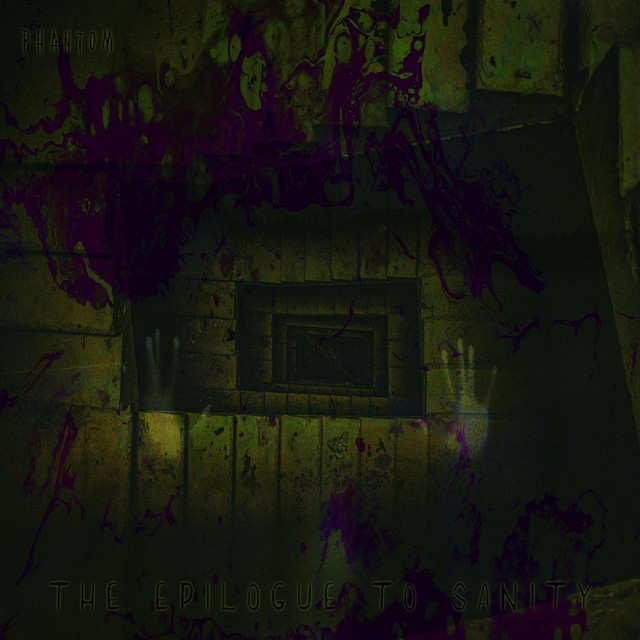 Phantom are a mysterious band with no information on them apart from various claims that range from their music being called Terror or Phantom metal and that they are there to completely innovate the genre and to create acoustic terrorism. While such claims have been spurted by many artists in easy marketing attempts or to stir controversy before an almost identical band makes the same claim and receives their mandatory fifteen seconds. Phantom unlike other bands, seem sincere in their objectives and genuinely try to live up to these claims.
An incredibly harsh aesthetic is the first thing that one notices on this album but where most Hessians are used to the lo-fi recordings of analogue Black metal, Phantom completely defy expectations and opt for a digital approach that ressembles harsh noise. This aesthetic seeks to go further in sheer brutality than what was previously possible while retaining clarity and not devolving into noise like War metal. It seems that the guitars are set up through multiple high gain distorsion pedals pushed to the limit. The drums are broken down into the background, sounding like dry pieces of wood hitting against each other in almost random patterns while coming slightly more to the forefront when opting for a standard supporting role. Vocals are muffled distant screams that are easily missed in the chaos of this music and don't really provide much as they sound inhaled and distract from the guitars. The bass forms the main wall of sound and due to its deep tuning and straight forward rhythms it create the base from which both guitars can do almost anything they want. The guitars are well distinguished as they diverge and converge on a very regular basis. Despite the intense nature of the music there is a slight sense of dynamics as the beginning of each musical phrase is louder than the rest and certain notes ring much louder than others. A very interesting method of recording that does well by pushing the guitars up front but the rest of the instruments could have been handled with a lot more care and should have been slightly more present with overshadowing the guitars.
The note selection here is very similar to that found on Onwards to Golgotha in that rather than basing their melodies around particular scales and modes the melodies are based on chromatic sequences that are then complemented with angular notes. When the guitars diverge, they rarely fall into the lead/rhythm dichotomy but opt for a layered approach where one guitar will play the main melody and the other adds on top of it. It is during these moments that the band manage to conjure the most madness as seen on songs like "A World of Silent Darkness" where the guitar panned to the right plays a simple melody that is countered by the other guitar on the left in opposition as it emphasizes the weaker beats of the main melody. More often than not, the band go into complete Death metal mode as both guitars will join together to play short melodies that work in short labyrinthine cycles of three to five riffs before then returning towards their Black metal rots. Some of these melodies are very impressive in how they build tension and then relieve that tension while maintaining complete dissonance. If one gets past the production, the melodies though well executed are standard fare and the less inspired use an abrasive noise like approach to cover for the little content they possess.
It is impossible to categorize the entirety of the musical language present here as the band fall prey to Technical Death metal riff salads. Melodies come and go rapidly and sometimes after only being played once to never return in these long pieces. Occasionally the band strikes gold but are too obsessed with progressing towards the next idea to take advantage of such moments. When the band return to the aforementioned riff cycles as seen just before the ending of "Premonition from the Bloodstained Throne", the listener is finally given an opportunity to truly absorb the large quantities of information being presented as the song develop a sense of purpose.
This leads to the greatest issue present here. There is no actual sense of overall direction within each song. Each composition can be divided into coherent sub sections that all flow within each other but when united make no sense. There is no sense of structure as it is impossible to estimate when each piece will stop. The major transitions between melodies are so abrupt and random, one must check whether they are still listening to the same song. "The Epilogue to Sanity" begins with a set of two great melodies that are very powerful individually but make absolutely no sense in juxtaposition. Each track follows on from the first in a complete blur and is only separated by a brief burst of feedback and noise.
Phantom's large body of work in such a short time does seem to explain many of the problems presented here which can be attributed to a lack of care. Phantom do have one thing going for them and that is the continuous improvement between their records. Despite such improvements, the band must learn to control their production and to give meaning to each of these songs otherwise these will remain glorified experiments in noise rather than actual metal. An interesting record to listen to a few times when one seeks to have their limits or to hear new takes on a dying genre but the lack of songwriting holds this back heavily and pushes this to the level of "study" music where the individual concepts utilized here are more interesting than the actual music.
Tags: Black Metal, death metal, epilogue to sanity, harsh noise, phantom