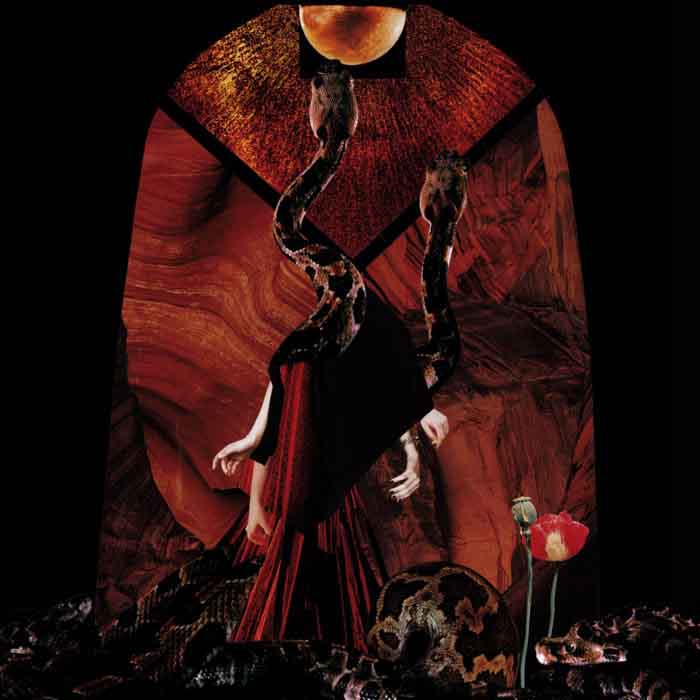 Ananku is a term from the Tamil language describing the otherworldly and awesome power of sublime natural places and objects to overwhelm mankind into submission to their will by merely the perception of them. Jarno Nurmi of Serpent Ascending accomplishes this musically on his album of the same name by composing harmonized heavy and black metal style leads atop a death metal rhythmic basic into occult blackened narratives. Riffs are phrased and repeat to numerologically unfold, revealing profound and novel melodic leads as if the petals of a flower gradually blooming into gnostic truth when bathed in unconquered light.
Serpent Ascending's rhythm riffing on Ananku is free of the speed metal tropes of the demos compiled on The Enigma Unsettled and more influenced by early Sepultura and Florida death metal rather than the typical Bolt Thrower of most Finnish death metal including Nurmi's past project, Desecresy. Leads echo how Swedes such as Therion and Sacramentum utilized heavy metal harmonies but Serpent Ascending aims these towards progression rather than merely to accentuate metallic jamming. Pertinent atmospheric elaboration in the fashion of Burzum allows this heavy metal to reveal inner sublimity, crushing chaotic mortal conceptions into otherworldly beauty.
Percussion meanwhile is properly ritualistic and metronomic with fills not merely backing fluctuations in the guitar parts but accentuating the emotive impact thereof. Vocals vary from multi-tracked occult chanted choruses to blackened rasps barking battle commands beckoning listeners to obey the guitars' occult calls to power.
Ananku is ultimately an adoration of metal's past heliotropically hailing a risen but oft-forgotten sun still shining Apollonian rays on an enveiled and beguiled Occident. Rooted in traditional soil and watered by blood, Serpent Ascending rises out of the underworld like a lone red poppy blossoming on a battlefield fertilized by the great carnage buried below.
Listen below and purchase Ananku on CD from Jarno Nurmi here.
Tags: 2016, ananku, Black Metal, death metal, Finland, Heavy Metal, i voidhanger records, Jarno Nurmi, review, Serpent Ascending