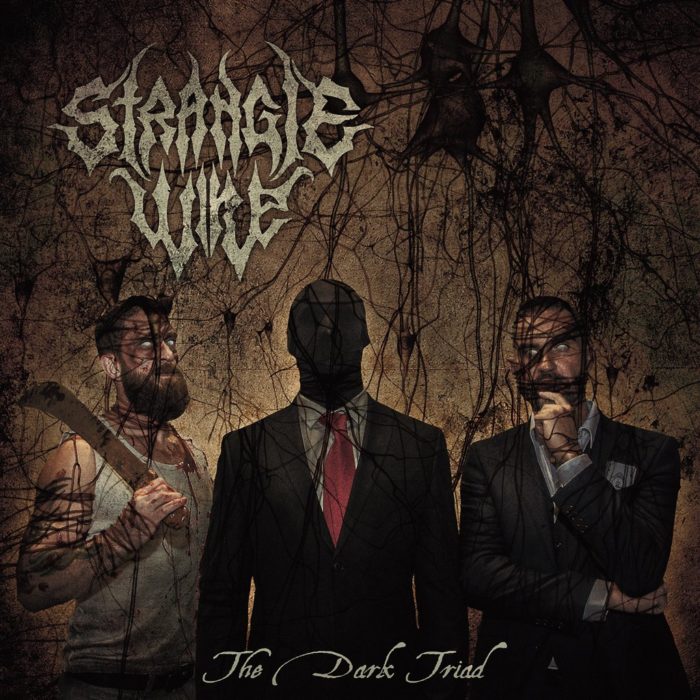 Strangle Wire are a northern Irish four piece band that follow the Slipknot tradition of naming each other numerically. The band claims to play psychological death metal with influences from Cannibal Corpse, Dying Fetus and Sinister.  However, none of Sinister's music appears here and this is typical Nu-Death metal.
Abstract titles and themes of psychology are absent from the music as the most standard brutal death metal sound emerges from the speakers.  Low tuned chugging guitars mixed with the bass as sampled drums dominate the sound. The vocals are far too processed and could be confused with any modern death metal singer.  The sound shows a great understanding of recording without any budget but sheds its identity for perfect clarity.
The music was probably made by some software as there is no more than four different ideas on the album. Disgorge anti-riffs more commonly known as br00tal slams repeated for what feels like hours at a time are the main tool on display.  Their syncopated and muted nature are very danceable but do not offer anything else.  Punk power chord riffs pick up from the anti riffs to lead to and from generic blast beats and tremolo riffs.  The only interesting part is in the track "Psychopathic Blue" where both guitars play a harmony.  There are some attempts at creating atmosphere through riffs and leads but all of these ideas remain undeveloped and are sandwiched by idiocy.
The Northern Ireland scene is in terrible shape if this is what is constituted as death metal made by veterans.  This is death metal through a deathcore and nu metal filter being almost identical in sound and image to Benighted. Where Benighted would use pop song arrangements to maintain some form of coherence Strangle Wire are completely devoid of any understanding of song structure.  Nu metal bands who steal death metal aesthetics are good at making their breakdowns and choruses the focal point which is severely lacking here to gain popularity with that crowd.
Cannibal Corpse with their simplification of death metal riff mazes and emphasis on simplistic groove opened the doors for hardcore and nu metal into death metal. Mocking these bands and ignoring their presence is the only way that metal can recover from such stupidity and idiocy. If you see the name Strangle Wire close the page and listen to just about anything else.  This epitomizes the downside to recording equipment becomes accessible to all.
Tags: 2018, cannibal corpse, death metal, new albums, nu-metal, Strangle Wire