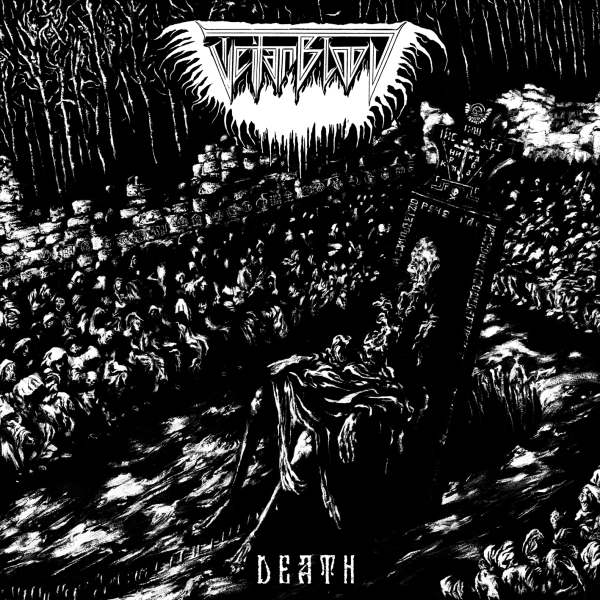 All metalheads secretly want the return of early 1990s death metal and black metal. Instead we get nostalgia bands who prey on our desires by delivering aesthetic imitation of the past, but with none of its depth, and by doing so, make a mockery of the underground as desperate metalheads embrace this stuff.
It cannot be popular to dismiss Teitanblood, but it must be done. This music is pointless. Yes, it reaches for a chaotic, noisy aesthetic in which to wrap very basic songs written in strictly chromatic three-note passages around extremely fundamental rhythms, achieving the same hypnotic-enigmatic effect that Cannibal Corpse or Blasphemy used to, but without the corresponding delivery of interesting expansion upon it that the latter managed. Instead, it just loops. Sometimes new riffs — very close to the old, or radically contrasting it but remaining proximate harmonically — enter the fray, but then they become part of the loop. At some point the studio engineer staggers in drunk, cuts off the tape and writes a song title on it which appears to have been generated by a Visual Basic script trawling through a black metal dictionary.
Dare I use the word "fraud"? Death is a fraud, an impostor, a pretender, and a thief of image which will replace what we know of the past with a superstition that it was composed of moronic guitar practice that was lauded by accident by people who were secretly imbeciles but hid that fact for their lifetimes. Aesthetic posturing occurs to give these songs "epic" introductions and striking contrast between different moments, but they return to the same pounding noise and rage. The problem is not that it is not faithful to the past, but that it is mediocre. It is boring. It is pointless. And it commits an unforgivable sin by trying to drag the rest of underground metal down with it on its path to sonic heat-death.
Remember Krisiun? Teitanblood is the new Krisiun, or the new Skinless, or a less interesting version of Impiety. It turns up the speed and chaos to eleven but has nothing to say. The people behind this band are very friendly and intelligent and surely are not hipsters and thus could come up with something better, but their problem is a lack of anything to say. They want to emulate the past, so they came up with this, but it strays from the mind nearly instantly because it has no relevance to anything except itself. I wanted to believe. Instead I found only emptiness, noise and an excuse for passing the time that leaves people even more desolate and mind-numbed than before.
Tags: 2014, blackened death metal, crust, crustcore, death metal, noise, review, teitanblood, War Metal