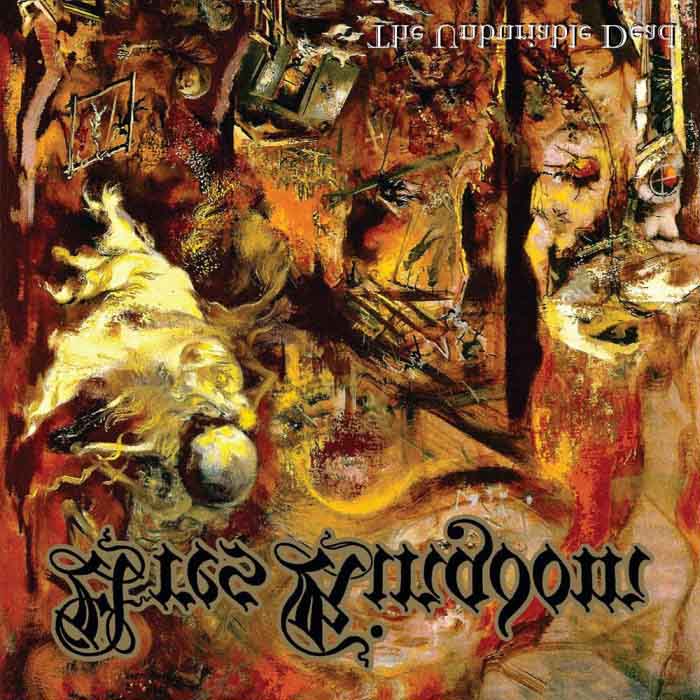 Article by David Rosales (read the original by Dan McCormick here)
Ares Kingdom has brought yet another stillborn child into this world. It has all the ingredients, but somehow it is not alive. It possesses such an unbearable need to be metal that it becomes so self-consciously metal that it could be considered tongue in cheek, but it isn't. This makes it painfully embarrassing to listen to, the annoyance it causes being staved off by a feeling of uncomfortable pity. While this will entertain and even have the superficial effect of caffeine on the young metalhead, it will translate into a sure headache for anyone expecting the music to say something besides "I am so cool".
The Unburiable Dead is the sort of album that a band with a lot of metal in its "system" but altogether too few neurons could put together in about a month or so. It suffers from a reliance on rhythmic riffs completely divorced from strong themes that it is borderline nu metal. As it replaces concrete content with emotion, this music is a huge mess. In order to counter the effects of its own unfocused babbling, Ares Kingdom resorts to the simplest means of keeping the music on some sort of track, namely, bringing the song back to early riffs and verse-chorus appendages within the incongruous mass of wacky solos completely out of context running over riffs with little to none motific connection most of the time.
The previous review on this site placed the album squarely in an ultra-musical context to better appreciate it. This is very appropriate and we could argue that it is the best way to appreciate music. Music nonetheless must deliver powerfully, especially from within its intended context and mentality! If it fails to exploit the ground from which it grows, expanding from the idea to musical moods concretely and coherently expressed, then it simply has failed as music, no matter how interesting the original idea was. Rather than a metaphysical reflection of the world thrown into chaos, I get a picture of a drunken brawler swinging an axe at imagined foes in the middle of a forest. Perhaps this picture is also an accurate representation of civilization's thin veneer, after all. Perhaps Ares Kingdom has succeeded in portraying the self-deceiving nonsense and purposeless chaos they criticize in civilization through the literal mediocrity of their music.
While at first one could be tempted to say that Ares Kingdom speaks a language of its own, that it has stylistic coherence, the microscope reveals something different. Their music, not only on this last fiasco but throughout the band's play discography, is namely an extremely distracted riff salad in which the individual riffs can be brought in from sources as different as galloping power metal to thrashy death metal to alternative nu and groove "metal". This is headbang-core for beer metallers and other social metalheads (those who listen to metal in social contexts only and are not actually addicted to it).
Tags: 2015, ares kingdom, counter-review, death metal, the unburiable dead, thrash metal