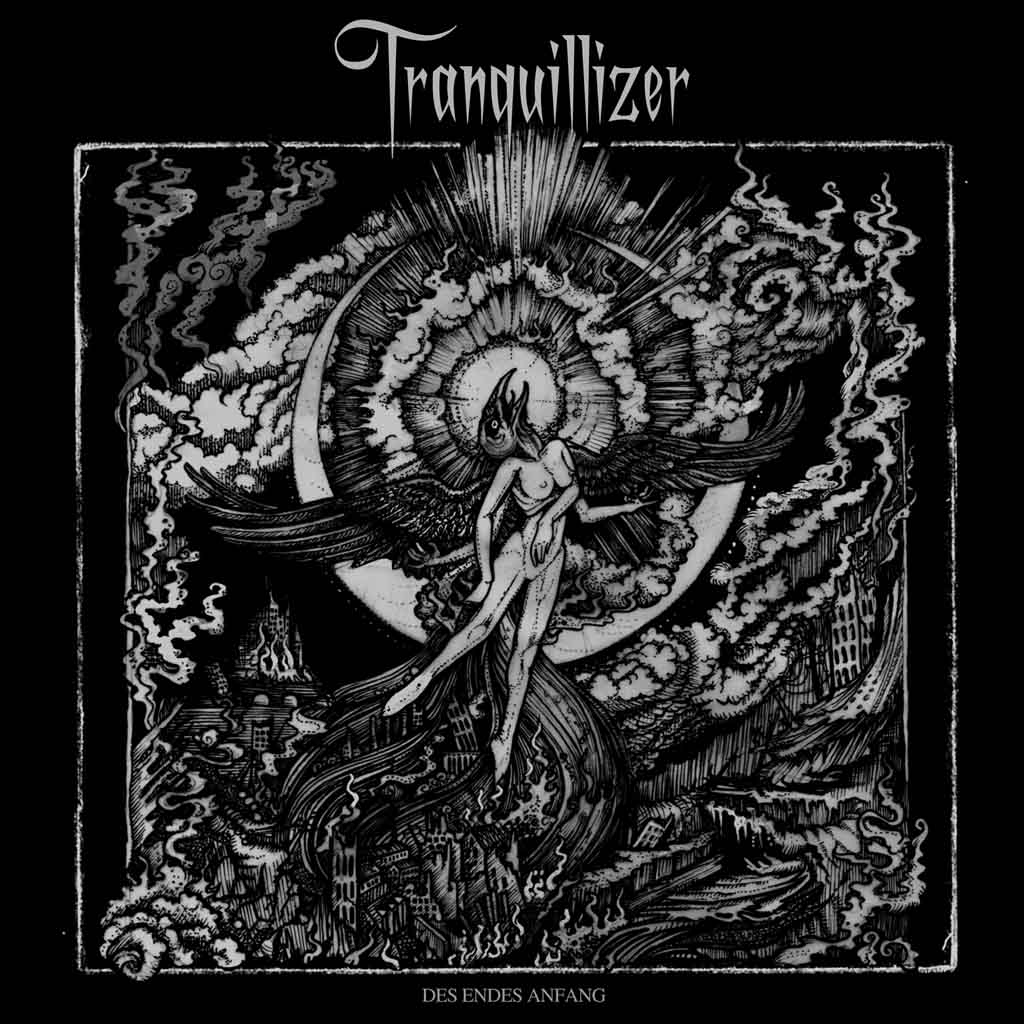 Sold to us by a promo company as "melodic" death/black metal, Des Endes Anfang by Tranquillizer (sic) is an ungainly fusion of In Flames type melodeath, Pantera flavored brocore grooves, and maybe a slight hint of extreme metal writing at times… by mistake. It occasionally amuses me to see a long-abandoned style of pop metal get some attention after years of neglect, but that doesn't detract from the fact that this album is simply terrible. It's so bad that I've decided to explicitly label it a bad album, in spite of my tendency to pass off most of the review subjects here at DMU as mediocre (medio-core?) and forgettable.
The songwriting here, admittedly, is only weak in a pedestrian fashion. If you were to strip away all the references to past forms of mainstream metal, you'd end up with just another set of random, generic metal riffs like so many albums before this; nothing actually worth discussing. To be fair, Tranquillizer's "varied" influences give them a wide set of material to pull upon, similar to something like Children of Bodom's latest. I Worship Chaos is actually a decent comparison; Tranquillizer doesn't have the neoclassical backing that helped contribute to that band's popularity, but they do replace it with slightly more varied (albeit stupid sounding) vocals. In this reviewer's opinion, that's not a great trade, but it's not like either point of comparison has any real merit.
While the substrate of this band is hollow at best, most of what I find contemptible in Des Endes Anfang is its immediately apparent, surface level stupidity. A clean, dry, sterile production allows the panderingly simplistic rhythms of this album to burst forth, as well as a dual vocal system of generic shrieks and vomited grunts. For our purposes, it should suffice to say that this is, at best, a modern rehash of older substyles. You could make the case that none of this is innately bad, despite its similarities to previous bad metal albums, but even if you did, it seems apparent that Tranquillizer doesn't have the musical knowledge or aptitude to make this album come off as more than half-hearted worship of a warmed over god. Not that I should be raising our old whipping posts to the level of divinity, but the analogy is sound, and Des Endes Anfang isn't exactly worthy of more precise flogging.
Tags: Black Metal, death metal, des endes anfang, gothenburg metal, in flames, lame metal, pantera, panterrible, tranquillizer