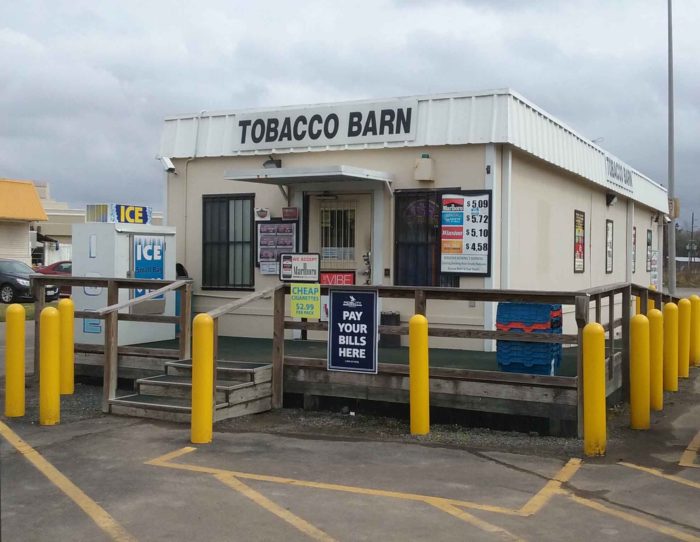 Few places charm the radiant, open soul like the Tobacco Barn. These little additions to Brookshire Brothers stores are the one place in the world where you can buy smokes and beer in an enthusiastic and friendly setting with far more variety than you will find in a liquor store or anything short of an old-fashioned tobacconist.
Brookshire Brothers is a bit of an institution in Texas. It is about 15% more expensive than your big city stores like Kroger or H.E.B., but like Randalls, offers a comfortable experience for normal living with high quality although not necessarily fancy merchandise. They are getting driven out because as soon as another option becomes available, people save money by shopping there, not realizing that they are now dealing with a much larger chain that will raise prices once the competition is dead.
As you pull into the Brookshire Brothers Store #38 in New Caney parking lot, the Tobacco Barn is off to the left, at least if you enter from the freeway. Small and made of corrugated steel about the size of a shipping container, it strikes an unassuming pose until you realize that people are constantly going through the drive-thru and wandering in to pick up a twelve pack or stack of smokes. (See our review of the Tobacco Barn in Brenham, Texas).
Those of us who smoke the pipe tend to favor some of the more obscure and stronger tobaccos such as the Cotton Boll Twist, and the Tobacco Barn delivers. A wide variety of cigarettes, a large humidor of cigars from low cost through $50/stick, and as much snuff, chew, and bag tobacco as you can handle line the walls, and friendly staff will help you find what you need.
It is enough to make people long for the ancient America: a land of devil-may-care pioneers who knew life was always short and lived to the fullness of it. People who enjoyed their beer, smokes, whiskey, guns, fireworks, dynamite, red meat, and taking unnecessary risks. People who were also caught in awe of nature and the cosmos, who worshiped the ancient gods through respect, and lived each day for a purpose larger than their own convenience.
Maybe it cannot bring all of that to you in the moment, but stepping into the Tobacco Barn is a view to that world, and it makes me want to go back time and again.
Tags: brookshire brothers, cotton boll twist, secession, texas, tobacco barn