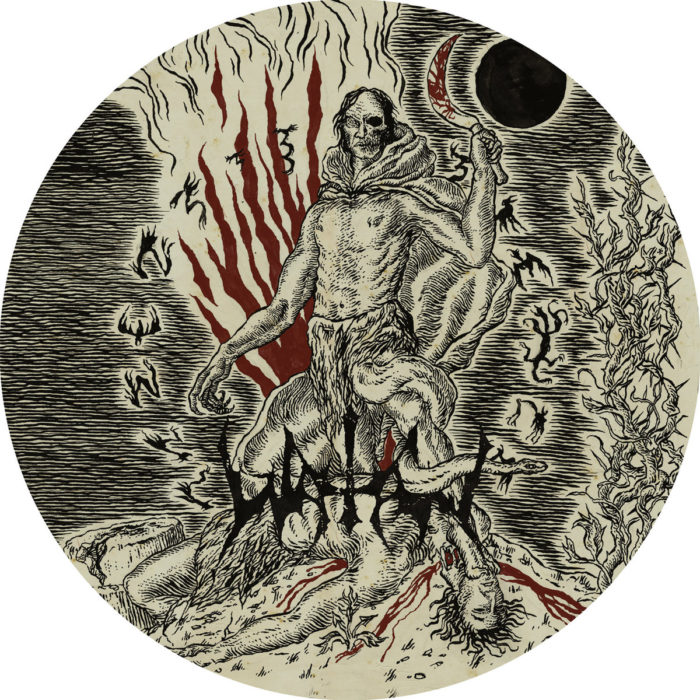 Article by David Rosales.
I. Where is the music?
It is very rare to find a general fan of black metal today who has not at least heard of the name of Watain. The kind of fame it has attained, however, is the kind that is mostly based on peripheral affairs rather than the art which Watain is supposed to dedicate itself to. Watain is the kind of 'entity' (as most of these bands are now given to call themselves) that is surrounded by a nebulous aura which may at first, if one is inclined to be generous in providing the benefit of the doubt, seem like an hint of something truly profound going on. Now, whether that is the case in regards to the real, transcendent or philosophical knowledge or experience of the people behind Watain is not for the writer to say. On the other hand, the music itself does not seem to display any of the more-than-human qualities it should if one is to believe all the hype. In fact, it reveals itself as a very mundane affair when one is given to delve into a holistic examination of the music in itself, and even more so when seen in relation to the extra-musical portions of the 'entity'.
Let us clarify this by taking a moment to evaluate the situation. When an artist is famous because of what he does as such, the first thing on people's mouths will be something related to that. In the case of technique-obsessed instrumentalists, no time will be lost before mention is made of the speed or skill on the instrument of this or that performer, or of the outstanding 'tightness' of an ensemble, for instance. When it comes to the luminaries of the early black metal phenomenon, namely Darkthrone and Burzum, people may at first either briefly talk about the personality of Fenriz in the case of the former, or completely digress in self-righteous moral judgement in the case of the latter. Barring these, the subject matter when talking about Darkthrone and Burzum will always be their music in one way or another, depending on the degree of musical and philosophical understanding of the person. This contrasts with what we see with bands like Mayhem, whose fame is almost entirely based on 'street cred', and the violent implication of the deaths of two of its members by suicide and murder. Can we avoid finding a parallel here with the likes of Nirvana?
The case of Watain is more alarming yet than that of Mayhem's. While Erik Danielsson is clearly a Euronymous 2.0 who has gotten rid of the Communist talk and has stepped up in the creation of a hilariously over-the-top persona, he has also managed to turn angsty teenager pretension into a successful business model. With a knowledge of Nazarene occultism of an inverted nature, he imbues his speech with references to other-worldly concerns1 while acting as a eccentric youth (despite his actual age) with anger management issues, leading some (usually normies) who encounter him to be fascinated by his "dangerous aura". Not only do people around Watain wander around the conversation before getting to the topic of the music itself, if ever at all, but the band members themselves also actively contribute to this evasion of the topic, perhaps fearing being outed as shams, or inwardly sensing that the whole point of Watain has nothing to do with music, thence the fact that there is nothing to be seen or discussed.
In fact, what is precisely claimed is that the music can only be experienced, but that there is no point in talking about it, a philosophical stance that is at least in part justified. Given that music can be delved into systematically by is very organized nature, the excuse reveals a paper-thin posturing aimed at protecting the feelings of those who simply 'like' the momentary feeling of random rock music with an occult theme at its center. The increasing messy and incoherent musical expression that Watain embraces as time goes by is stressed as a religious view of the entropy of the universe as a reuniting with a deity in the principle of chaos. Whatever the reader may make of this theological and dogmatic stance, one can see how the emphasis is yet again shifted from a responsibility to produce musical quality, to a posturing as messiahs or prophets of the fatalistic type of nihilism that reigns supreme among the disillusioned, educated bulk of homo hubris that is completely lacking even a hint of the heroic mentality that is truly transcendent.
II. A Musical Failure
So, what do we actually see when we get down to the music of Watain? Do we see ravaging orthodox music obsessing over destruction and annihilation of the weak? That would speak of the ideals of mythical heroism that metal aspires to in its heart of hearts in its most extreme form. Are we, at least, shown the pretentious and vain experimentalism of later Abigor that nonetheless continue to speak their minds through expertly crafted, though inherently flawed, music? This would place Watain in the same category as superior craftsmen with a confused mind.
Watain displays a follower mentality, never having actually found a sound of their own, an artistic voice, though jumping into the Mayhem bandwagon early on. They made up for this lack of voice by claiming a lack of voice, a chaotic mess of no personality or music, as a voice and personality in itself.
While their first album, Rabid Death's Curse was clear De Mysteriis Dom Sathanas2 worship, the follow-up in Casus Luciferi3 made the best attempt yet by Watain in trying their hand at an Abigor-styled shock-and-pass black metal with a theatrical meta-narrative that holds up on the consistent succession of emotional impressions the music leaves but has little else to offer besides.
With Sworn to the Dark a decline is noticeable to those with an ear for music, but not to those enamoured of the feeling of the mystery and extra-musical allusions over anything else. The music here still has a manner of stylistic coherence, not in the manner of narrative but simply of a repetition of the same genre tropes with technical distractions here and there. A transition from an almost-developed black metal musical style to a meta-black hard rock after the manner of Samael was started with this third album.
Lawless Darkness saw the explosion and revelation of all that was contradictory in this attitude. Songs here, more than ever before, had a generic rock anthem feel to them that echoed the equally generic, yet even more empty and vain Reinkaos by Dissection. However, there is also the introduction of the party rock component that was only a hint in Sworn to the Dark. Grinding black metal alla late (and failed) Anthaeus gets haphazardly juxtaposed with the rock anthem and party rock parts. The methodology since Casus Luciferi has not really changed, but, being blind to the musical limits of style and their choice of method, they introduced elements that make this more of a circus comedy than a musical composition.
The comedy reaches unbelievable levels of stupidity in The Wild Hunt, which goes back to that Samael influence, without the control and restraint that the older band showed when they produced Worship Him. Instead, the circus mess of Watain penetrates its methodology beyond riff organization and infects riff-form itself, making them often sound awkward or just outright laughable in their character. This ridiculousness ends up mirroring the likes of Rob Zombie's Hellbilly Deluxe to an astounding degree.
The last single, Reaping Death, is essentially generic beer metal with black metal vocals. We can still see the anthem rock points being used as anchors for crowd-pleasing moments. Here, they even managed to fuck up a cover of Bathory's 'The Return of Darkness and Evil', making it sound less dangerous and more palatable for those with a sweeter taste and an inclination towards head-banging. The core of this act seems to have devolved from semi-musical pretentiousness to unabashed occult-pandering business.
Watain is not short of technical skill, as can be shown by their abundant and flawless performance both live and in the studio. Nevertheless, and as a knowledgeable and insightful acquaintance commented in regards to the music of Watain, what makes the illusion so strong is that the band actually comes up with very good riffs and has a convincing basic musical presentation/expression as per black metal tradition. The illusion breaks apart when one pays attention to continuity, context and pattern as language. Watain knows how to "rock" for an audience, but it does not really match their alluded occult depth to a compositional seriousness that produces black metal of any worth.
III. Compromised Bases in Ideology
Watain and its acolytes typically defend their substandard music by claiming that the band is more than just about music; that they do not care for any kind of rules; that the music speaks for itself. These are clear teenager-styled excuses that contradict each other, and the basis of which is more emotional and self-indulging than rational or coherent in any way. Satanism of this type, which some would call pseudo-Satanism, is more closely the immature offspring of the centuries-old Jewish Qabbalistic mysticism; and rather than opposing the most occult teachings and workings of Occult Judaism, it carries them out in explicit and childishly, and thus pointless, rebelliousness.
The most distinct problem with chaos-evoking music of this type is that, while it claims to be emulating the object of their worship (namely, Chaos itself as some metaphysical conception or some concrete reality, depending on who you ask), it disregards the foundations of music itself. Music was made to evoke feelings, vistas, concepts, et cetera; but this nu-black chaos music attempts to somehow be chaos incarnate, which becomes an oxymoron when making music as it is ideally tantamount to playing at random —the complete opposite of organised sound.
In short, you cannot communicate by not communicating. What we see here is rather a repetition and an echo of the modernist disavowal of all rules for abstractions and concepts. Explanations that come to speak for the music, while the music itself is only a symbolic placeholder that produces a shocking emotion but attains meaning by virtue of extra-musical contributions.
1 To be fair, many of the lyrics of Watain are exquisitely catharthic in their devotional intensity and dense symbology, which would hint at a personal experience rather than mere theoretical study of the subject matter.
2 This the beginner's black metal album par excellence: shallow but aesthetically pleasing.
3 Read another review of Casus Luciferi at the Praefuscus Ferrum webzine.
Tags: 2016, black 'n roll, mainstream metal, pop metal, reaping death, review, season of mist, single, Sweden, watain