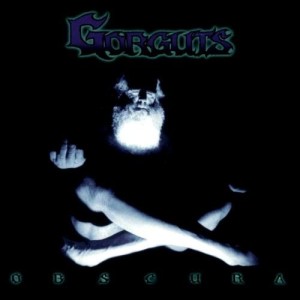 If, like me, the reader has also purchased the latest reissue of Gorguts' Obscura, he will find that the booklet's back side is graced by the following quote by Osho:
The journey is long and the path is pathless and one has to be alone. There is no map and no one to guide. But there is no alternative. One cannot escape it, one cannot evade it. One has to go on the journey. The goal seems impossible but the urge to go on is intrinsic. The need is deep in the soul.
Although definitely not typical of a 1990s death metal record, these lines describe the drive that produced this almost accidental album. But aren't all such savant releases at least partially accidental?
The spiritual and existentialist atmosphere that this quote evokes actually reflects the nature of the album as a whole and are in perfect alignment with its lyrics.
Some metal albums have beautiful lyrics accompanying the music. But the best albums bring sound and word together to shape a living entity that takes lodge in man's heart.
Latest being drowned
In fictive degradation
Coming depression revolved
Around an Earth
Nostalgia excludes the whole

As spleen takes over me
Resound, the echoes of my threnodies
And then the fact of being
Has no longer meaning
The hymns of light
They'll sing once I'll be gone

Reverie appears cause
Existence collapse

Nostalgia
Sadness shall obnuilate

Sadness, feels, the desolated

Desperately lost within
Lament, pain and misery
The more lies burden lives,
The more I am dying
The realm of light
I'll reach once I'll…

Latest feeling drowned
In lucid contradiction
Coming relation revolved
Around a heart
Nostalgia excludes the whole
8 Comments
Tags: Alain Cloutier, death metal, gorguts, innovative, Luc Lemay, nostalgia, Obscura, Osho, Patrick Robert, reissue, Steve Cloutier, Steve Hurdle, transcendental