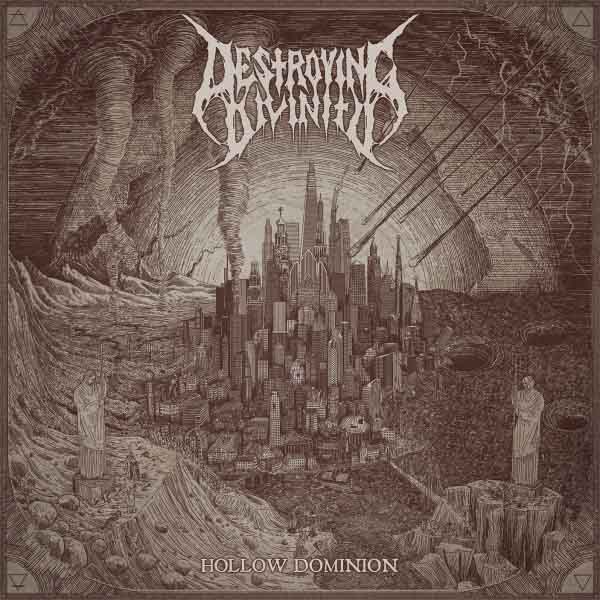 Cross Immolation Here in After with a modern brutal technical death band like Deeds of Flesh and you have arrived at the starting point for Destroying Divinity, who specialize in a barely controlled chaos of exuberant ripping and high-speed charging Krisiun-style riffs channeled into violent and athletic songs. Hollow Dominion clocks in at just over 33 minutes but packs in at least two albums of riffs.
Like most percussive metal bands, a great deal of the focus on Hollow Dominion involves use of choppy muted chords to emphasize a riff pattern and then varying that texture to create a kind of parallax shift sensation, allowing a melody to slowly emerge. Where this band excels is in packing together these riffs so that each change relates to the riff before it, and every riff fits in the song, but the song still makes sense with enough variation to avoid trope. If they have a failing, it is that many of the chord progressions used in these riffs are rather linear, which creates a heavy chromatic effect but also some predictability. Generally however the band manages to introduce its songs with the more obvious riffs and work deeper until it has subverted them with more interesting patterns.
Brutal death metal will not find a fan in every listener. It relies on cadence, trope, repetition and basically pounding the listener into her chair with solid slamming percussive riff after riff. In addition, Destroying Divinity pick up a number of techniques from Immolation such as the guitar squeal, recursive rhythms that simultaneously relax, and a tendency to use higher-string chords to offset the guttural vocals and pounding bass-intense riffs. In combination these two forms show metal as more of a series of patterns than a convention sense of riff-chorus, which makes this album a welcome antidote to the highly repetitive and circular songwriting of modern metal. With great intensity Hollow Dominion creates a world of vast internal diversity and then populates it with conflict, delivering death metal satisfaction with brutal death metal rigor.
2 Comments
Tags: Brutal Death Metal, death metal, destroying divinity, lavadome productions