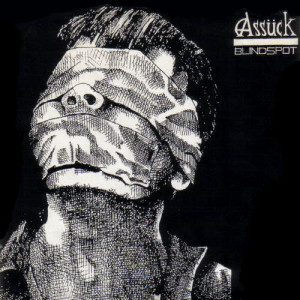 Grindcore as a genre started out incredibly strong but unfortunately has grown stale with copycat bands and hipsters. By remembering those who made the genre great, we may inspire the genre to create great works once more.
An early runner in the grindcore genre, Florida's Assück were one of the first bands to fuse grindcore's rhythmic intensity and youthful energy with elements of the phrasal and percussive riffing of death metal. The combination would later become "deathgrind." Assück additionally was staffed by remarkably proficient musicians.
Blindspot was released in 1992, a year after their landmark debut, Anticapital. This short EP shows a continuation of Assück's style from the album, but nevertheless maintains interest throughout, due in no small part to the enthralling percussion. Drumming displays a wide breadth of styles masterfully integrated into the framework of simple grindcore rhythms. Often, it will interact directly with the riffs, mirroring the attack of each chord with a percussive element. The riffing is a potent fusion of hardcore punk power chord bashing, harsh dissonance, and death metal inspired chunkiness. Vocals are a hardcore­inspired growl, similar in ways to Napalm Death or Blood's vocals.
This entire release is over in about seven minutes, but that is all that is required. What many modern grind bands can learn from this EP is how complete the release sounds. Despite how short it is, if it had gone on a few minutes longer it would be tedious? had it been shorter there would have been development issues in the songwriting. This is the true essence of grindcore – composing not just short songs, but short songs that are coherent in their structure and intent. By striking a balance between grindcore's chaotic extremity and death metal's emphasis on coherent riff construction, Assück has continued to remain a fan favorite and influence. This EP only helps to cement their legacy.
2 Comments
Tags: assück, deathgrind, Grindcore