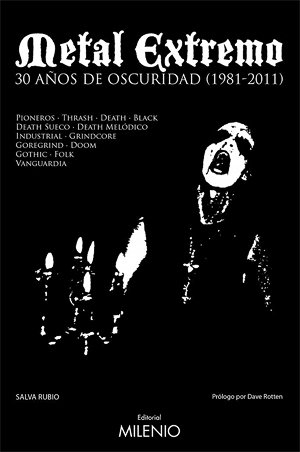 As mentioned in an earlier article, Extreme Metal: 30 Years of Darkness (1981-2011) is a new book revealing the history of underground/extreme metal. Unlike many such efforts, this book approaches the topic from an academic perspective and avoids trying to celebrate the commercial or popular phenomenon.
Salva Rubio, an author and screenwriter in Spain, wrote Extreme Metal: 30 Years of Darkness (1981-2011) in his native Spanish and hopes to have it translated to English and other languages. The book "includes essays about the ethical and aesthetic nature of Extreme Metal, a formal account of what distinguishes each style and how they are meant to be played, a chronological, style-by-style story of how each kind of Extreme Metal evolved."
Approaching metal as a history is antithetical to what many in the buying public expect from entertainment-related topics. They expected the fan-focused features that celebrate how much interest the genre has created, and how its individual members react and feel. While that approach makes the music identifiable to the listener, Extreme Metal: 30 Years of Darkness (1981-2011) takes another approach, which is to tell the story of the music through its evolution and let the whole story show what influenced individuals, and not the other way around.
Fortunately for us out here in death metal appreciation land, author Salva Rubio was willing to give us a brief run-down on the book, his connection to and inspiration in metal, and the status of the book and possible translation.
What's your personal history in extreme metal? How did you discover it, what interested you about it, and how did you end up writing about it?
I remember quite well the first time I ever listened to Extreme Metal! I guess it was in '91 or '92 when I was already into rock and I bought one of those anime VHS tapes released by Manga Video (it could be "Fist of the North Star," awesome series!). Then I hit the play button and "The Heart Beneath" by Celtic Frost, which played as an intro, simply blew my mind. As I say, at the time I didn't have a clue about which band or song was that, since I didn't have friends who were into Extreme Metal. But with a little bit of research, I started discovering other bands and as they say, the rest is history.
About what interested me, it was rather an intuitive thing: I simply loved the strength, passion and power that that kind of music emanated, and as I read the lyrics, I discovered that very serious and rebellious themes were sung, and at that time in my teenage years metal philosophy played the most important role in my development as a human being.
How did I end up writing about it? When I was studying my degree of Arts History back in 2003, we had this "Music History" subject, focused on classical music. The teacher was a really open-minded guy, so I asked him if he knew anything about Extreme Metal. I remember how he asked back "Do you mean heavy Metal?" — "No, I mean Extreme Metal." He was so intrigued that he asked me to write a paper on its history, and although he later jokingly admitted that the music itself horrified him, he thought it was formally interesting and worthy of academic attention, and that I should write a book about it and he even offered to publish the book… But unfortunately, he died soon after. A few years later, my life was going through big changes and Metal helped me again deal with all that, so I thought I had to give something in return and write the goddamned book. It resulted in a 250,000+-word, 600+ page mammoth that has given me some of the greatest satisfaction in my life.
How did you pick the dates (1981-2011) for the book?
As I will explain later, this is a rather formalistic book, which means that its main focus is music itself, its structures, its sound, its ways of being played. Thus, musically speaking I think Extreme Metal is born when Punk and Heavy Metal collide with Motörhead, and I think the first band to assimilate those influences in the coherent way that others will formally, ethically and aestethically follow is Venom in Welcome to Hell, precisely in 1981. Just think of the influence it had on Hellhammer, Bathory and everything that came next.
As for the closing date, I started writing the book around 2009 and soon I realized that 2011 would complete a 30 year period in a nice, round way. My publisher agreed so I had to write it during all of 2010 and 2011 until its publication in December that year.
When will the book be available in other languages such as English?
That is a good question, since we are still looking for a publisher! Regarding this, any interested publisher would like to know that in Spanish language we have reached the Fourth Edition in less than two years, and it is currently selling well in Spain, Mexico, Colombia Uruguay, Chile, Venezuela and Perú and hopefully soon it will reach Argentina, Ecuador and other Latin American countries. I already have even an offer to publish it in Polish language once the English version is out.
Should a traditional (paper) publisher be interested in the book, it could be out in a year or less, I guess. There is another angle I am considering, and that is self-publishing it as a series of e-books (one for each style) because it's hard to sell a 600-page book in e-book format, mostly because of the price it would have. I don't like that much the idea of splitting the book into smaller volumes but this way at least I would be in control of when and where it's released. If I finally go this way, maybe along 2014 the first volumes could be released, on my own budget (hard) or maybe after a kickstarter campaign (easier).
Anyway, as you can check in www.extrememetalbook.com, anyone can help get the book published just by drawing the attention of your favorite publishing house to the book. Please support this project as true underground always does!
Can you tell us more about the book? Is it mostly a history, a list of bands, interviews, or some combination of the above? How much is pictorial content?
As I advanced before, the book is a formalistic essay. This is very important; I am NOT a journalist or a critic, I am a Historian. That means my goal was to create a historical narration of how the music itself was created and how it has evolved over the years. What I have done is putting some order in the styles and sub-styles tree, creating a "botany" if you want: classification of bands according to the style they have helped to build.
That means there are around ten main styles (Pioneers, Thrash Metal, Death Metal, Swedish & Melodic Death Metal, Grindcore & Goregrind, Industrial Metal, Gothic Doom & Gothic Metal, Black Metal and Progressive/Avantgarde Metal), each style being a container for further sub-styles, such as Classical Death Metal, Technical Death Metal and Brutal Death Metal in the (obviously) Death Metal universe and Classical Black Metal, Norwegian Black Metal, Symphonic Black Metal, Melodic Black Metal, Death/Black Metal in the Black Metal Universe, and each of them even have their own variants, of course. The goal was to create a logical flow of music development, searching for the, again, formal paths that influences have made each style evolve and split into new sub-styles.
As for the pictorial content, the Spanish edition has about 20 pages of color and black and white photography in separate pages, most taken by myself. As for the English edition, I can't say how much pictorial content it will feature; I just can say that I have a big personal archive, so we shouldn't be short on this.
To write this book, I first thought of interviewing bands, as it is usually done by journalists or even critics, but it did not work. Mainly because it usually happens that many musicians are not really aware of the exact kind of music they are playing, and also, many of them like to say that they don't play in any known style but their own, which is of course, formally impossible. Others claim to play a style (as in "Viking Metal") which does not represent really a musical style, but an aesthetic tendency: "Viking" bands as Enslaved, Tyr or Amon Amarth play different styles of metal, so they belong to different chapters in the book. I also tend to use more "formally and historically accurate" terminology in conjunction with the traditional one: Classical Death Metal = Old School Death Metal.
As for the structure of the book, each chapter features an introduction, a technical (instrumental) analysis of the style, a lyrical analysis and its development through various stages in the last 30 years. I suggest you check the self-explaining table of contents: http://extrememetalbook.com/table_of_contents.html.
Anyway, something very important to note is that I don't want this book to tell THE ABSOLUTE TRUTH in an exclusive, self-aggrandizing way. I see it as a contribution to the many studies that are being done on Extreme Metal. Those looking for pope-or-guru-like pontifications will not find it. Those looking for a fresh edge on how Extreme Metal has evolved and developed will enjoy it. You all know the story, I am just telling it in a different way that might make see you your favorite music in a new light (or darkness!).
How did you pick which bands to interview/include?
I used two sets of criteria for choosing the bands: first, obviously, any band who has had an influence over a style, created it, subverted it, re-created it, etc, that is, every band that has kept the machine running is featured. On the other hand, there are the bands, usually lesser known except for the underground, that have inherited their elders' lessons and have developed them.
The development of each of those band's histories have been covered in short biographies focused on their evolution throughout their subsequent releases, without filler as discographies, personnel changes, etc. I wanted the book to be readable from cover to cover and these entries are meant to provide an introduction to each band.
And of course, I have NOT tried to make something like a cold-data-encyclopedia (that's why Metal Archives exists) or something like "the definitive list of." I loathe those approaches and my choice is to be (and necessarily must be) a product of the Extreme Metal I have been exposed to throughout my lifetime. Suggestions are welcome, of course.
3 Comments
Tags: extreme metal, extreme metal: 30 years of darkness (1981-2011), metal academia, salva rubio, underground metal