Not surprisingly, Shawn Wright of Bestial Evil was not happy to read our article about the political drama in Baltimore. Having reached out to him once for commentary on the original article, we reached out again, and this time, got some juicy commentary.
"He isn't a good person," says Wright, speaking of Tim Snodgrass who experienced phone threats from Mr. Wright several months ago. "He has verbally slandered me for way too long on and offline. The truth is this was personal and he took it to the surface to media attention."
According to Wright, Snodgrass became unpopular in the tight-knit — "Communal" was the word used — Baltimore scene for first his personal behavior, and then his politics. "It was more personal than that," he said, referring to the political split and accusations of censorship. "He went wrong when he and I spoke back in 2012. When he got all shitty with me prior. We called a truce. He decided to slander me again and talk shit. I was totally fine with him up until people started to tell me deeper shit that he has done to my homies here."
Wright says the Baltimore metal scene desires to be more "Communal," which he takes to mean "working together," and suggests that Snodgrass did not fit in. In particular, Wright feels Snodgrass was "slandering bands and people for trying to make the scene more Communal" and is a pariah "because he thinks everyone here is a joke beyond his select few people that give him a chance."
"Tim needs to learn his fucking place with people," Wright wrote. "He talks a big game. And no one here supports him." He points out that Snodgrass came to Baltimore later than what Wright views as the original scene. "I was in this city before Tim," he says.
Wright adds that he sees two reasons for this alienation. Snodgrass took sides in a band dispute in 2012. "He was 'cool' with me when I played in Extermination Angel," Wright says. "I had a falling out with them. And he was one of the people that fucked with me for no apparent reason. Sticking his nose in my business…He was slandering me for the shit I was going through. Then he and I had issues the second time when he started talking all that shit when he was seeing his girlfriend Marie."
While not the cause of the disagreement, Wright says, the dispute was exacerbated by the political factor: the Baltimore scene, as he sees it, is anti-racist and Snodgrass refuses to join in. "The point is Tim is a fence walker. And that shit isn't tolerated in the city." (A "fence walker" is one who approves of politically incorrect music like white power music.)
Wright says that Snodgrass made himself a pariah in the scene for the bands and people he supported. "I'm sure he is friends with sketchy labels like Freezing Records," he adds. "He had mutual friends here but those individuals are frowned upon as well." But he claims politics was not the source of the fracture. "He is alienated because he chooses to run his fucking mouth about people."
Snodgrass, who runs Diabolic Force Distribution, has sold white power material in the past, Wright alleges. "I bought a 7″ some years back when he was working at the Talking Head for a Toxic Holocaust show selling their merch and other shit. I bought an Evil Incarnate record or some band like from him. Only to find out it was Nazi metal. He has sold my buddy Justin Loys white power shit as well. It's a fucking personal insult selling shit like that in this city."
An investigation of Diabolic Force distro provided no smoking gun, although some bands with controversial views were clearly present. Wright indicated that "there's a lot of bands like Blaspherion, Evil Incarnate, Arkhon Infaustus, Graveland, Aryan Blood to name a few" but of those, only Graveland was present on the website, as were other formerly right-wing Eastern European bands like Thunderbolt, Ohtar and Dark Fury. However, the vast majority of the distro seemed to be the mix of war metal, death metal and black metal found at most distros, and none of the releases made explicit mention of white power ideology in song titles, album titles or imagery.
"Some of the bands are good bands. But some of the shit is offensive ass bullshit," Wright says. Of himself, he says, "I admit I have anger issues. But I'm not a bad guy." Other sources have indicated the Wright has a family member currently receiving medical care for a life-threatening condition and that this could be putting him under some pressure.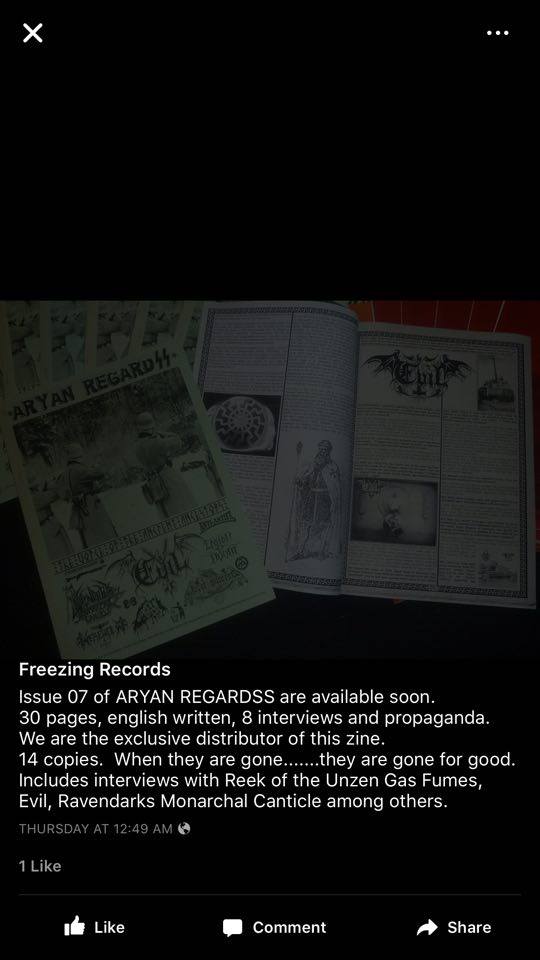 He forwarded the above screencap, which shows Freezing Records — not Diabolic Force — selling a zine named "Aryan RegardSS" which allegedly has white power, national socialist or white nationalist leanings. The title certainly suggests it. But among many in the metal community, it is considered normal to sell music and zines about metal without scrutinizing them for the politically incorrect content that frequently occurs. Wright disagrees with this approach, and calls it the basis of being a fence walker.
The mystery remains. Diabolic Force distro admits some bands with right-wing political leanings, but these are a tiny minority of what it sells, along with bands like the Nekro Drunkz, Jenkem and Funerus. Clearly it is not a white power distro and its main sin is, as Wright calls it, "fence walking," which means either refusing to censor bands for their views or not being extreme enough in purging the scene of unpopular views, depending on who you talk to.
To Wright, at least, it doesn't matter. He sees Snodgrass as antisocial in both behavior and ideology. "He got banned for calling people "Faggot" at Sidebar," he says. "He is a gossip queen." And with that, clarity evades us yet again, but it's good to get the other side of the story.
38 Comments
Tags: aryan regardss, bestial evil, bestial evil (usa), freezing records, metalgate, political correctness, right-wing, shawn right, shawn wright, tim snodgrass