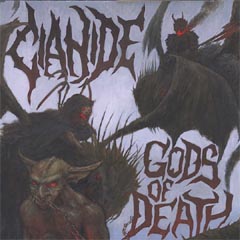 We who still love metal walk a fine line between the sold out nu-hardcore stylings of metalcore, and the tendency to hop on the bandwagon of the old school too much; the previous Cianide, Hell's Rebirth, walked too far on the old school side — when a band loses direction, they imitate successful techniques and patterns from the past without knowing what those patterns evoked in the listeners.
Despite pretending the contrary is true, Cianide is intensely emotional music. It brings on the spirit of doom and fate from old Celtic Frost, the fire-blooded desire to seize life by the throat and live the hell out of it of Motörhead, and from ancient death metal and doom metal a contemplative inner sense, a wondering where we fit in this big picture.
Hell's Rebirth skipped the emotion for the equivalent of lots of songs about being in a death metal. Gods of Death, despite the less-than-promising self-referential title, is a quality mature effort from these veterans. It is not a concept album but a collection of songs that somewhat self-consciously attempt greater internal variation than previous albums, evenly mixing the "Metal Never Bends" style of bounding, energetic death metal of the type early Master did well, and the brooding drone of Hellhammer and the doom-death style it influenced. The songs are still simple; the solos still squiggles of graffiti on walls of unyielding tone.
If anything, this album reverts to the hardcore roots of death metal and eschews the "nu-hardcore" post-1980s prog-punk and pop-punk styles that are so popular in metal now. In both style and substance, Gods of Death is an affirmation of the past and a recognition that style alone did not define it; the spirit and the soul of the artist made 1990s death metal what it was, and they not only live on but move forward on this chunk of oxidizing steel.
-Brett Stevens-
http://www.youtube.com/watch?v=kUxpsvOtlEE&feature=fvst
No Comments
Tags: 2011, cianide, death metal, gods of death