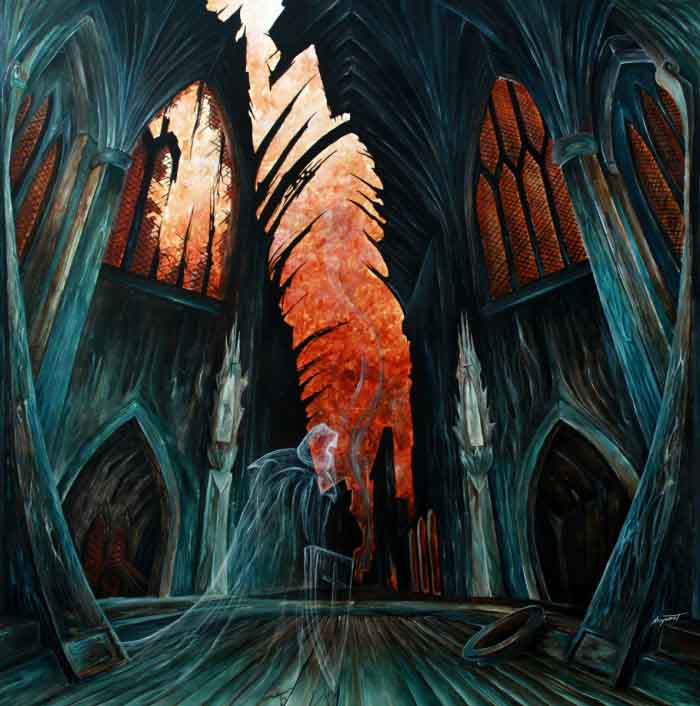 Article by Corey M
Illusions Dead put this descriptor on their Bandcamp page; "black/death metal with influences from bands like Gorgoroth, Anata, Insomnium, Intestine Baalism and more", but what these Finns actually offer with Celestial Decadence is a shareware version of Slaughter of the Soul 2.0, now with even sappier melodies that won't alienate the ex-emo kids who are looking for the next edgiest music culture from which they can leech a persona.
Generally, any given song on this album starts with two guitars playing some volleyball-style counterpoint with a relatively cool-sounding riff. The drums punctuate when necessary, and then the vocals come in and the whole experience deteriorates. Aside from the opening track (which features a more effective low-end growl), all of the vocals sound like a half-assed take on later Gorgoroth's shrieking style, but more forced and less congruent compared to the brittle guitar tone. The vocals (and drum mixing) only deserve a minor critique though; the real problem with Celestial Decadence is the total lack of energy and motivation that bogs the entire album down.
The best riffs in the album are short-lived and are essentially half-assed plagiarisms of At the Gates melodies. Spontaneously switching between up-and-down single-string melodic patterns and chugging percussive cadences can't save the utter lack of passion and purpose in every musical segment. When I imagine the recording process of this album I actually picture a couple of rock band guitarists being held at gunpoint and forced to jam out pointlessly "metallic" riffs that will later be organized by a randomizing program and pieced together by a computer that doesn't know a thing about composition except for the absolute minimum level of human tolerance for illogical irregularity.
Lacking a single distinct riff (except for the particularly emo-sounding middle-and-end section of "Shadow and Flame"), this album flew right past me even after several listens. The musicians definitely have a refined sense of when a melodic pattern becomes too boring to repeat, but they seem clueless as to the efficacy of the melody itself in the first place. I can't recommend this album to any sane person, except for maybe masochists.
15 Comments
Tags: 2016, At the Gates, Celestial Decadence, Gothenburg Death Metal, Illusions Dead, melodeath, Slaughter of the Soul