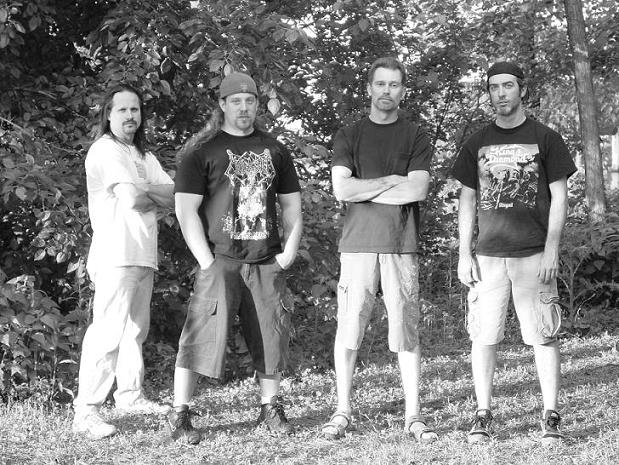 Death Metal Underground is glad to host an interview with Lou Ferrara of Sapremia, a true Hessian who has continued to develop his underground metal art throughout more than two decades while battling in real life beyond pretensions and illusions. So far, Death Metal Underground has published reviews of two of Sapremia's works: Existence of Torture (1994), and With Winter Comes Despair (2008).
1. Sapremia released two demos back in the day, Subconscious Rot in 1992 and Existence of Torture in 1994. What brought about your return, and development of two full-length albums in 2008 and 2013?
Lou: We actually played until 1996, and had enough material for a third demo, but our drummer left and we could not find a suitable replacement. At the time, the decision was to "go to sleep" instead of putting out any inferior quality that we held ourselves to. Around 2005, we began to talk about "waking up" and we had found a drummer worthy of bringing our material to life. We brought back a few old songs, wrote a few new songs, and booked a bunch of gigs which were to begin in January 2007. At the very first gig, a rep from Open Grave Records approached us about releasing material and actually followed us around to the next few gigs to make sure of it. In Philly, the 4th show back in 10 years, we signed a deal with OGR for an EP and a full length. The EP, Hollow, came out in July 2007 and the full length came out early 2008. We had not planned on this, it just happened and we embraced it as the EP sold out in presale, and the full length went through four pressings. One guitarist left, bringing us back to a three piece, which is how we were from 93-96. We ambitiously gigged a ton in the next few years, which slowed the writing process down a bit. Autumn's Moon was released July of 2013 on Butchered Records, as we had talked with them several times through touring about our next release. As of now, we are working on the final track for our next release, which with good fortune should be released 2019.
2. How does the playing of live performances feed into the creative process of Sapremia? Can the same potent effects and thought out structures we hear in With Winter Comes Despair (2008) be repeatedly accomplished without the experience of live performances?
Lou: Live performances feed into the process 110%! During our writing process, as the band molds each track, we generally will test them live. Audiences never realize that they hear a new song and may never hear it in that form again… there are only small changes, but they indeed happen, especially lyrics and vocal patterns as I become more comfortable singing and playing the songs. It is only through playing live that we truly find what each track needs and go forth from there. The only downside to this process is that the next album is always revealed to live audiences before it is ever recorded.
3. Testing each track live and modifying it until it feels ready explains why you take many years between albums. Do you think that those songs could be modified and improved even after the album has been released, perhaps indefinitely, or does the album 'freeze' them in time? How do you know when a composition is ready: does it depend on the audience or is it the composition itself revealing "its needs" to you? Could your best creations keep changing and 'grow' old together with you… until the end?
Lou: They most definitely still evolve after the album is completed and released. Nothing is ever frozen with us, we change things up often, especially my vocal delievery. Most of the time, we will just know when a track is ready for recording, even if it may change, we are comfortable with the way it is set at that time. As example, in "The Despair of Winter," we recorded the fourth riff of the song straight through, as we play it now; the third time played has a bunch of stops in it to accentuate the notes and give it a feeling of being more tight. I would definitely say the songs are as much part of the band as the members themselves, so they can and probably always will be tweaked as we continue to play them.
4. When writing music, how do you approach song-writing / composition with respect to organization or structuring to achieve a result that makes sense and feels complete?
Lou: I do almost all of the initial writing for each track. It usually starts with an idea or two floating in my mind and I begin to hash them out on guitar (though I play bass for the band). I usually like to weave similar note patterns into each riff of a single track, as it seems to make that particular track flow better within itself. When we were young and writing those demos, this was definitely not our approach at all, and it was only as I got older that I started to do this in an attempt to make songs less jerky and all over the place, giving them more of a flow and essence to themselves. I am not sure if anyone has ever picked up on my patterns, but most people, musician and non musician will say that our songs are memorable and engaging. That's all I really am looking for: to take the listener on a ride with each track. When we all get together to play the songs out, little things will change here and there, and the songs become complete with a group effort.
5. We can personally attest to the fact that attentive listeners can consciously pick up on such patterns. It is also fair to say that even when the listener is not fully aware of them, such logical patterns play an important psychological role in the overall feeling of cohesion of the song. Do you usually start with one of those patterns (motifs) as pure sensations of flow and movement, or do you think more in terms of trying to make a guitar/bass riff?
Lou: I definitely have them start out more as sensations or feels. My intent while writing is never to write a riff, but to fiddle around with whatever concepts flow from my subconscious until I have something that I enjoy listening to. Usually this concept becomes the focal point to a track, it will mold and change, but it has started there. As I being to entwine other riffs into a track, then I may be more concerned with actually writing a riff, again using notes and structures from the original concept to make it flow to the attentive and casual listener alike.
6. Do you think that, besides the sense of enjoyment that one has for one kind of music or other, different kinds of music open 'windows' to different 'dimensions' inside us? So that, no matter what words are forcefully pasted on or appended to the music, the music has its own character, its own nature, and is a kind of key that opens specific doors in the mind?
Lou: Absolutely! Sapremia by no stretch of any imagination has invented any kind of wheel in the DM world, but I feel that we do have a certain sound that is unique to us. Part of that is because our drummer, Ryan Hill, basically comes from a hardcore / thrash background, and our guitarist, Brian Rulli, has not really listened to much newer styles of death metal since the 90's. I personally listen to many different styles of music and it helps to not just be stuck into writing "a death metal song." We came from an area in the early 90's that has the NY Brutal DM label attached to most bands that are our peers, we tended to play more of the Scandinavian stlye of DM, with grooves and hooks, Ry added a lot of the off tempo and d beat drumming from his background to make it complete.
7. Is death metal a way to visualize powerful forces beyond human control that show us our place in reality, or is death metal only a way to fantasize and escape reality?
Lou: I believe that it can be both. Death metal is a juggernaut when done in the proper way, something that is colossal and has a life force unto itself. When I hear death metal in its true form, I am definitely swayed to feel it is unstoppable and beyond normal human understanding. I also feel that not all death metal encompasses this, and not saying this death metal is inferior in any way, just saying that it can help to escape reality if only for a few fleeting moments, but is not life altering. I know when I hear it, what I mean; I'm sure others do as well…
8. We share your opinion that not all death metal encompasses this, and that we know when we hear the 'life-altering' effects of more involved death metal of deeper consequences. What, in your opinion, is the nature or effects of mental bending or warping that (true) death metal can cause in the focused listener? Is it a removal of the petty, ignorant human vision that sets us as the center of the universe? Does (true) death metal help us not only understand, but to feel in our gut and deepest corners of the mind, that the universe is shaped by marvelous forces that neither care about —nor are aware of— our feelings and desires?
Lou: This is a truly deep question, and I am not sure the any one answer would be the same for everyone. I only know what I hear and feel when a death metal phenomena occurs. For me, usually it occurs during a live performance, as outside forces and happenings will change each scenario. There are times when I am experiencing such a thing, and when it is completed, I really am not sure where I was, what I did, or what happened, other than the death metal experience itself. I have found this occur, and immediately need to leave the venue even though other performers are still to come, because nothing can touch what I just experienced.
9. Have you been able to find equivalent experiences through other media, such as literature or film? If so, how do those experiences differ to those had with music?
Lou: Oh yes, mostly with literature, as I am an avid reader. A lot of my lyrical ideas come from books and movies in which I adore. It is different than listening to music, as being at a show or listening to a favorite album brings out more raw emotion, that will leave me physically spent. Books and/or film take me on a journey that I can leave reality behind for a little while, but not have me as physically attached. If I'm locked into a good book, i can read for hours and come out of it not realizing what time it is or what has happened around me. A good film can have that same effect, though I would venture to say that it usually will only happen at the cinema and not at home from the couch,
10. We often talk about 'narrative' in music, as the way in which musical structure tells a story with a beginning, a middle and an end with a significant climax somewhere in there. Do you see any other parallels between music as a form of structured communication, and literature as organized thoughts?
Lou: Music and literature go hand in hand in these regards. The biggest of differences to me, are that even literature, while not visual, has description and direction that the author tries to steer their own audience to 'see'. Musical landscapes are more open to the individual interpretation of one's mind. I am not speaking of lyrics, just the music itself, every listener will hear it in a different way than the next. So while there are definite parallels between music and literature as far as structure, they also differ from one another in the uniqueness of the delivery.
11. What literature in particular, and why, would you recommend? Do any of these relate to some aspect of underground metal or what it points to?
Lou: This is a very individual response, anything can relate to underground metal depending on any persons perspective. Personally, I am all horror and fantasy, which is sort of cliche in our genre but definitely a driving force behind it. Tolkien, Brooks, Thompson are among my favorite fantasy authors, and I have definitely borrowed from each in certain aspects of lyrical motivation. Barker, King, Lovecraft, Stoker, are among the horror that I enjoy.
12. A lot of the less respectable metal has little value except for shock value. To what extent should an authentic underground metal artist strive to reflect in deeds what he in art praises, condemns or generally reflects as an interpretation of reality?
Lou: I really feel that that should be left up to the individual, as far as they want to pursue alternative means for which to get their perspective across. Personally, I am a fan of letting the music do all the talking, I do not need visual stimulation from an act to aid in the enjoyment of what they are trying to provide musically. This is not to say that any one approach is right or wrong, it is up to the individual performs to find what works the best for themselves.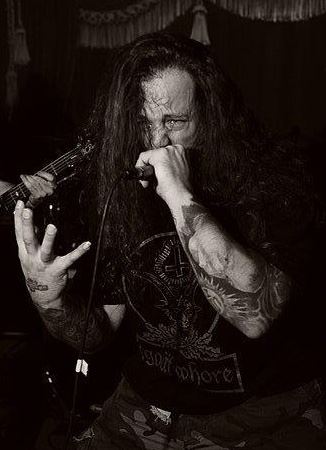 2 Comments
Tags: death metal, interview, lou ferrara, sapremia