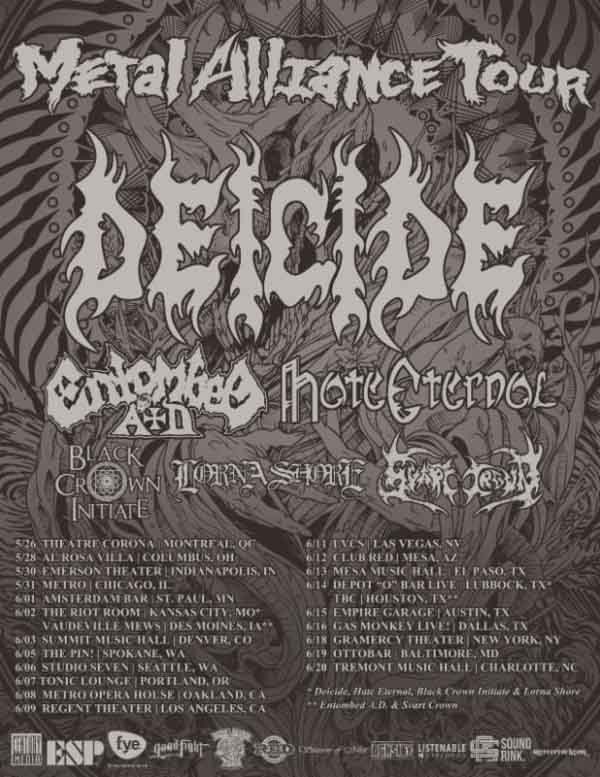 Floridian death metal masters Deicide will be back on the road again this month, this time as headliners of the "Metal Alliance Tour"! Joining them on the run is Swedish death metal legends Entombed A.D., along with Hate Eternal, Black Crown Initiate, Lorna Shore, and Svart Crown – making this one bill not to miss!
Ddeicide's Glen Benton (bass/vocals) comments:
It's with great pleasure to announce our involvement in this year's Metal Alliance Tour 2015. We look forward to bringing our style of extreme…satanic death metal to all who attend and seeing old friends and making new ones as we travel the highways and byways of this great country of ours…As always we can't wait to get out there and do what we do best…Crush…HAIL!
Entombed A.D.'s L-G Petrov (vocals) adds:
It's going to be really good to tour the States again after a long absence overseas– and doing it with The Metal Alliance Tour is a great comeback! We are looking forward to sharing the stage with all the bands on the bill. Expect total headbang!!!

See below for all upcoming dates!
Metal Alliance Tour" dates feat. DEICIDE, ENTOMBED A.D., HATE ETERNAL, BLACK CROWN INITIATE, LORNA SHORE, SVART CROWN
May 26 – Montreal, QC @ Theatre Corona
May 28 – Columbus, OH @ Alrosa Villa
May 30 – Indianapolis, IN @ Emerson Theater
May 31 – Chicago, IL @ Metro
June 1 – St. Paul, MN @ Amsterdam
June 2 – Kansas City, MO @ Riot Room*
Des Moines, IA @ Vaudeville Mews**
June 3 – Denver, CO @ Summit Music Hall
June 5 – Spokane, WA @ The Pin!
June 6 – Seattle, WA @ Studio Seven
June 7 – Portland, OR @ Tonic Lounge
June 8 – Oakland, CA @ Metro Opera House
June 9 – Los Angeles, CA @ The Regent Theater
June 11 – Las Vegas, NV @ LVCS
June 12 – Mesa, AZ @ Club Red
June 13 – El Paso, TX @ Mesa Music Hall
June 14 – Lubbock, TX @ Depot "O" Bar Live*
Houston, TX @ TBC**
June 15 – Austin, TX @ Empire Garage
June 16 – Dallas, TX @ Gas Monkey Live!
June 18 – New York, NY @ Gramercy Theater
June 19 – Baltimore, MD @ Ottobar
June 20 – Charlotte, NC @ Tremont Music Hall
June 21 – Atlanta, GA @ The Earl**
June 22 – Tampa, FL @ The Orpheum**
* = DEICIDE, HATE ETERNAL, BLACK CROWN INITIATE, LORNA SHORE
** = ENTOMBED A.D., SVART CROWN
15 Comments
Tags: 2015, black crown initiate, death metal, Deicide, entombed a.d., Glen Benton, Hate Eternal, metal alliance, Petrov, svart crown, tour