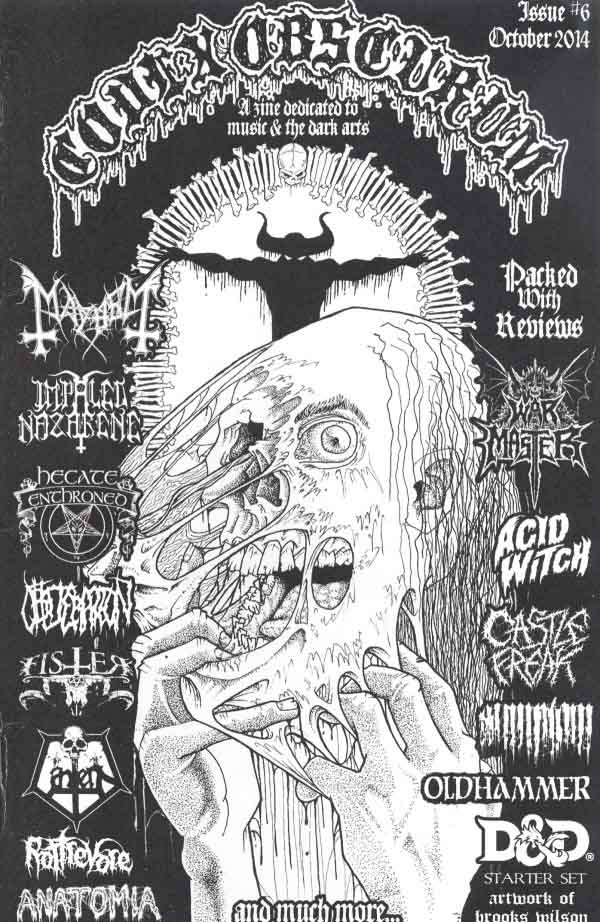 Underground metal zine Codex Obscurum gained an audience for its focus on music of an underground nature without the associated fetishism of image and product obsession that blights most zines no matter how underground. In that sense, it was a regression to the healthier times of the 1990s, when fanzines were fan-oriented instead of label-oriented, and both old and new audiences have delighted in it for five issues.
Contemplating Issue Six of this magazine shows how far it has come and how it has not lost any of the delight in the music that marks a good fanzine. Over the past several issues the focus of the magazine has shifted to interviews and reviews, and this shows in the much wider coverage that Codex Obscurum achieves with Issue Six. More bands see print in this issue and, through greater experience of interviewers, questions cover a wider range. The issue starts with an interview with War Master, whose albums regularly feature in our best-of lists around here. While this interview is short, it provides the vital news that this band is working on a second album and an EP, and talks about touring and general attitude of the band after switching vocalists. After this follows a thoughtful and probing interview with (the New) Mayhem guitarist Teloch, which contains mostly striking revelations about the black metal scene and its relationship to political correctness. For those of us more inclined to avoid newer versions of once-classic bands, this shows insight into the thought process behind the current "scene." Further interviews with Anatomia, Lantern, Obliteration, Rottrevore, Symptom, Acid Witch, Castle Freak, Impaled Nazarene, Fister, Hecate Enthroned and Ritual Decay. The interviewers in all of these approach the subject with knowledge and tailor their questions to the subject's personality, which brings out more of the people behind the bands.
One of the bigger changes since the last issue appears in the abundance of reviews that Issue Six has to offer. These take two forms: mid-length descriptive and personalitied reviews, and semi-dismissive Haiku form reviews that often tell more than a few pages of labored, assiduous writing. The descriptive reviews offer a practical assessment of how a metal listener might approach an album in a compact package. Witness the review of Cruxiter Cruxiter:
Cruxiter – S/T (2013 – PrismaticO Records)

Wow, what a surprise this album was. Cruxiter are not a well-known band, as this is their first full-length and they've only been around for a couple of years. But it sounds like they've been around since the '80s. In fact, this whole album sounds like it's from the '80s. Cruxiter are traditional heavy metal from the wastelands of Texas and will not disappoint one bit. It's as if early Mercyful Fate had a ménage à trois with Manilla Road and early Iron Maiden, all while listening to '70s guitar-driven rock. The musicianship on this album is fantastic; each song is a classic metal anthem with soaring vocals and impressive guitar riffs. Miggy Ramirez's vocals are high-pitched and remain steady throughout — he certainly pulls off the style perfectly. The highlight of the album is "The Devils of Heavy Metal" and is one of the best songs of this style I've heard in quite some time. The one thing that may dissuade some listeners (and it's a shame, at that) is the production of the album. There are no crystal-clear sounds on this album, everything is produced in a way that makes sounds like it was recorded in 1984. It adds to the retro-feel of this album, and is part of what makes this album a great listen. The album is streaming on their bandcamp page, I'd highly recommend you check it out if traditional heavy metal is your thing. Keep an eye out for this band. — James Doyle
Ten pages of reviews of this type help inform the listener on the cutting edge of underground metal, skipping the numu/indie/post gibberish, and then detour into two pages of Haiku form reviews which cut to the core of each album from a listener's standpoint. While these are more dismissive, oftentimes they utterly nail why an album is irrelevant or why we the audience should look past style and appreciate what makes it great. These offer a counterpoint to the desire for articulation that motivates the descriptive reviews, and give a quick synopsis where that is all that is needed. They are more motivational than merely reporting the facts; this style might be useful in dismissing some of the recent material that labels pump out which requires no more than a few minutes to recognize as an archetype of fail and dismiss.
As has been the trend with the last few issues of Codex Obscurum, the editors struggle to balance a gory old-school art-driven layout with a postmodern format that is easy to read in the age of computers, tablets and whatever "et cetera" will soon encompass. An abundance of great artwork appears throughout Issue Six, with more use of graphics inserted in the text stream or offset to one side. The Acid Witch, Fister and Ritual Decay interviews could fit in either a glossy pro-printed magazine or a contraband underground zine and show an optimization of this layout style. One thing that could improve is the differentiation between interviewer and interviewee, which is currently done with the industry standard of the speaker's initials at the start of the line. An ideal layout of this format has proved elusive, with some zines bolding the comments by the interviewee, but this like most other solutions burns more page real estate. On this site, we put the interviewer's comments in bold because that makes them easy to skip, but also requires more paragraph space which is at a premium in a zine that has to render itself to paper instead of the limitless scrolling of modern society's replacement for daytime television, the internet. An ideal answer may conceal itself on this issue but it is the only area where this zine proved difficult to read at a glance, which is otherwise facilitated by its clean layout with clearly separated art and well-signaled interviews with band logo at the top of each.
Issue Six continues what seems to be becoming a section in Codex Obscurum, which is an unboxing and review of Dungeons & Dragons gaming sets and lines of books. While many in the metal community seek to isolate themselves from the inner nerd inherent to all metal, a more realistic assessment shows that many metalheads are in fact nerds "in the closet" who enjoy many activities which stimulate the imagination and analytical thought process simultaneously much as D&D does. This feature goes beyond the knowledge of the casual attendee at D&D games and could stand on its own in any lifestyle or technical magazine. Among the thoughtful interviews and carefully articulated reviews, the role-playing game material fits hand in glove, and adds to the feeling of this zine as well-rounded in the underground sense, covering music and lifestyle without drifting into the product fetishism that shears mainstream magazines off from the flow of what fulfills people both as metal fans and individuals. Looking forward to seeing this zine continue to grow and develop.
5 Comments
Tags: acid witch, anatomia, Black Metal, castle freak, codex obscurum, death metal, fister, hecate enthroned, impaled nazarene, journalism, lantern, mayhem, obliteration, ritual decay, rottrevore, symptom, war master, zines