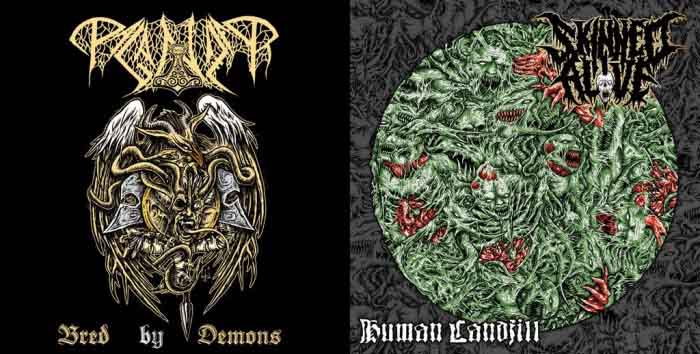 Death metal bands Paganizer and Skinned Alive will unleash a split album on vinyl in early 2016, featuring two songs from each band. Released via Brutal Art Records, the split LP will feature art by Roberto Toderico and be limited to 250 copies.
Tracklist
Paganizer
Bred by demons
The hammerhead

Skinned Alive

Gallery of the Impaled
Human landfill
Paganizer belts out mid-paced old school death metal with a focus on hook-laden choruses, reminiscent at times of old Pestilence and Kreator, with a fair amount of the ancient speed metal feel present in riff fills. These songs march along and keep the energy high but not excessive which is a welcome counterpoint to the lightspeed bands that blend into a blur in the background! These two tracks show the same style, but the second picks up the pace and has even more speed metal references. They use more of a stop-start approach to songwriting in the style of bands that influenced Meshuggah, but know when to break this pattern to allow riffs to interact and themes to expand to prime us for the restoration of order with the chorus.
Skinned Alive on the other hand sounds more like an uptempo version of Asphyx with influences from Swedish death metal in its tendency to use longer riffs with a broader space of intervals in them, making them technically melodic without overdoing the melodic tendency through tuning/higher register playing like the melodeath and retro-Maiden bands do. The clear crust heritage of bands like Carnage shines through in the percussion, but like Dismember they know how to write a heavy metal style catchy choruses. Riffing here also shares a space between middle death metal, speed metal and classic heavy metal, where the Swedish bands were more hard death metal. These songs move systematically toward intensity and then conclusion, avoiding the generic verse-chorus loop despite relying heavily on a verse chorus structure upon which to add additional riffs, Slayer-style, as divergent themes. Like Sodom or Destruction, this band knows how to build up to a good chorus and then work it into brain-programming, toe-tapping, pure motion music.
In other Skinned Alive news, the label Brutal Art Records announced that the split between German death metal legends Fleshcrawl and Skinned Alive will feature four tracks from each band, instead of three, in the CD release. For more information, pursue the link above.
For the Paganizer/Skinned Alive split, pricing is as follows:
70 – Clear / Neon Green – 6,00€
80 – Blue / Black – 6,00 €
100 – Purple / Orange – 5,50 €
No Comments
Tags: brutal art records, death metal, paganizer, roberto toderico, skinned alive