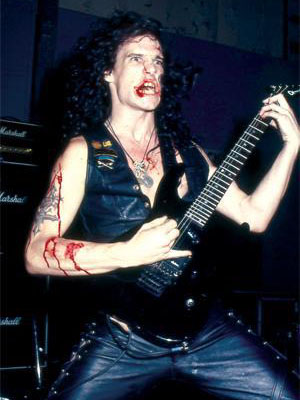 According to UPI, the police in Manchester, UK have decided to extend hate crime protection to "subcultures such as punk rockers, Goths and heavy metal fans."
This is the realization of one aspect of Hessian Studies, the concept dreamed up during the PC early 1990s to give the metal subculture the same respect, study and attention given to other cultures. Recent years have seen acceptance of metal as a religion, as a disability and as a topic for academic study.
Now, with recognition of metal as a sub-culture becoming formalized, metal faces both the greatest success and greatest risk of its 40-year lifespan. The success is that mainstream society has adopted it and legitimized its viewpoint; the danger is that modern society will project its own viewpoint onto metal as a pre-requisite to adopting it. As we all know, the easiest way to accept something strange is to make it into a version of the same old stuff we see everyday, like Chinese Take-Out and Italian Microwave Dinners.
"We are able to officially recognize that people who wish to express their alternative subculture identity freely should not have to tolerate hate crime — something that many people have to endure on a daily basis," said Assistant Chief Constable Garry Shewan.
Apparently, this act was spurred by the assaults on Sophie Lancaster, a 20-year-old Goth who was attacked as she walked through a park and never regained consciousness. As a result, the courts and police are expanding the list of protected groups from "religion, ethnicity, disability and sexual orientation" to also include subculture status such as that experienced by metallers, punkers and Goths.
Hessian Studies, a movement begun in 1994 and thriving throughout the 1990s, hoped to achieve this kind of recognition for metal and acceptance of its validity as a subculture. Apparently, the dream is coming true.
12 Comments
Tags: hessian, hessian studies, subculture