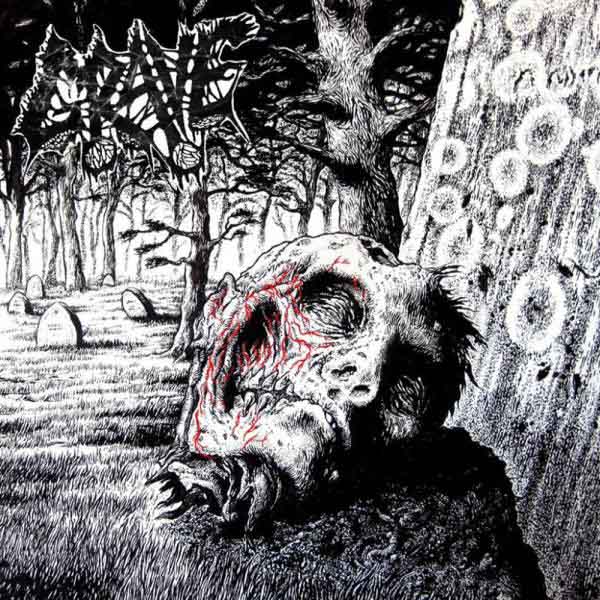 Back around 1991 or so, Grave Into the Grave lived in every Hessian room across the land. It combined an intense rhythmic attack with a type of accessibility that did not on the surface resemble the pop music — generally downtempo bittersweet wailing indie-rock — of the age. Then the band seemed to drop out of reality.
Listening to Necropsy: The Complete Demo Recordings 1986-1991 has clarified for me exactly what I like and detest about this band. Unlike most bands of that era, Grave understood the concept of hook, in this case a rhythm that is fascinating enough to be instantly memorable. On the downside, the hook swims in what are ultimately predictable song structures borrowed from the lower echelons of 1980s speed metal. These demos show Grave developing its style from an early Possessed/Kreator hybrid into full-fledged death metal, yet the band never really breaks into what made death metal powerful. These songs cycle through verse-chorus with exceptions made to fit in some transitional riffs, but never construct themselves around an idea expressed in both riff and song. As a result, they come across as random outside of the one moment of clarity for the hook, at which point the brain goes to sleep waiting for the random power chord slamming to end and the hook to come around again.
The good parts of Grave should not be understated. At a time when most bands were trying to make themselves presentable to the average music listener by reining in their extreme tendencies, Grave leaped howling into the abyss with rigid and abrupt riffs that slammed home with the intensity of the big American bands. Much like style-mates Seance and Hypocrisy, Grave took Swedish death metal away from the melodic riffs and restraint into full-on textural assault with primitive rhythm as its guide. And yet listening back over this, one might wish for a little bit more of Carnage and Entombed in with the Malevolent Creation style riffs. The song structures are too simple to give these riffs room to breathe, so they just cycle, which is to say raw repetition "one removed" by introduction of a contrary or at least different theme. If tied together with some melody, more structure, or even a greater sense of internal dialogue between the songs, the early work from Grave would have been legendary and far surpassed Entombed and others who made big names for themselves in Swedish metal.
These demos progress from the prescient in style works of the 1986-1988 period in which bands were still figuring out how to work with the fertile ferment of Bathory, Hellhammer, Possessed, Sepultura, Sodom and Slayer. The Grave tracks from this era sound like a second-rate speed metal band imitating Possessed as death vocals ring out around clumsier versions of riff patterns you might find on a Heathen or Dark Angel album. As time goes on, the riffs pick up more technique and the clumsiness becomes an aggressive slamming rhythm mated to an adroit sense of pick-up rhythm that conserves and intensifies the energy of each riff. But, much as with Kreator, the riff is the hook and the "sweet spot" in the midst of relatively unrelated material, which means songs keep clunking along on the rhythm of the drums and vocals while the guitars do random stuff. It's as if these bands never fully come together and are just too individualistic for their own good, Kreator especially. As the demos accelerate toward 1991, the technique streamlines into recognizable full death metal, but the song structures revert to the 1986 styles and despite increased proficiency remain just as clumsy in end result.
What emerges from these demos as a result is a crash-course in how to write great death metal riffs without writing great death metal. Grave faded before its time because it never knitted these power riffs into full songs, and went after the German model of a friendly rhythm with great hook in a song where everything else is essentially linear. This makes the listener fade in for the hook, then fade out, and end the listening session with no sense of continuity or overall impression of an event, emotion or attitude. In this, Grave — despite having mastered the science of death metal riffcraft — missed the boat on the innovation that death metal brought to the wider world of heavy music, and this explains why their work has not obtained the staying power assigned easily to bands with less-powerful riffing but more focus on integrative songwriting.
10 Comments
Tags: American Death Metal, death metal, grave, swedish heavy metal