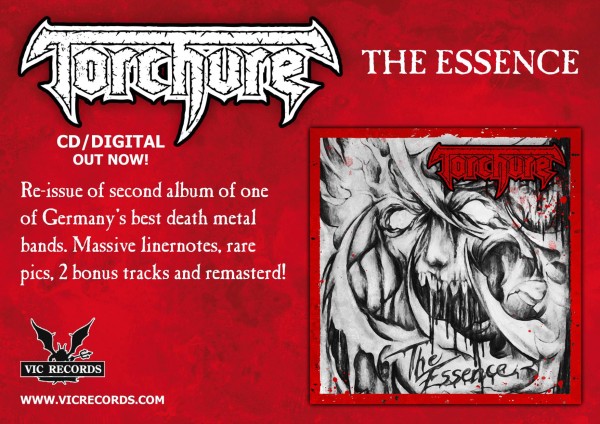 German death metal band Torchure has re-issued its second album, The Essence, on Vic Records. The album was produced by S.L. Coe of Scanner and Angel Dust and comes with very special liner notes, rare pictures and two re-mastered unreleased tracks as bonus.
Torchure formed in 1985 and released three demo tapes before unleashing their debut album through German underground metal label 1MF. Their debut, Beyond the Veil (1992), showed a style of death metal with origins in heavy metal that nonetheless managed to be both intense and moody. Torchure toured Europe to support Sepultura and Pestilence. After the tour founding members and brothers Andreas (guitars) and Thorsten (bass) Reissdorf died in a car accident. The band decided to go on and found two new members who were also brothers and with this new lineup recorded their second album, The Essence (1993).
Vic Records re-issued the Torchure debut Beyond the Veil in 2013 as reported previously. The reissue of The Essence seems to have received much the same treatment with bonus tracks, expanded booklet and a jewel case CD instead of digipak. The reissue can be ordered from Vic Records directly.
5 Comments
Tags: 1mf records, death metal, torture, vic records