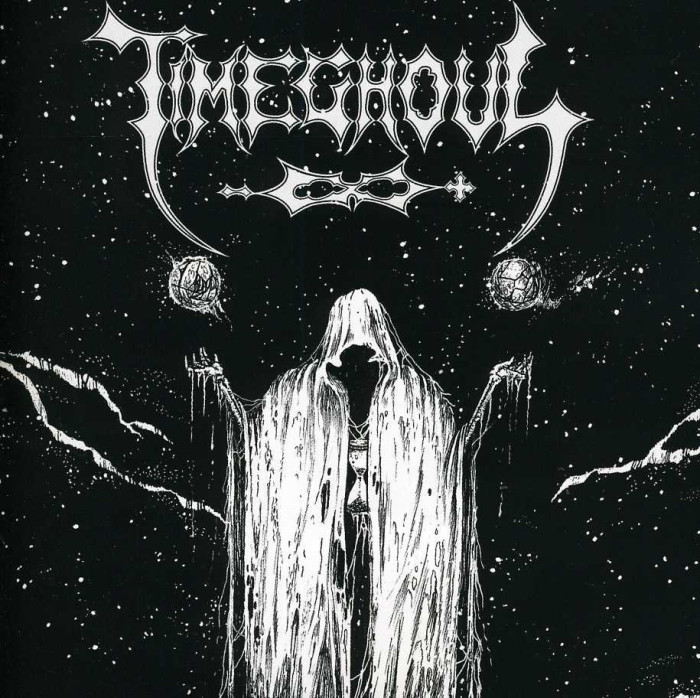 Article by David Rosales
Timeghoul's short lived existence gave us two excellent demos in 1992 and 1994. These both display very distinct facets of the project, each with their own merits and limitations. Even if we see the second as an evolution of the first, the first stands very firmly on its own ground. You could in fact argue that the second is not so much an evolution, as a different overall direction for the band.
The first release, Tumultuous Travelings, had a much more suffocating feeling to it, but already showcasing Timeghoul's distinct personality, setting it apart from any contemporary. This distinction, however, is one of language and not one of technique; so that the casual onlooker might consider this first work to be a typical release for its time. In reality, once we acknowledge its allegiance to the traditions of death metal, the particular traits of Timeghoul's music (even on Tumultuous Travelings) are anything but typical.
In 1994 came Panaramic Twilight (sic), which boasted of more explicitly progressive intentions, giving it automatic recognition in the mind of the same simple metalhead who passed off their first demo as standard. Seldom is it recognized that Timeghoul's "progressive" qualities were already present on the first release, which is a trend that itself fails to stand out as few recognize these leanings in even the most developed death metal of the early 1990s. Timeghoul's most significant development on Panaramic Twilight was that they stepped up the drama and Wagnerian soundtrack-like constructions, which required longer silences, longer notes and a wider variety of expression.
Now, when constructing music, composers have to strike a balance between intelligibility and variety (a.k.a. outer complexity). Most metal musicians, however, seem totally unaware of this, and this is why bands who, out of a humble degree of proficiency, produce simpler music have a more enduring impression on the audience in general. Aesthetic variety will not keep your interest if the music that underlies it is incoherent, muddy, and lacking in clarity. However, mere clarity is not enough; the image remains blurry if the overall picture has not been built with enough concrete purpose.
This is where Timeghoul excels; coherent and concrete purpose in songwriting is their most meaningful contribution to metal. They have opened this door to a world of possibilities within their paradigm of dramatic and obscure (rather than gory) death metal that does not require a band to clone their approach to follow in their steps. In comparison, trying to learn from Demilich or Immolation often results in blatant plagiarism, unless your efforts and results arise from a detailed technical analysis and are applied only in an abstract manner. Timeghoul compensates for the silences, rapid-fire changes in rhythms, and the use of texture to enhance different feelings in their music by using a very limited range of techniques. This is comparable to what At the Gates did on their own album. The techniques themselves aren't numerous; nor are they extremely advanced. The band chooses a lexicon of technique, and relies on it consistently within a harmonic/modal framework that lends each song their own "harmonic feel" (arising from the interplay with the vocal's timbre as well, I presume).
The wide range of expression is achieved through the types of arrangements and the changes in texture and rhythm, which are not selected at random like we saw in the work of Crematory. Timeghoul is very clearly telling a story and each bit of music, each switch from blast beat to silence, from frenetic power chord torrent to slow, single-note melody lines makes sense as a narrative. Timeghoul's approach is not one of riff-salad, but rather more akin to that of an opera. In short, the music of Timeghoul provides another healthy avenue for metal musicians to explore. What you can learn from this unfortunately short-lived project on the abstract level is of far more value than what you can imitate by simply trying to emulate their sound. It is their intuitional organization that deserves praise; the powerful narrative element of Timeghoul's music is a rare gem.
18 Comments
Tags: At the Gates, crematory, death metal, panaramic twilight, Progressive Death Metal, progressive metal, timeghoul, tumultous travelings