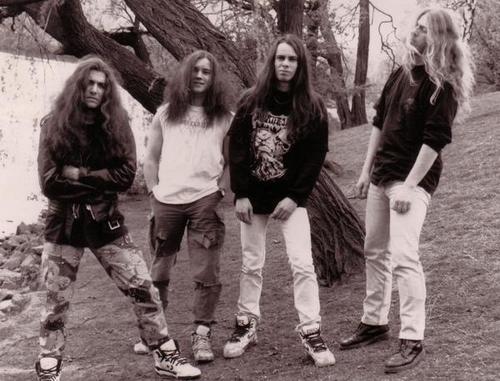 Prolific Death Metal Underground commenter Rainer Weikusat submitted a video of Massacra playing live in Sweden in 1990 in the comments of a recent article. Rainer pointed out the sound and video quality is not great but is tolerable enough to watch if you are familiar with Massacra's material.
Coming from Massacra's prime, this live set is extremely energetic, brutal, and straight to the dome. The set list of course consists of compositions from Final Holocaust and Enjoy the Violence. Witness Massacra slaughter all and their roadies rightfully prevent losers with rat tails from stage diving. What more needs to be said? Revel in the violence of the greatest French metal band of all time!
Tracklist:
Enjoy the Violence
Researchers of Tortures
Atrocious Crimes
Gods of Hate
Full of Hatred
Seas of Blood
Near Death Experience
Agonizing World
Here's the Youtube version Rainer submitted. It has a incorrect aspect ratio and seizure inducing camera artifacts as a proper death metal video should!
Tags: concert, death metal, Enjoy the Violence, French Death Metal, live, live shows, massacra, Sweden, video, youtube, youtube videos